'RHOP': Monique Samuels and Candiace Dillard Got into a 'Serious Fight' Resulting in Police Intervention
Monique Samuels and Candiace Dillard were close-knit friends inside of Real Housewives of Potomac, but it ended once Samuels befriended Darby. After noticing that Ashley Darby was drinking a lot of beer, despite claiming she was trying to pregnant, Dillard brought it up often and accused Darby of lying about trying to conceive to hide her husband's "sexual identity."
Samuels called Dillard out for her inconsiderate words, and the pageant beauty felt like her former best friend was choosing sides. After fighting a few times during the season, they shared an emotional moment, and fans thought the two could be friends again.
However, Samuels and Dillard got into a "serious fight" while filming for Season 5, where someone may have been arrested.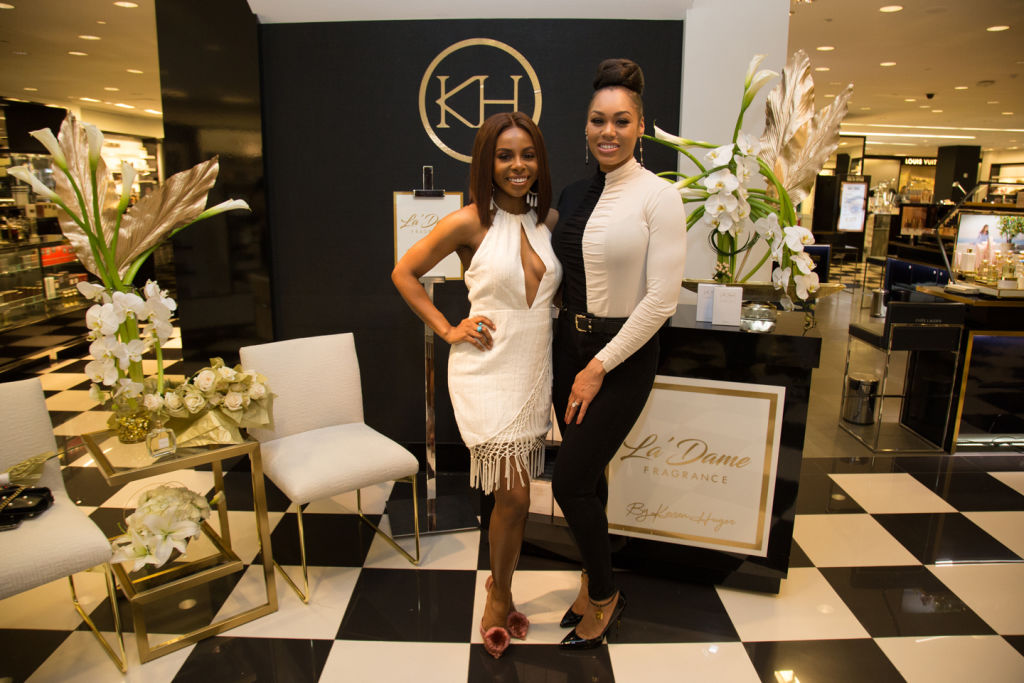 Monique Samuels and Candiace Dillard argued throughout 'RHOP' Season 4
The former best friends' relationship took a turn for the worse after Samuels called Dillard out for "attacking" Ashley Darby for drinking while trying to get pregnant.
Dillard thought Samuels was taking Darby's side over hers, while Samuels felt like she was pointing out right from wrong. On Episode 10, they had a "showdown" at Katie Rost's farm, where the podcaster threatened to "drag" Dillard, "pregnant and all."
The two remained at odds, while Samuels and Darby grew closer, and the pageant beauty claimed the mother-of-three was using Darby to get at Dillard.
However, the expectant mother at the time wanted to share her experience with Darby, who was trying to conceive at the moment. While they were hanging out, Samuels showed Darby text messages between herself and Dillard to establish trust, but the act infuriated the pageant beauty.
As this happened in one of the ending episodes of the season, viewers didn't know where their relationship stood until the reunion.
Monique Samuels and Candiace Dillard seemingly made up during the reunion
Before the reunion, BravoTV.com dropped an after-show clip where Samuels and Dillard address the current status of their friendship. Both admitted they weren't near as close as they used to be, and Samuels claimed they don't talk at all unless she's making the first move.
During the third part of the reunion, host Andy Cohen asked the women to name their roses and thorns from the season. Dillard admitted her thorn was the fallout with Samuels, and the mother-of-three teared up while agreeing.
The former friends hugged it out and embraced for a while, sharing a genuinely emotional moment and expressed their desire to move on. However, according to Samuels' Twitter account, the moment didn't last long, and when asked on an Instagram Live, she said the viewers would see in the upcoming season.
Monique Samuels and Candiace Dillard allegedly got into a huge fight
The Housewives are currently filming for Real Housewives of Potomac Season 5. According to MTO News, the Housewives were shooting a scene at a vineyard, drinking wine, and enjoying each other's company, until an argument broke out between Dillard and Samuels.
Sources close to production claim the fight turned physical, allegedly hair was "ripped off," and the police were called. Limited details are available, but insiders describe it as a "serious fight" where either Dillard or Samuels may have been arrested. Real Housewives of Potomac Season 5 premieres in Spring 2020.