The Most Daring Celebrity Red Carpet Looks of All Time
The red carpet is a hallmark of the celebrity lifestyle. Stars like to make statements at these high-profile photo ops; sometimes they grab headlines with insanely revealing or crazy outfits. Here are the most daring celebrity red carpet looks of all time. One A-lister and "style icon" left almost nothing to the imagination (page 10).
19. Chrissy Teigen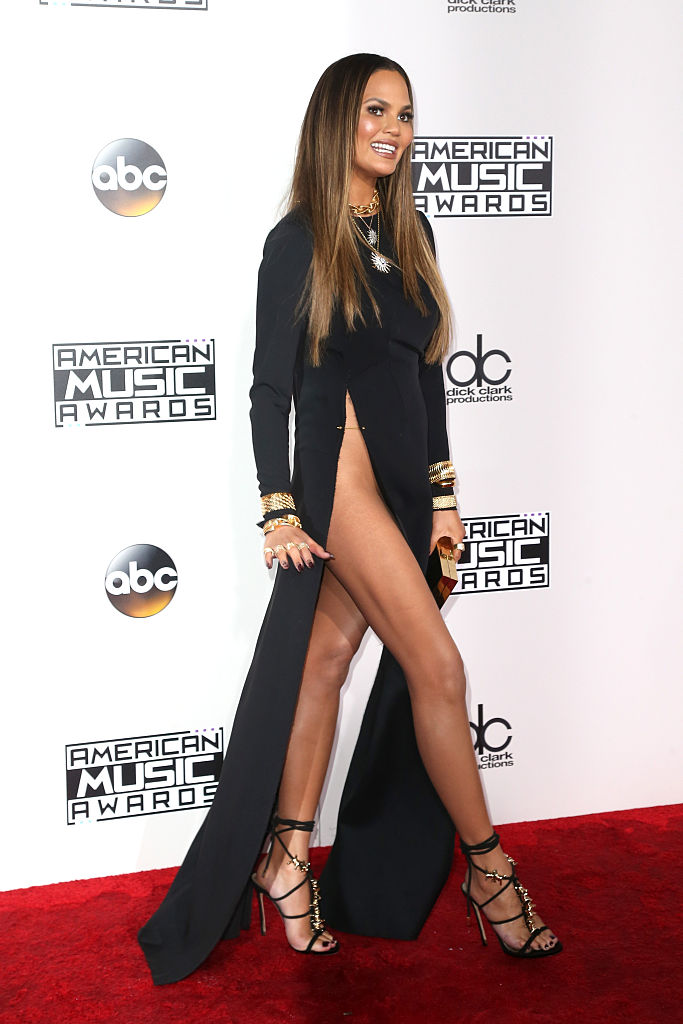 The former Sports Illustrated model used a gold safety pin to secure her Yousef Akbar gown as she walked the red carpet at the 2016 American Music Awards. Chrissy Teigen stepped carefully to ensure the gown's two slits didn't expose her lower region. In her typical humorous style, Teigen later posted on Instagram: "Apologies to anyone harmed mentally or physically by my hooha."
Next: A statement about gun control?
18. Sasha Gradiva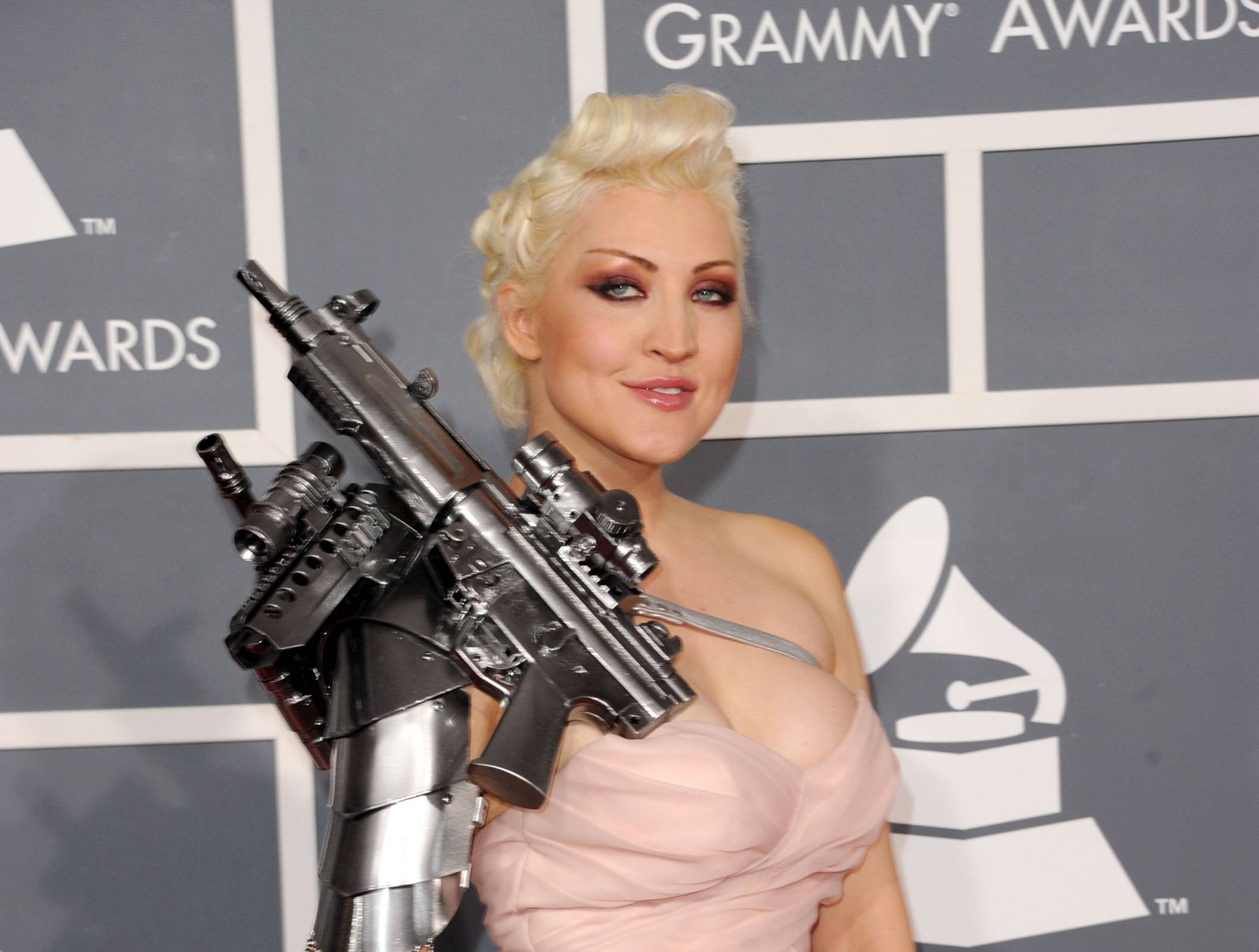 It's hard to get noticed if you're not an A-lister. So, when singer Sasha Gradiva was invited to the 2012 Grammy Awards, she made the most of the spotlight. She accessorized her gown with heavy-duty artillery, making her fashion choice rather unforgettable.
Next: She stole the spotlight from the main act.
17. Jaimie Alexander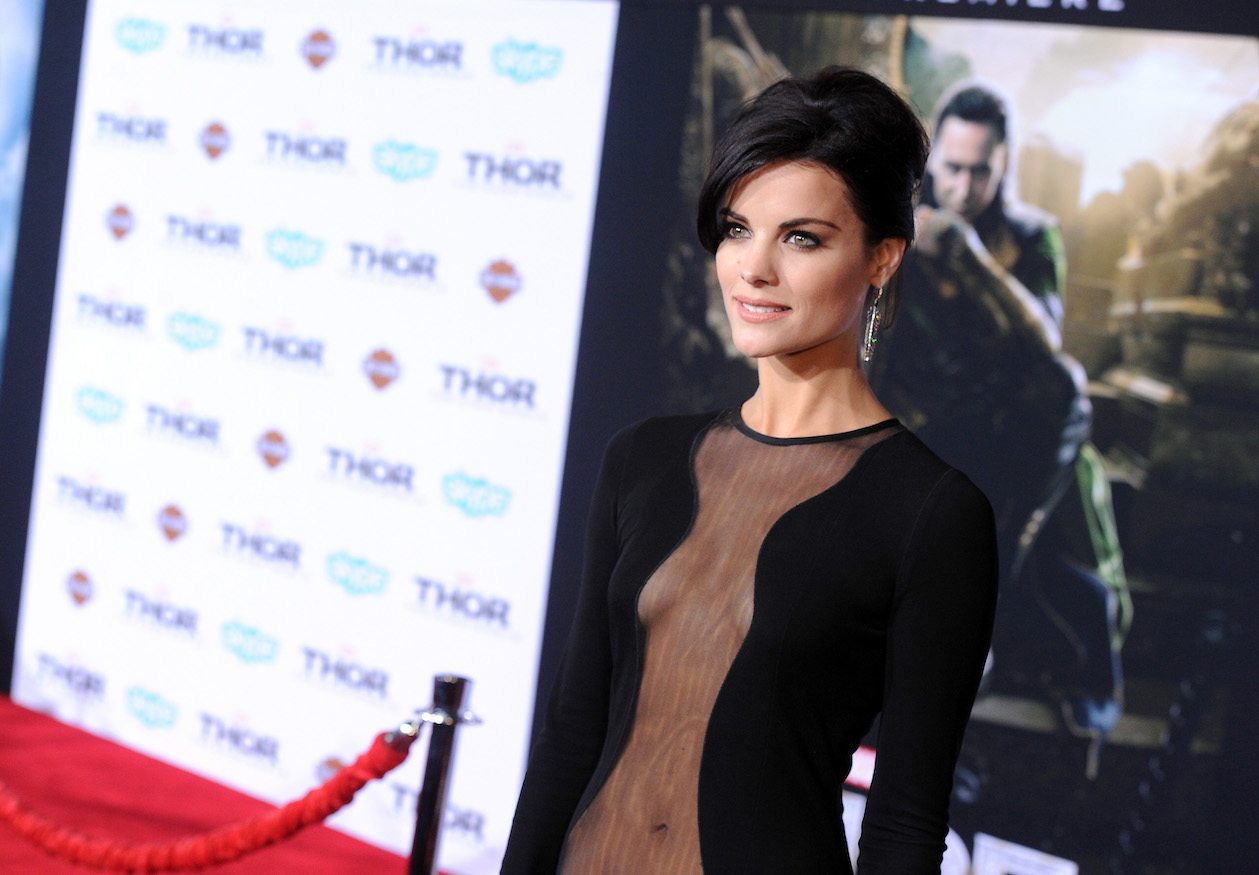 These days, TV fans know Jaimie Alexander from Blindspot. But, in 2013, she enjoyed the limelight thanks to the mega-blockbuster, Thor: The Dark World. At the premiere, she took a risqué approach to red-carpet style. Alexander's black Azzaro Couture gown featured a mesh cutout that revealed much of her skin — so much, in fact, that she had to later confirm she was, in fact, wearing something underneath it.
Next: What do you think about this statement-making style?
16. Blac Chyna and Amber Rose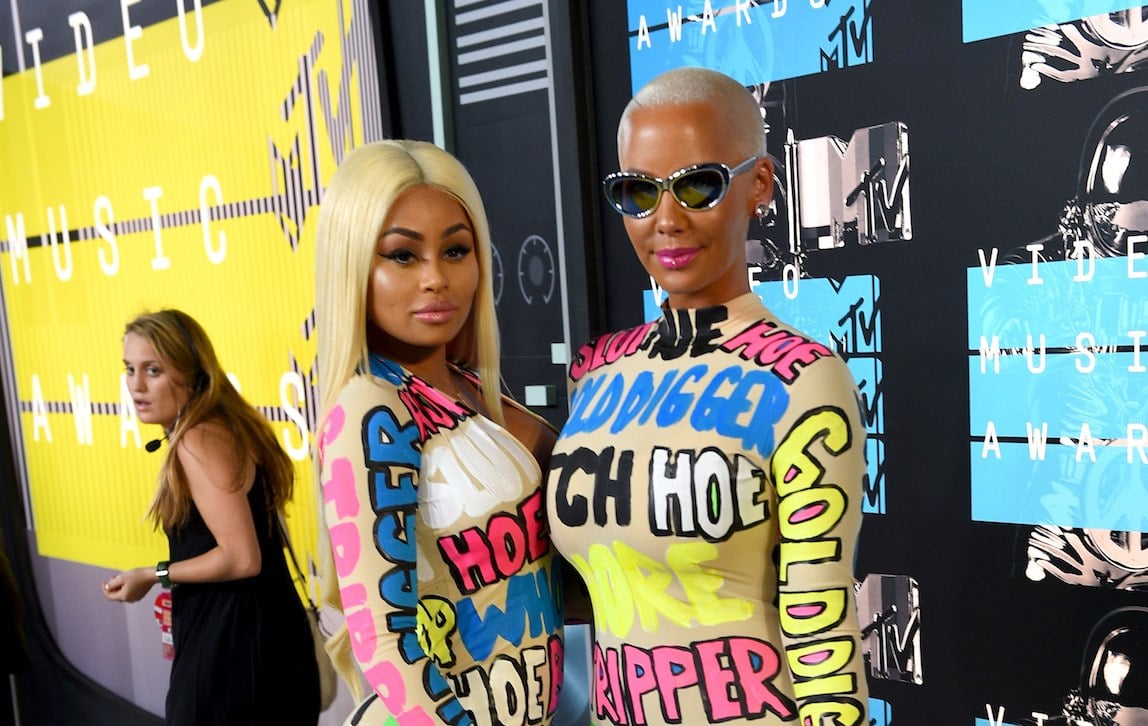 Everything stars do, say, and wear is studied and criticized. So, models Blac Chyna and Amber Rose flipped the script in 2015, attending the MTV Video Music Awards wearing outfits as commentary. Chyna and Rose both wore nude bodysuits painted with derogatory names they'd been called, serving as harsh reminders that celebrities are, in fact, people with feelings.
Next: This star ignored the theme of the evening.
15. Beyoncé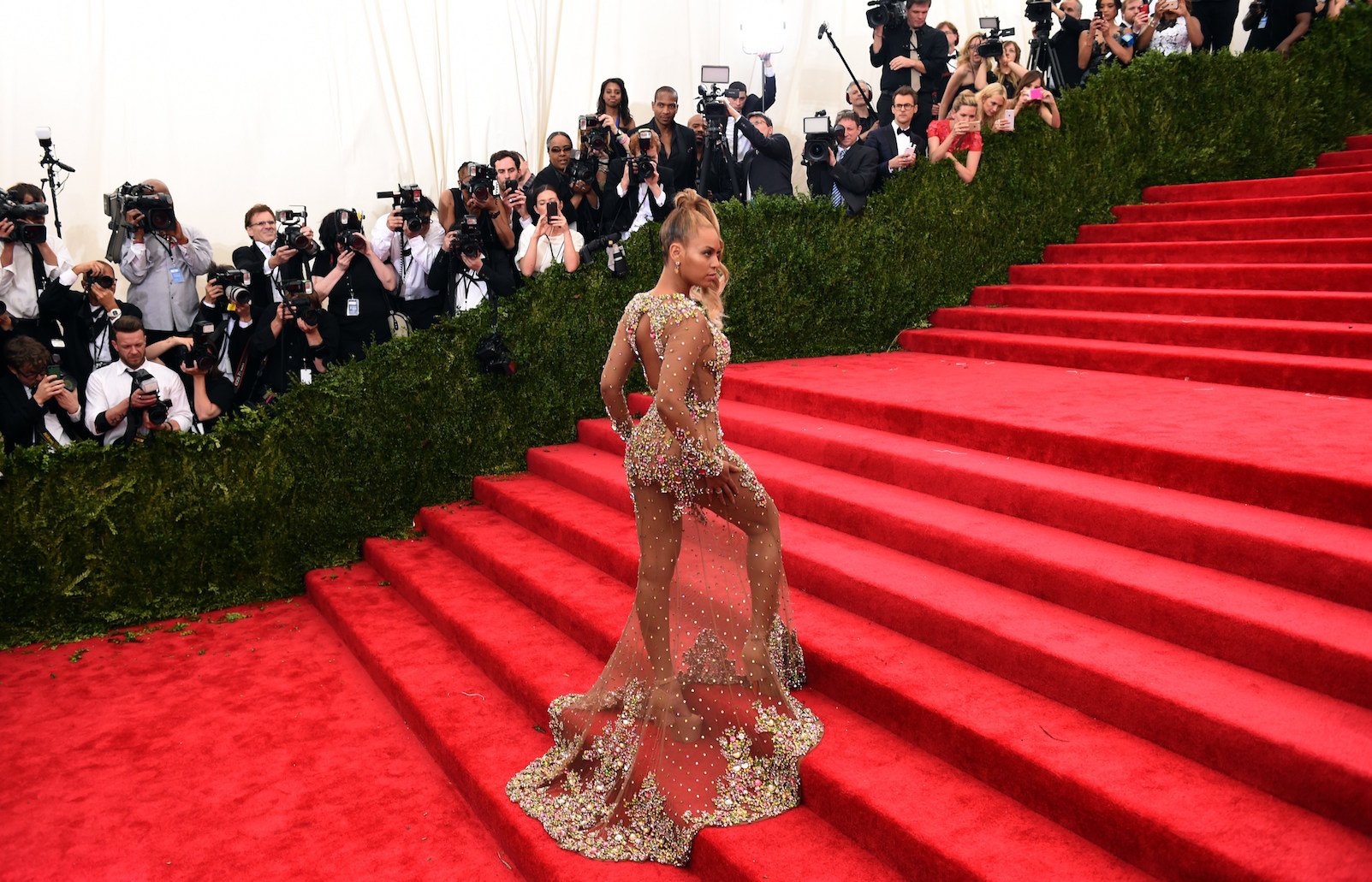 Beyoncé's fearless approach to her career has been especially successful when it comes to her red carpet attire. So much so that even when she appeared an hour late to the 2015 Met Gala, she was instantly forgiven because she looked so incredible.
The stunning, sheer Givenchy gown may not have exactly matched the theme of the night — "China: Through the Looking Glass." Unless, that is, you count the fact that you could see straight through her gown.
Next: A Russian supermodel who's used to being a bit chilly
14. Irina Shayk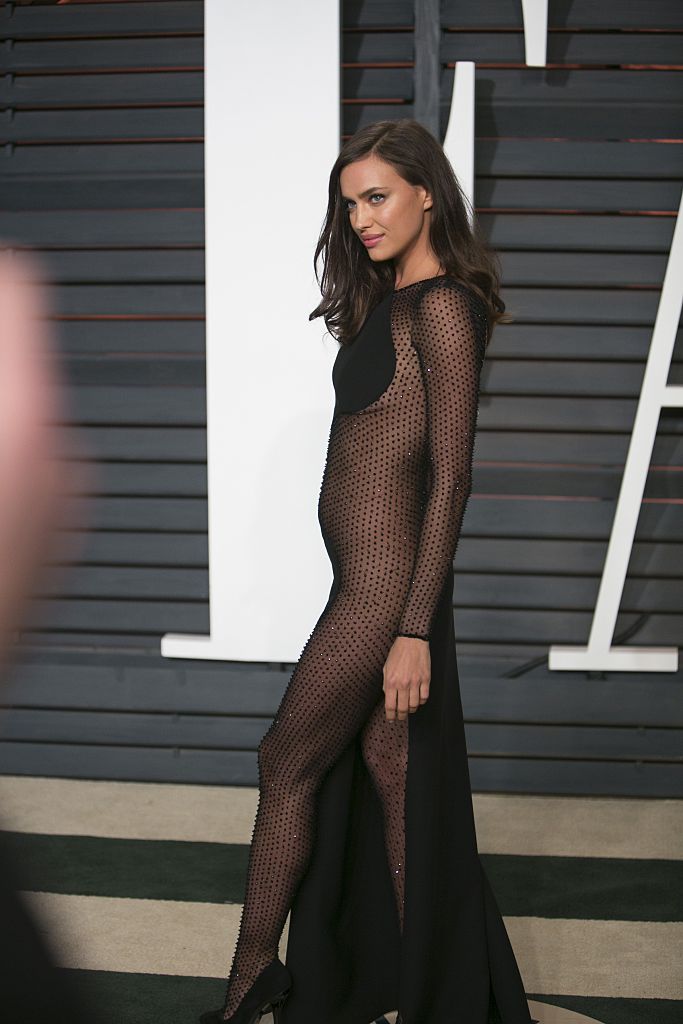 Maybe it's not so daring if two people show up to the same event in nearly identical dresses? Regardless, Sports Illustrated supermodel Irina Shayk attended the 2015 Vanity Fair Oscar Party in a sheer gown with a black train of sorts — almost exactly the same look as fellow party-goer Rita Ora. Shayk's Versace version included black dots, while Ora's was designed by Donna Karan. Neither left much to the imagination, making headlines everywhere.
Next: Some called this look "sacrilegious."
13. Nicki Minaj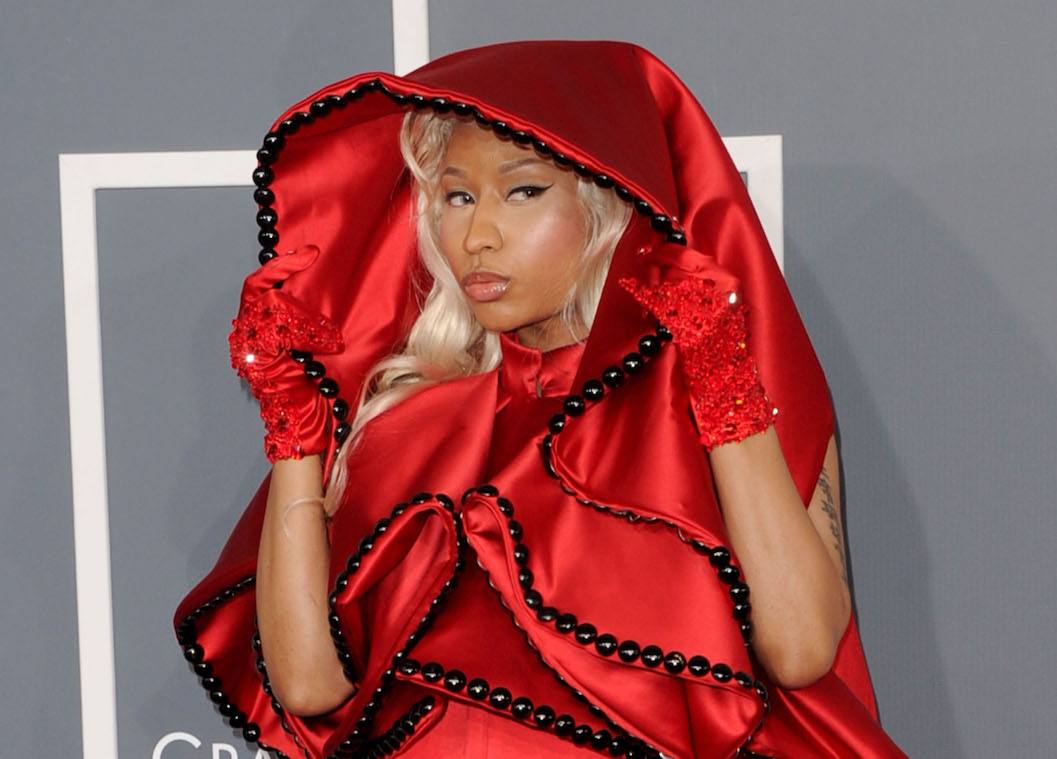 Nicki Minaj made even her most ardent fans scratch their heads when she walked the red carpet at the 2012 Grammy Awards. It wasn't just what she wore — though that was daring on its own. The blood-red layered Versace cape was eye-catching. But her choice to walk arm-in-arm with a man dressed in full Catholic garb was what really got people in a tizzy.
Minaj later used her red carpet date in her Grammy ceremony performance, an electrifying take on her single "Roman Holiday." The exact statement she was trying to make about religion, however, was never entirely clear.
Next: The result of a '90s pop star getting "Dirrty"
12. Christina Aguilera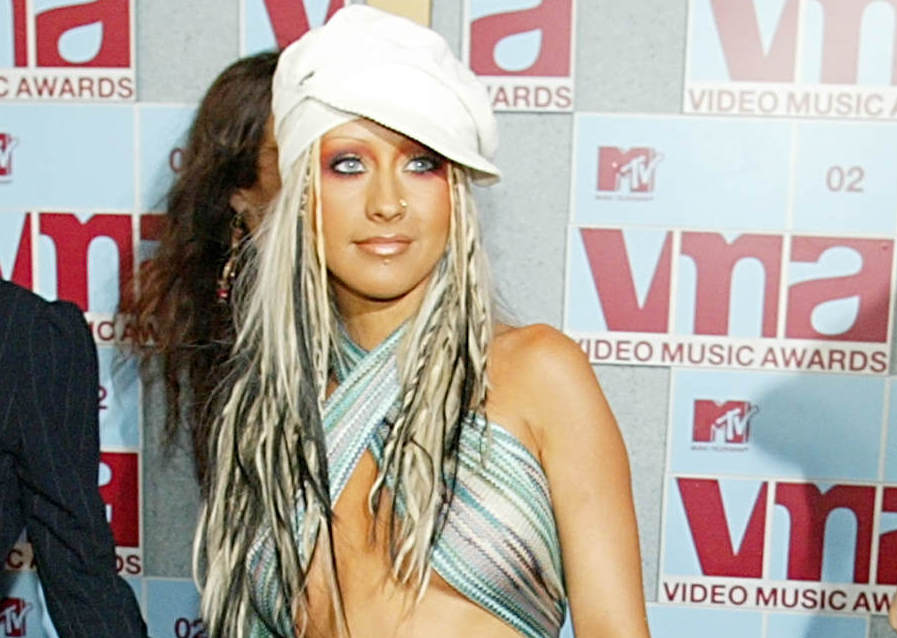 Christina Aguilera perfected the bubble-gum sweetness of '90s pop princesses. But by 2002, she wanted edgier image. Aguilera debuted her new look at the 2002 MTV Video Music Awards, donning not just a funky, skunky hairstyle, but a micro-mini skirt and small piece of fabric — allegedly considered a top. It wasn't the first or last time Aguilera wore something skimpy, but it definitely marked a turn for the singer.
Next: The Queen of Pop is no stranger to shocking people.
11. Madonna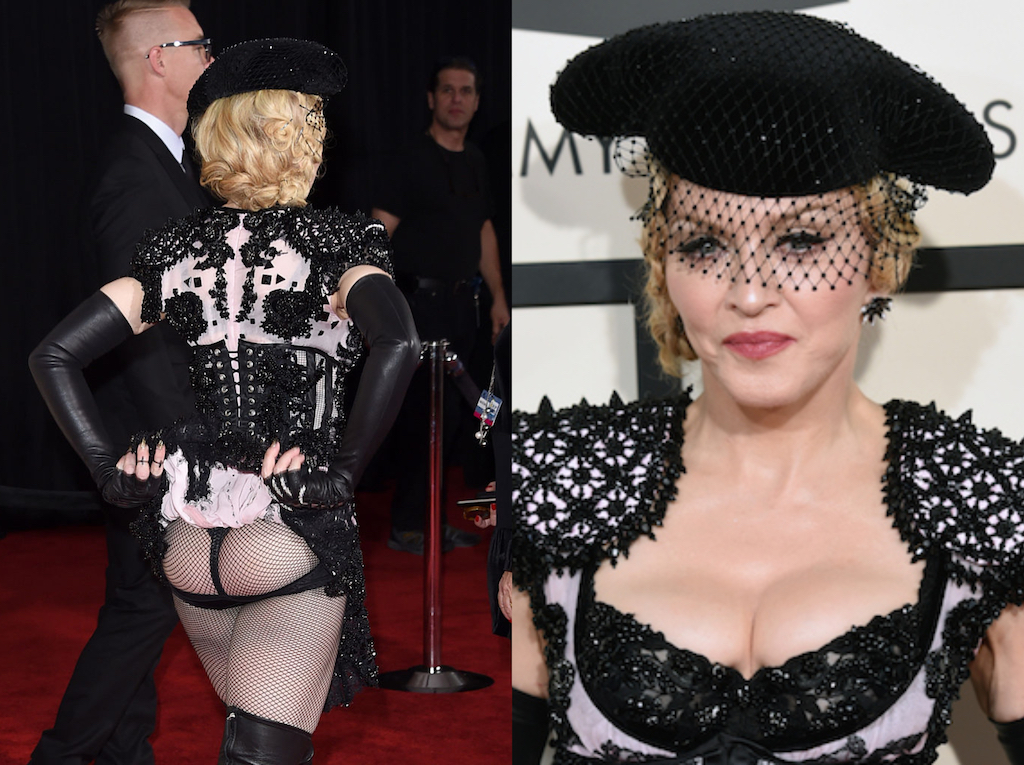 The iconic singer is known for donning controversial outfits on stage. However, the 2015 Grammy Awards played host to one of her most daring looks of the past few decades. Madonna's short Givenchy number included a thong, fishnet stockings, and spiky shoulder accents. She received some flak for wearing such a youthful look at age 57.
Next: An unforgettable green dress seen 'round the world
10. Jennifer Lopez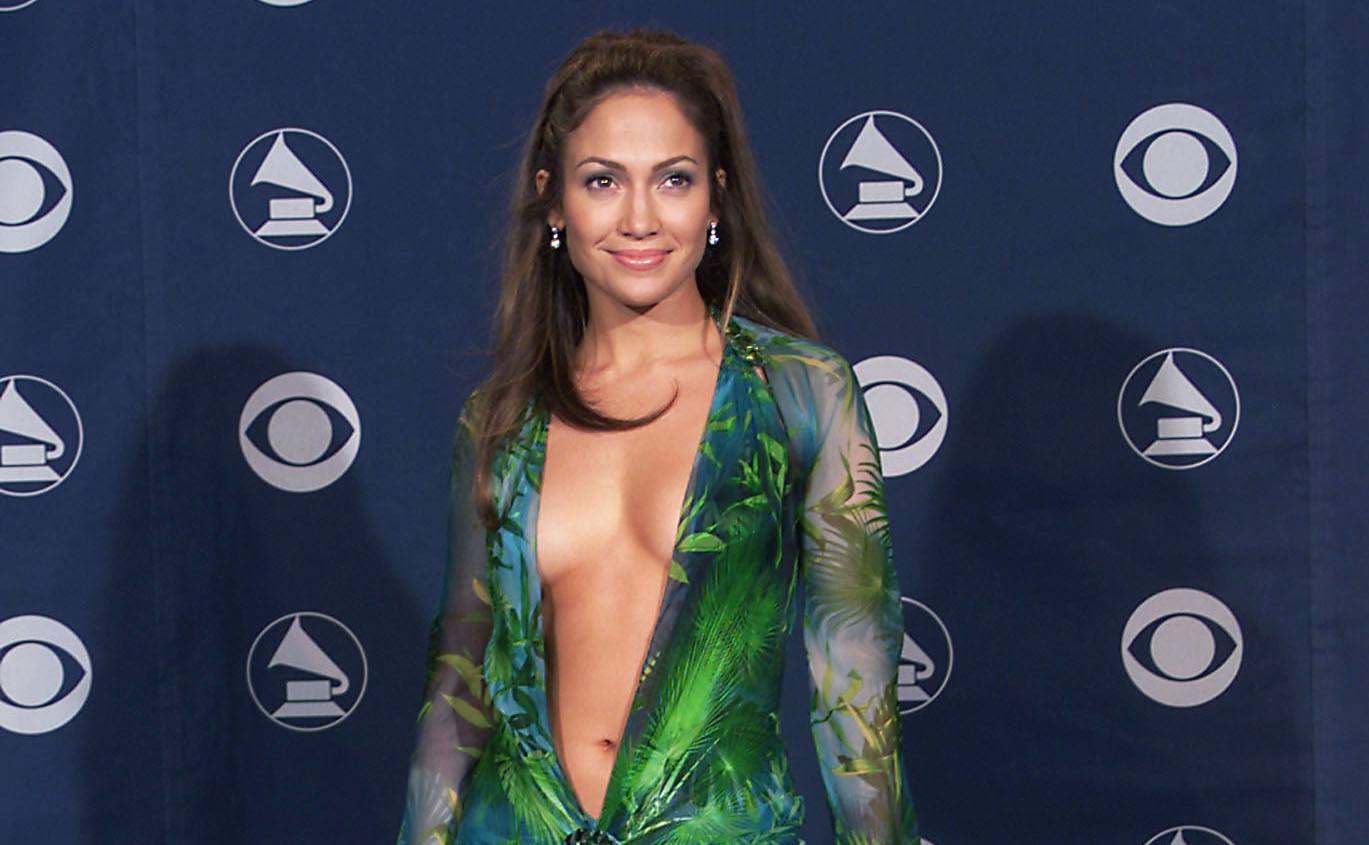 These days, Jennifer Lopez's Grammy Awards dress from 2000 may seem pretty tame. But back then, the floral-themed Versace gown's plunging neckline — ending below her belly button — worked the press and fans into a frenzy. It made Lopez into a genuine fashion icon and helped make both her and Versace household names.
Next: She almost needed a censor bar.
9. Rita Ora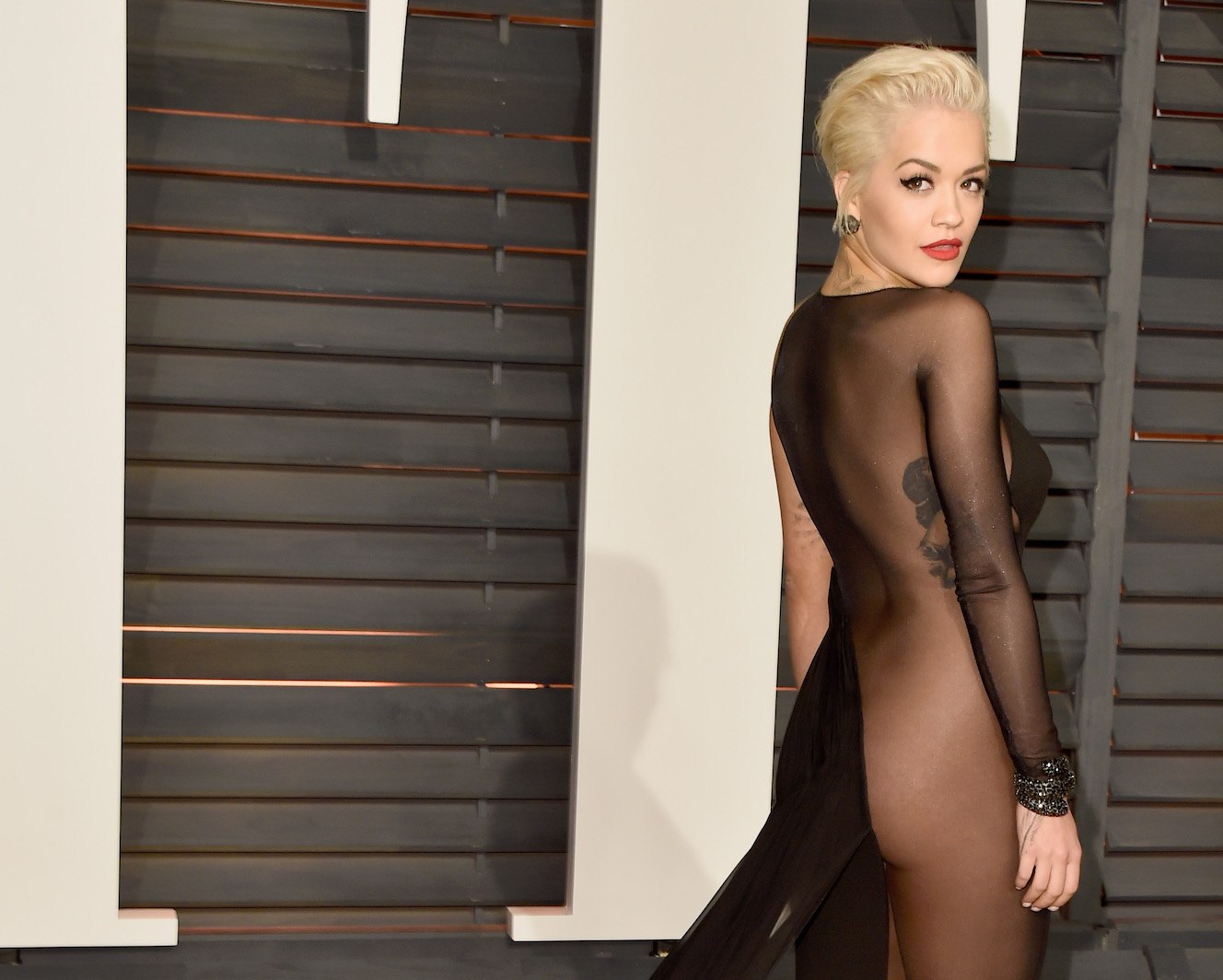 Rita Ora made jaws drop when she attended the Vanity Fair Oscars party in 2015. The black Donna Karan Atelier gown she wore was slinky, sexy, and mostly see-through. It covered just enough to make sure that photos on Hollywood sites the following morning wouldn't have to be blurred out.
Next: This A-lister debuted the most daring red-carpet look in recent years.
8. Kendall Jenner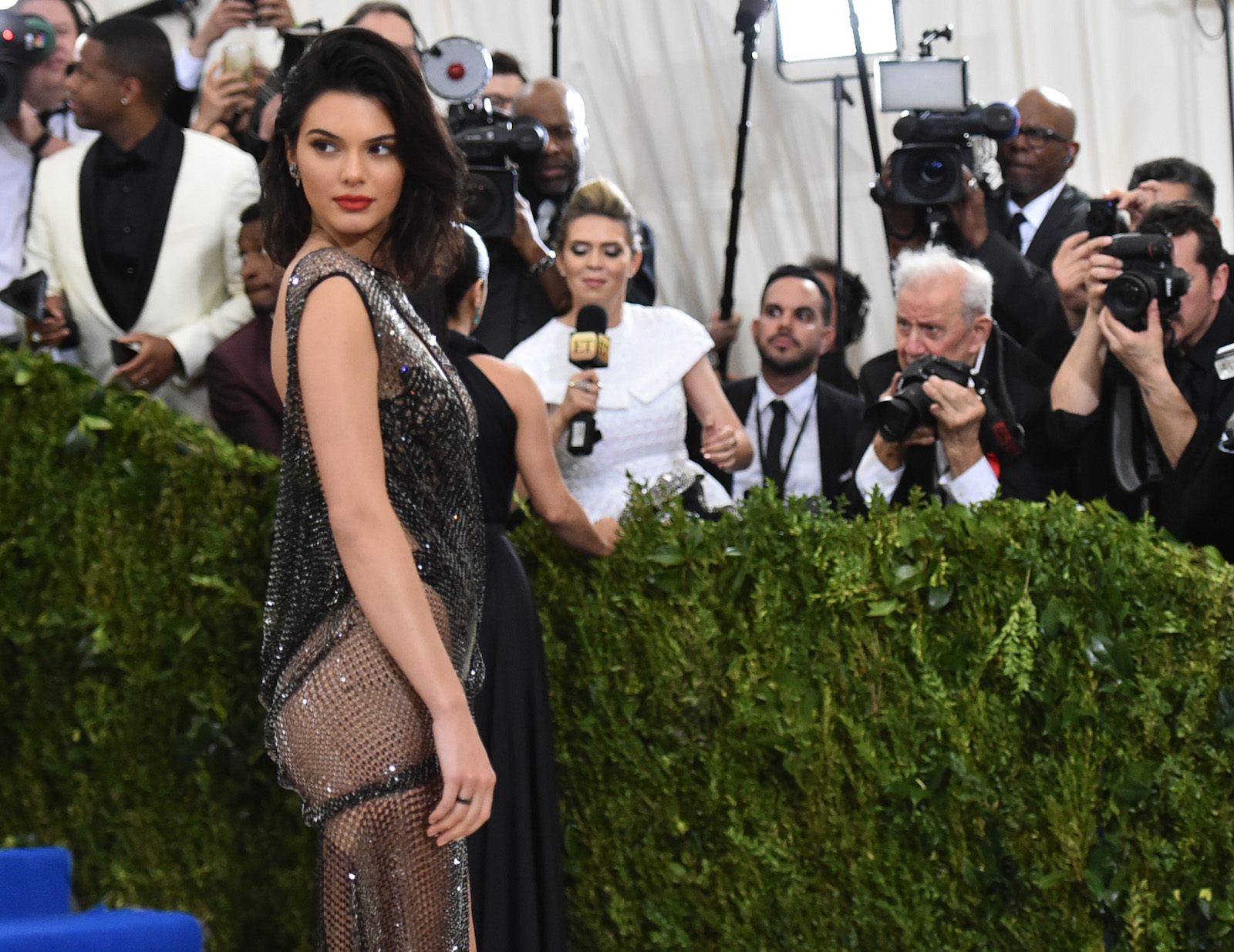 Since the onset of 2017, Kendall Jenner has been no stranger to controversy. She probably wasn't expecting the drama surrounding her Pepsi ad or her Tupac T-shirt line. But she definitely knew she'd raise some eyebrows when she planned her outfit for the Met Gala.
The annual charity event frequently hosts some of the most eyebrow-raising celebrity outfits, since guests are supposed to wear attire inspired by the Metropolitan Museum of Art's Costume Institute exhibition for the year. In 2017, the Met Gala celebrated Japanese designer Rei Kawakubo and her groundbreaking fashion line, Comme des Garçons.
Jenner certainly offered up a daring take on the theme, walking the red carpet in a barely there La Perla gown. The front of Jenner's glittering, metallic dress was daring enough with a sizable cutout that exposed much of her chest and midriff. But it was the back — or rather, the lack thereof — that really got people talking. The scooped back and chain mail-esque fabric provided minimum coverage and, thus, left very little to the imagination.
Next: The MTV Awards were never the same after 1999.
7. Lil' Kim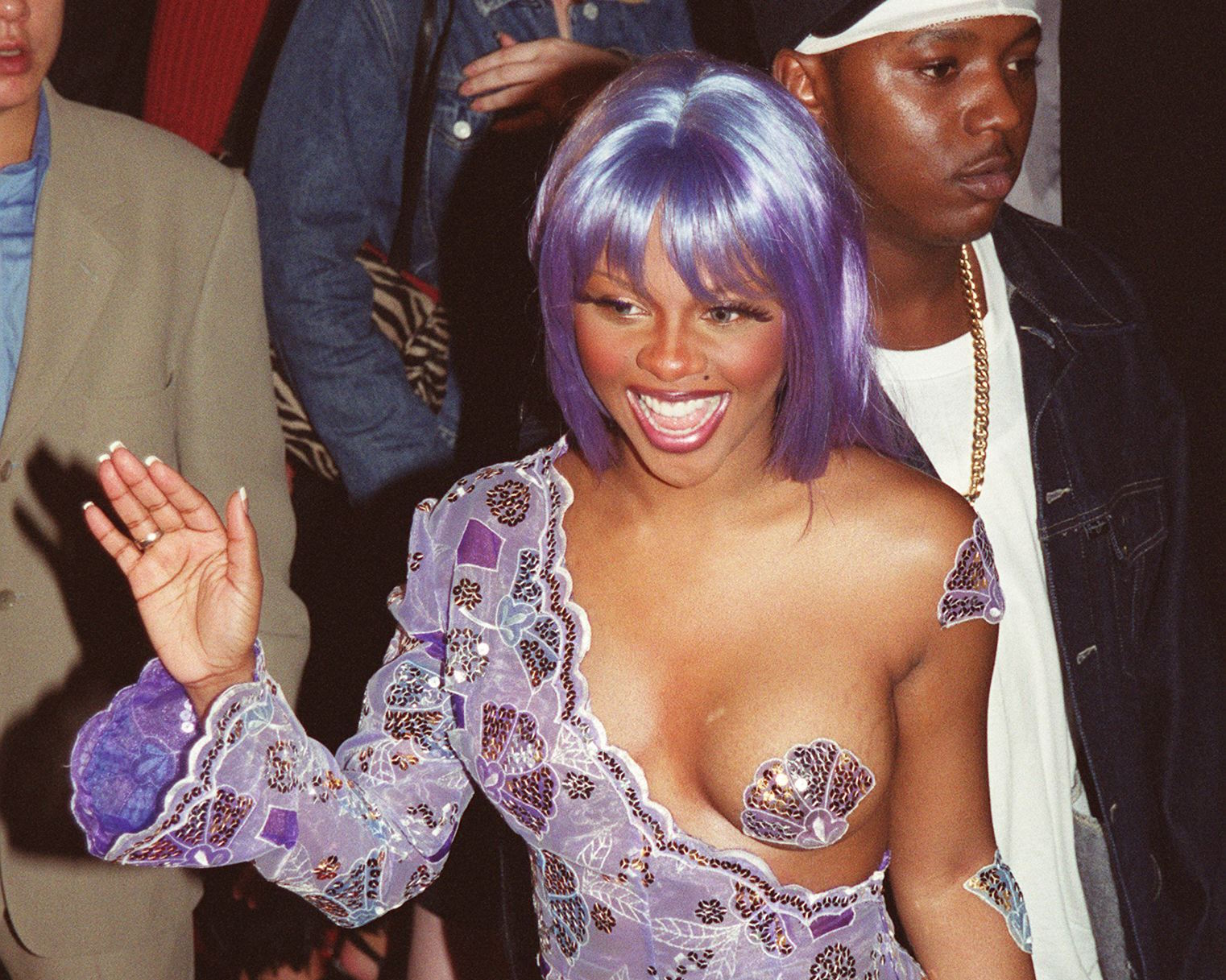 There's high fashion, and then there's whatever Lil' Kim wore to the 1999 MTV VMAs. The purple, sequined jumpsuit would have been eye-catching on its own. But the fact that it featured a flowery pastie to (barely) cover one half of her chest made it unforgettable. Kim's outfit definitely made headlines — and several "worst dressed" lists, too.
Next: Fans know this "queer eye" as a style icon.
6. Jonathan Van Ness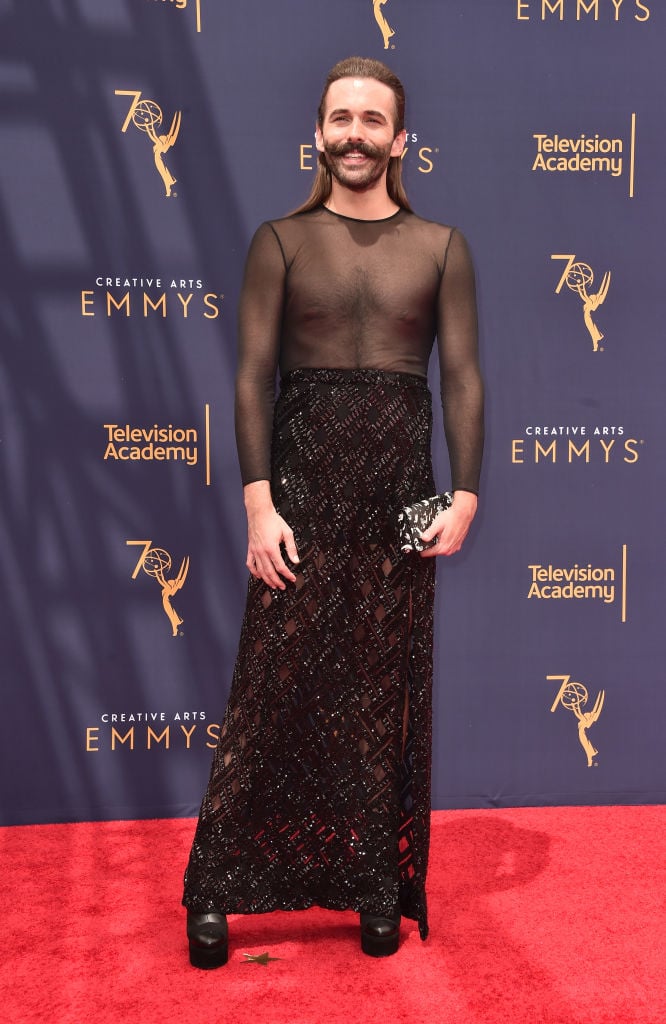 Known as a grooming/hair expert, Jonathan Van Ness loves to push boundaries. The Queer Eye star wore a black, sheer dress with a thigh-high slit to the Creative Arts Emmys in 2018, and people had a lot to say about it. According to HuffPost, one commenter said Van Ness looked "like the villain in despicable me 3." However, the overwhelming majority of people loved the look.
Next: This child star had a string of crazy, barely-there outfits.
5. Miley Cyrus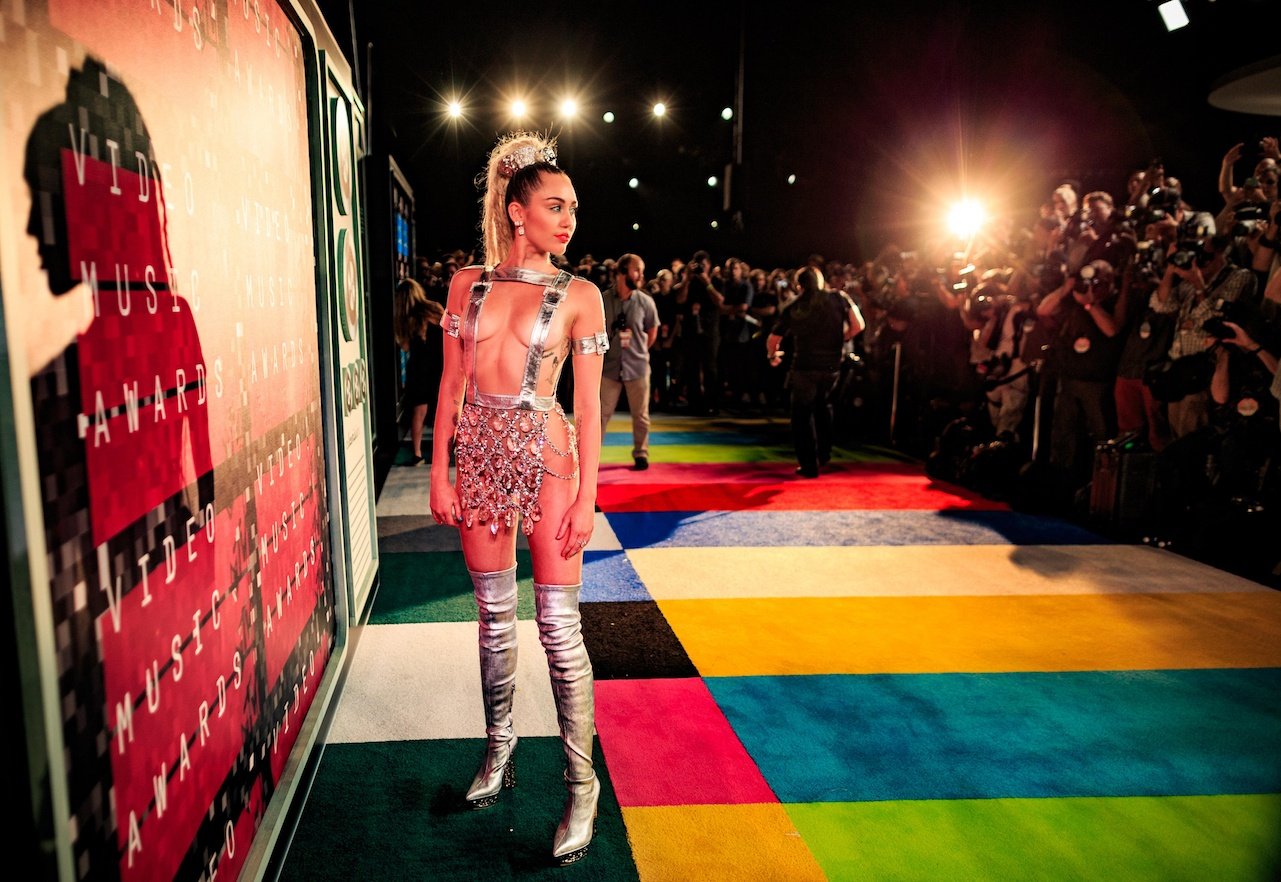 By 2015, the former Hannah Montana star barely resembled the Disney star young fans had grown to love. Miley Cyrus took her wacky persona to the next level during her MTV VMAs hosting gig. When she walked the red carpet before the event, Cyrus wore a metallic ensemble with two suspender straps covering her from the waist up and a chain skirt left little to the imagination.
Next: One of the highest slits from the 2000s
4. Toni Braxton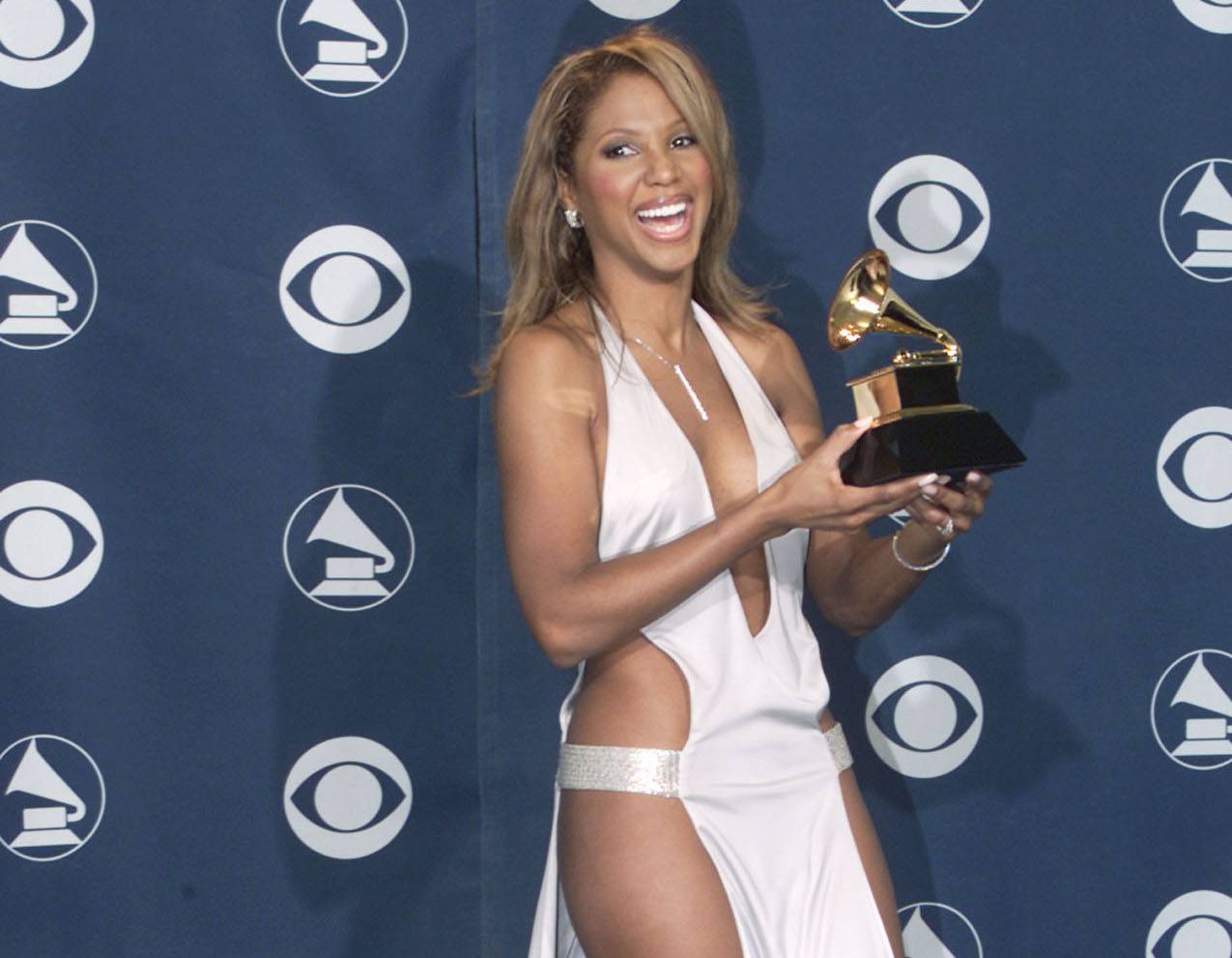 For years Toni Braxton has wowed fans with her sultry singing voice. But she truly had us floored in 2001 when she appeared at the Grammy Awards to collect her trophy for Best Female R&B Vocal Performance. That's because she donned a scandalously revealing Richard Tyler gown and showed us a whole new side (well, multiple sides) of her.
The white dress was low-cut and featured a sizable slit on either side of her waist. The result was a look that reminded us she was still completely capable of slaying both high notes and haute couture.
Next: The first of this star's TWO outfits that make this list
3. Rihanna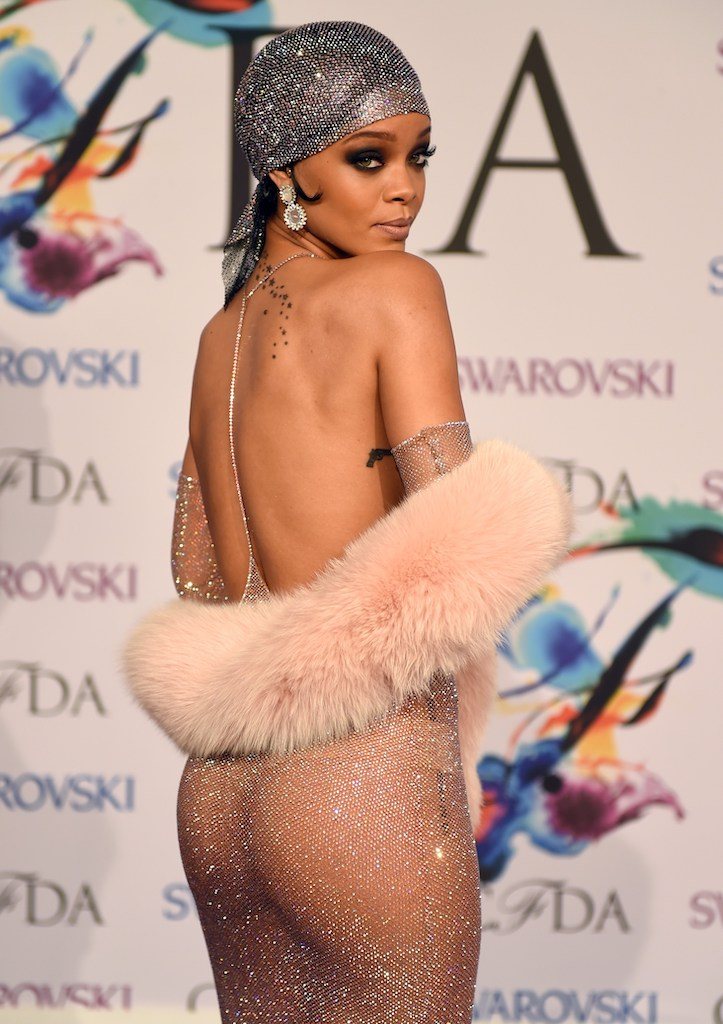 The pop star broke the internet when she attended the CFDA Fashion Awards in 2014. Dubbed "the naked dress," Rihanna's Adam Selman gown was made out of 230,000 Swarovski crystals and little else. Perhaps the celeb felt she needed to live up to the honor she received that night — the Fashion Icon Award.
During her acceptance speech, Rihanna said, "Growing up I didn't have a lot of access to fashion. But as far as I could remember, fashion has always been my defense mechanism … And to this day I mean, that is how I think about it. I can compensate for all my weaknesses with my fashion."
Next: Do you think this supermodel pulls it off?
2. Bella Hadid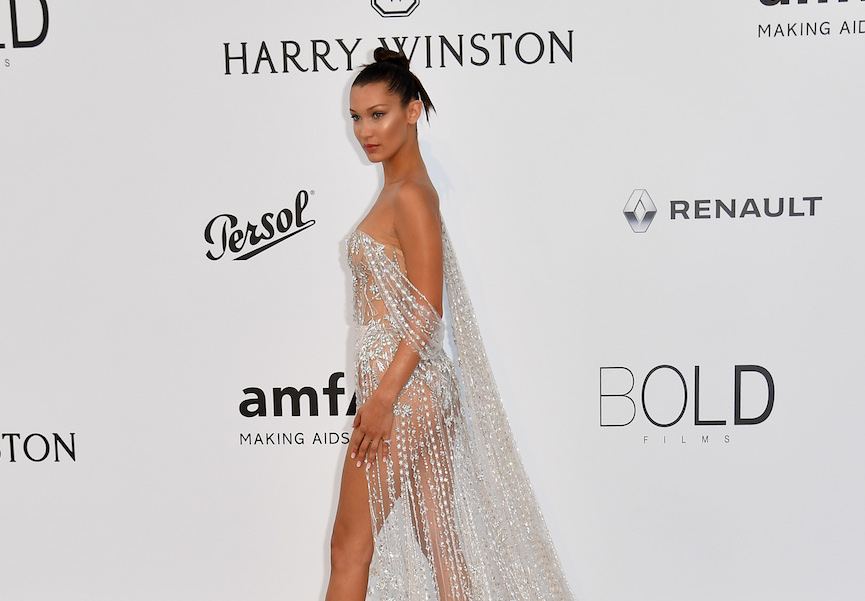 As a model, Bella Hadid shows a lot of skin. But she left fans speechless when she appeared at the 2017 Cannes amfAR Gala. Her sheer René Caovilla gown looked more like a leotard with some fringe than an actual gown. The dress was definitely revealing. But with its icy embroidery and romantic off-the-shoulder sleeve, it still felt surprisingly classy.
Next: This dress disgusted vegeterians.
1. Lady Gaga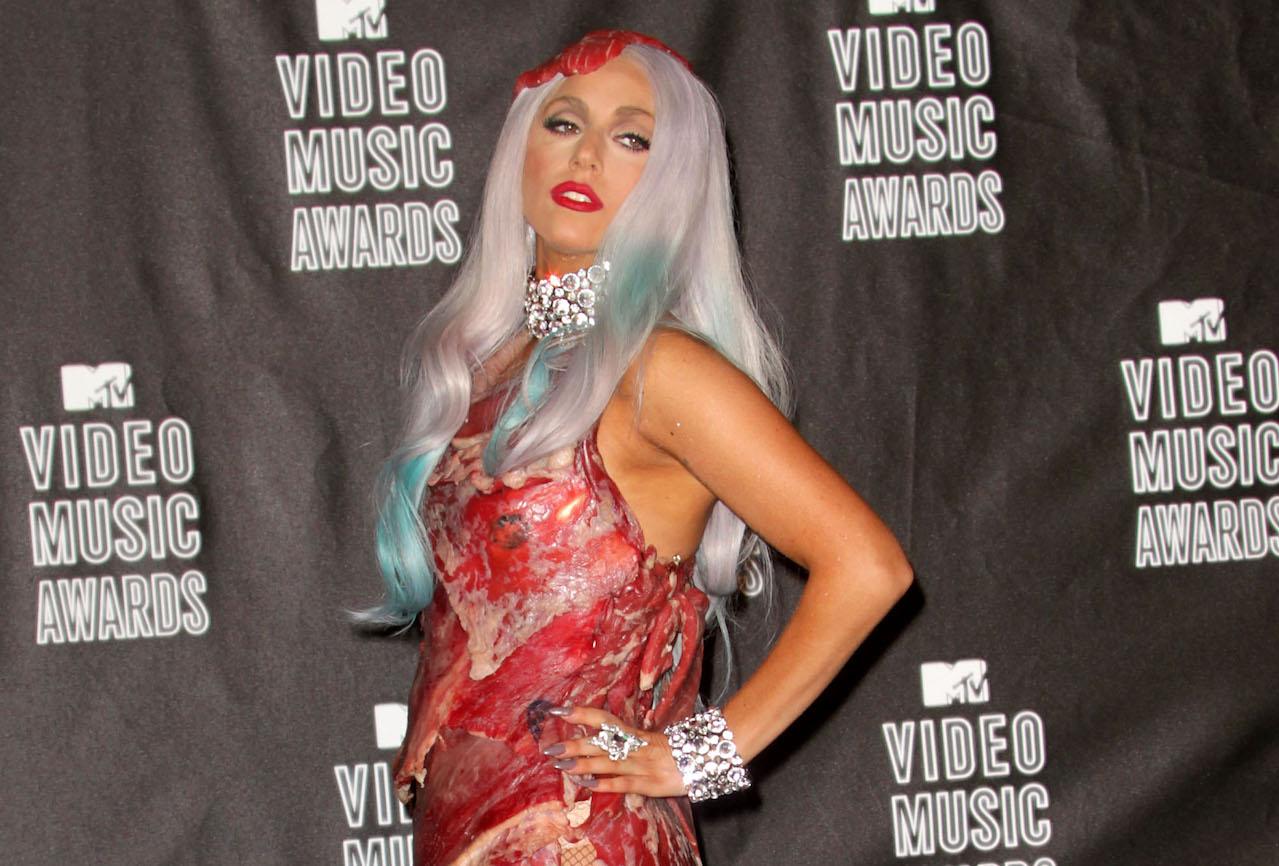 Lady Gaga knows how to keep fans engrossed in her every move. But her outfit from the 2010 MTV VMAs was extra crazy. Almost everything she wore, from her hat down to her platform shoes, was raw beef. The look was, understandably, polarizing. Animal rights groups like PETA condemned Gaga's attire as "offensive." Time magazine called it the fashion statement of the year.
Read More: Celebrity Look-A-Likes: 10 Celebrities Who Look Like Other Celebrities
Check out Entertainment Cheat Sheet on Facebook!