What Is the Most Popular BTS Song and Why?
So many BTS songs, so little time! From 'Boy With Luv' to 'DNA,' here are a few of the most popular songs by the K-pop group in the United States.
There's no denying the success of BTS as a group. Together, they've broken records, sold millions of albums, and performed in sold-out arenas worldwide. However, some BTS songs are more popular than others. According to award nominations, streams on Spotify, and YouTube music video views, here are some of BTS' most successful songs in the United States.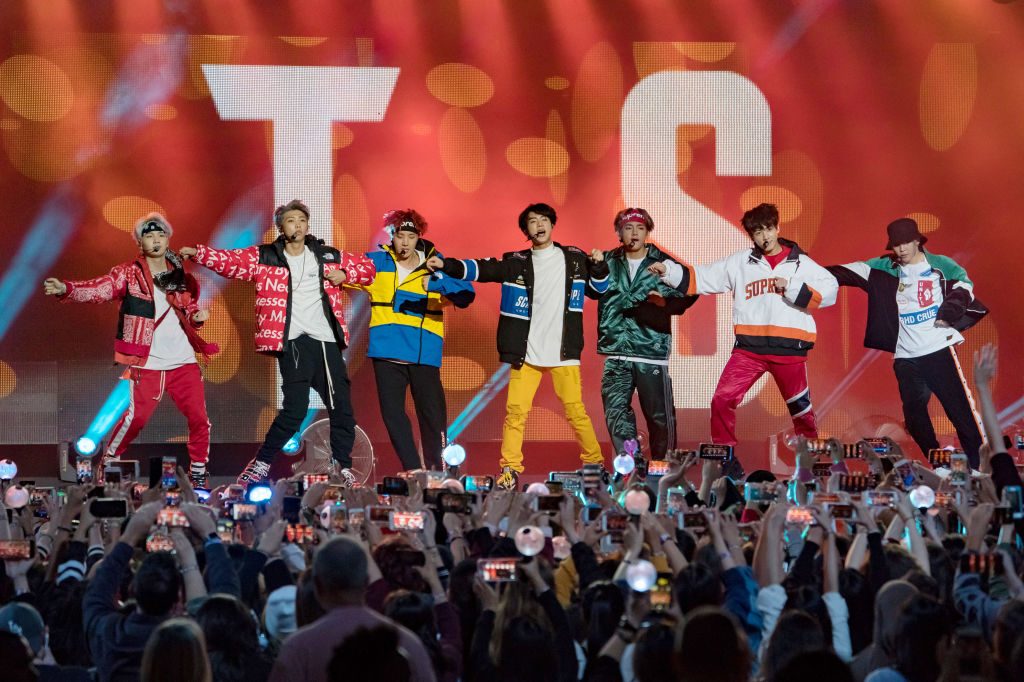 BTS' song 'Boy With Luv' earned multiple nominations at the MTV Video Music Awards
One song that broke records in the music industry is "Boy With Luv," a song off of BTS' recently released album, Map of the Soul: Persona. This song earned multiple nominations at this year's MTV Video Music Awards. That includes the nominations for Best Choreography, Best Collaboration, and Best Art Direction.
Nominations aside, "Boy With Luv" became a groundbreaking song for this K-pop group. According to Refinery 29, "Boy With Luv" became the YouTube music video with the most plays within a 24-hour period, a record previously set by the K-pop group BLACKPINK. Additionally, this song holds the most streams on Spotify for BTS, just edging out other fan favorites like "Fake Love," "Blood, Sweat, & Tears," and "DNA." It currently has almost 300 million plays on the streaming platform.
BTS preformed their songs 'Idol' and 'Mic Drop' on multiple American talk shows
Some discovered BTS from their iconic live performances. Last year, many of those performances took place on television shows in the United States. That includes The Tonight Show with Jimmy Fallon where the group performed songs like "Idol" and "I'm Fine."
On Saturday Night Live, the group performed their songs "Boy With Luv" and "Mic Drop." On The Late Show with Stephen Colbert, BTS performed "Boy With Luv" and "Make It Right." Each video earned the group millions of plays, mostly from fans in the BTS ARMY. The success of songs like "Idol" and "Mic Drop" are reflected in their streams on Spotify, where they each hold over 90 million plays.
BTS' music video for 'DNA' has the most views of any of their videos on YouTube
Since BTS premiered their music video for "DNA," the vibrant and colorful YouTube view earned over 840 million views, making it the boy band's most-watched music video. According to Hypeable, "DNA" became "the first music video from a Korean group to break 600 million views."
As of October 2019, their music video with the second-highest number of views is "Fake Love." In less than two years, the "Fake Love" earned over 600 million views and 10 million likes. The third-most viewed music video is for "Boy With Luv," featuring Halsey.
Additionally, it's important to note that each of the BTS boys find success with their solo music. Jimin became the first Korean artist to have three solo songs on Spotify over 50 million streams each. Jungkook became the first K-pop artist with a Spotify advertisement paid for by fans, promoting his song "Euphoria." The members even collaborated with trendy artists, from RM's "Old Town Road" remix with Lil Nas X to J-Hope's "Chicken Noodle Soup" song with Becky G. V, Jin, and Suga also have solo music, some available on BTS' Spotify page, others available on separate platforms.
Music by BTS, including Map of the Soul: Persona, is available on Spotify, Apple Music, and most streaming platforms.