The Most Shocking 'Saturday Night Live' Moments
Saturday Night Live has a long and crazy history. Between cast members, celebrity hosts, and famous bands, things don't always go according to plan. We've witnessed many surprising moments on the show, but these are the most shocking Saturday Night Live moments. One famous comedian can't ever return to the show after his crazy monologue (on page 10).
18. The 'Storm' came to SNL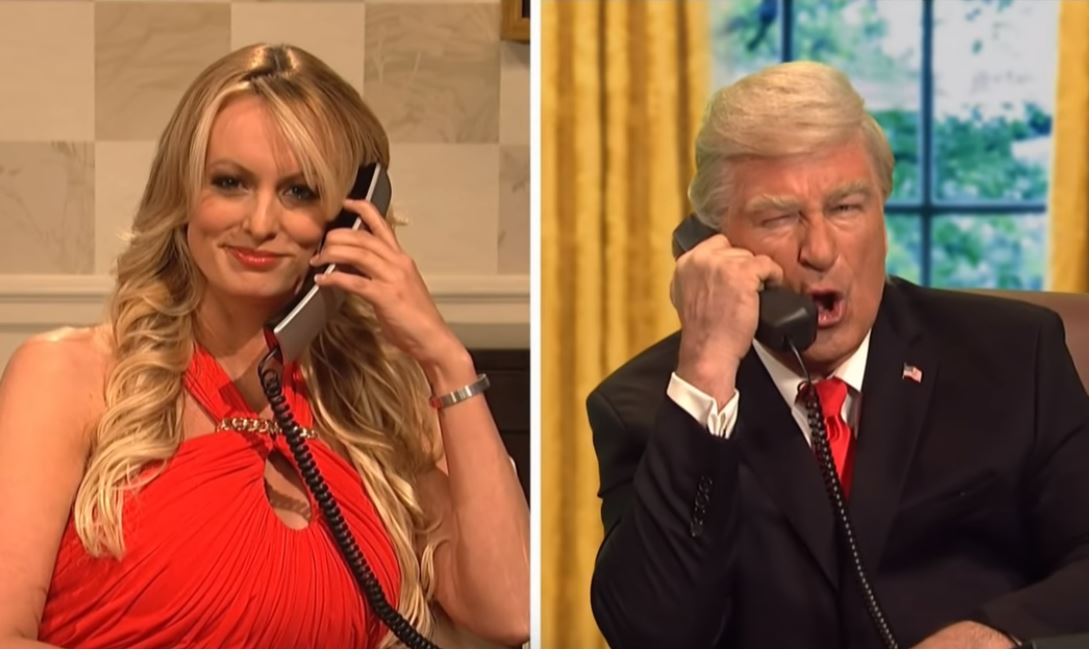 17. Sexual harassment Charlie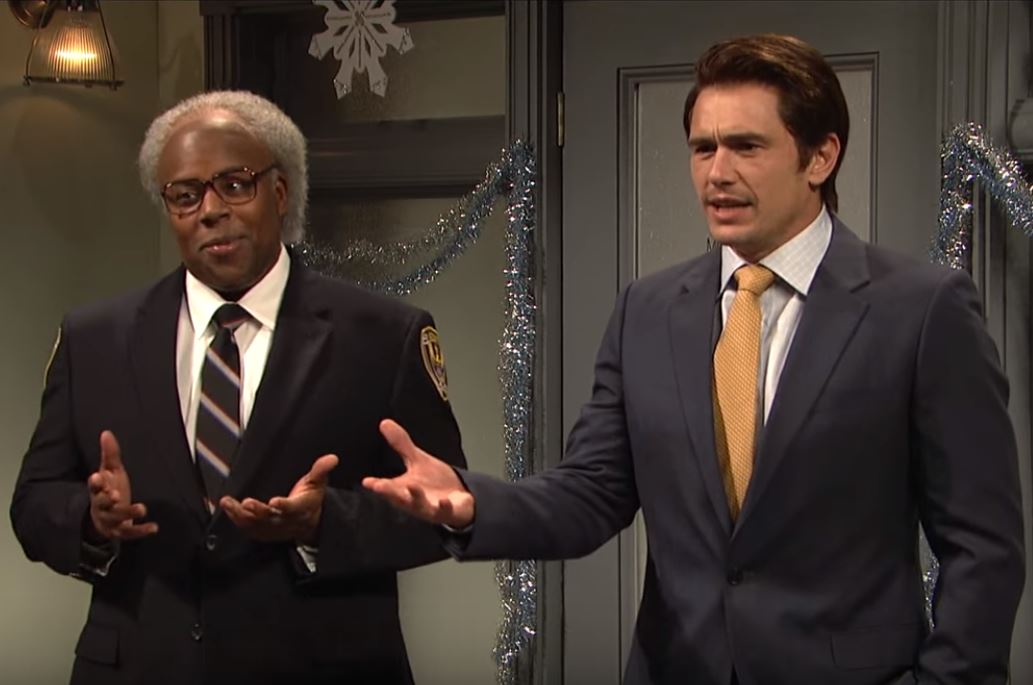 SNL reacted to the #MeToo movement by creating this controversial skit in 2017. Many viewers did not think it was funny, as James Franco and Kenan Thompson made fun of women's claims of sexual misconduct, basically insinuating it's unfounded.
Next: SNL lacked oversight when they mocked this New York governor.
16. A Weekend Update segment that mocks the blind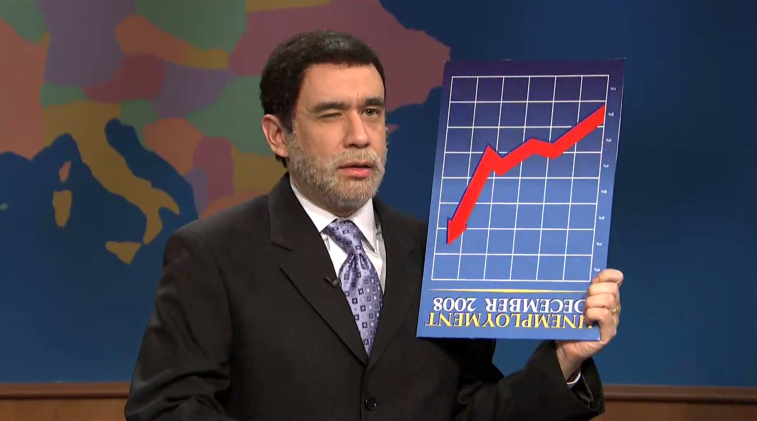 Any comedy show that pokes fun at politicians is bound to step on some toes sometimes. But many people thought Saturday Night Live went too far with one segment featured on the show's Weekend Update segment. In the skit, Fred Armisen portrays then-New York governor David A. Paterson as a bumbling idiot who has difficulty seeing when a chart is being held upside-down. The only problem is, Paterson actually is legally blind, and the skit seemed to mock his disability and suggest that visually-impaired people have trouble performing simple tasks.
"The governor engages in humor all the time, and he can certainly take a joke," said Risa B. Heller, the governor's communications director, in a statement reported by The New York Times. "However, this particular 'Saturday Night Live' skit unfortunately chose to ridicule people with physical disabilities and imply that disabled people are incapable of having jobs with serious responsibilities."
Next: An SNL cast member messes with the wrong city. 
15. An angry news report about Beantown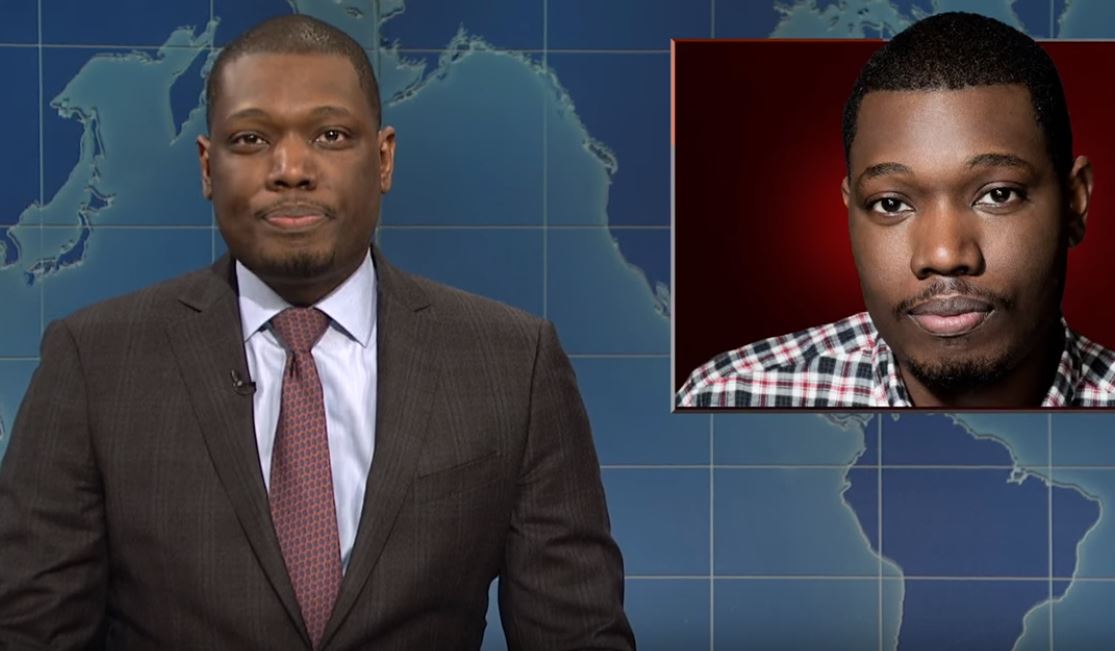 When Michael Che called Boston "the most racist city I've ever been to" during the Weekend Update, many expected an apology to follow. However, the stand-up comedian didn't back down from his statement when questioned at Boston University. Che simply added, "Talk to your closest black friend and ask them to explain it to you." The cast member is known to push buttons during his sketches, but this move angered Bostonians.
Next: This all-star cast upset thousands of viewers with one word.
14. Matthew Broderick's 'nude beach' sketch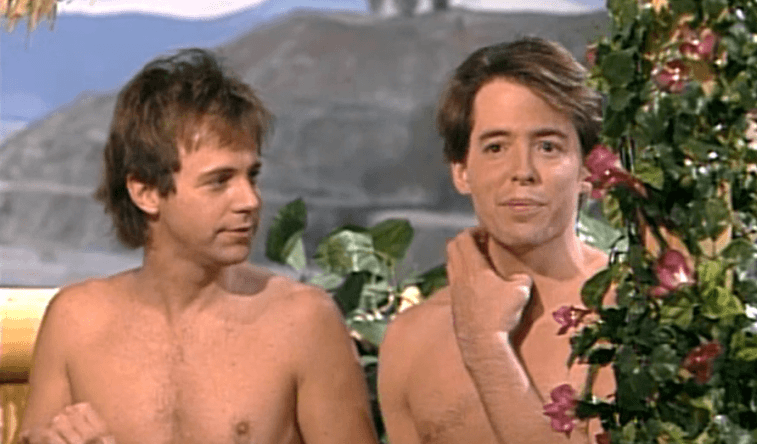 In the '80s it was still unheard of to say "penis" on television. This sketch has people saying penis over 40 times so it was pretty scandalous. In the skit, there are five guys at a nude beach played by Matthew Broderick, Dana Carvey, Kevin Nealon, Dennis Miller, and Jon Lovitz. They compliment each other on their penises and more. The sketch led to 40,000 angry letters from viewers.
Next: A respected actor looks like an idiot during this live goof-up.

13. Samuel L. Jackson curses
The actor was doing a skit with Kenan Thompson when he had an awkward moment on live television. Some say they heard the actor say "f*ck" while others think he only said "fuh." Either way, the actor was supposed to start saying the curse word only to get interrupted by Thompson. Their timing was off and instead, the actor almost says the curse word uninterrupted. When Jackson was later asked about what happened, he put all the blame on the Saturday Night Live cast member.
"I'm just saying," he told Jimmy Kimmel, "I'm used to working with professionals that know their lines. Even the ones that are written on cue cards in front of you."
Next: A skit isn't smart about this intellectual disability.
12. Using Down's Syndrome as a punchline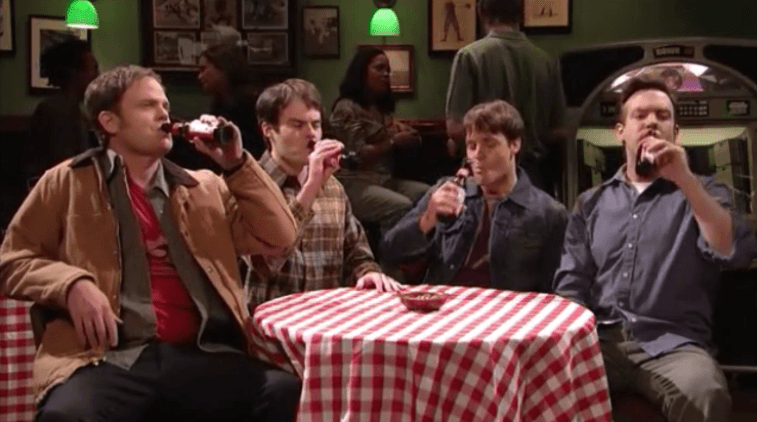 In 2007, Rainn Wilson hosted an episode of Saturday Night Live that included a sketch with a group of old friends who reminisce about what the song "Danny's Song" means to them. The deliberately bizarre memories they discuss include being bitten on the penis and starting a fire. However, Bill Hader's character raised some eyebrows when he recalled the first time he heard "Danny's Song": "It was so great! The first day I ever thought to myself, 'Just I have a Dad,' and not, 'I have a Dad with Down's Syndrome.'"
As reported by The Times, the National Down Syndrome Society criticized the sketch in a letter to NBC executives. "We request that you consider issuing a network policy that would prohibit and prevent the airing of programming with comments using Down syndrome or other intellectual disabilities as a punchline in the future," reads part of the statement. "We invite you and NBC to produce programming that tells the true story about Down syndrome and intellectual disabilities, and help us break down stereotypes and educate the public."
Next: A guest host tests the viewers' "faith" in SNL's sense of humor.
11. Jesus goes on a killing spree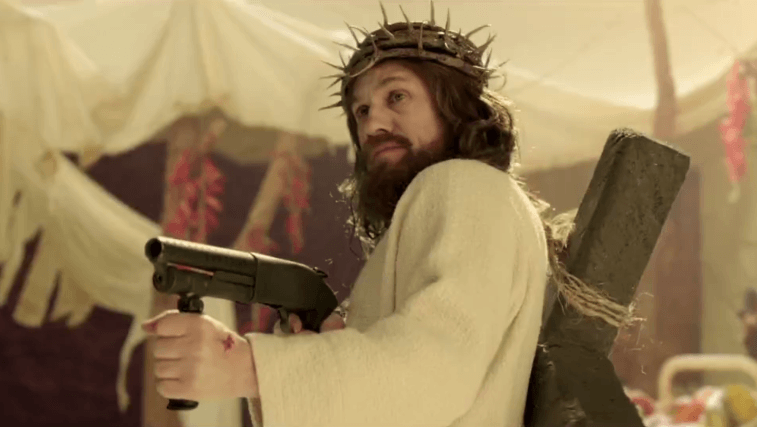 What would it look like if Quentin Tarantino made a revenge movie about Jesus Christ? That's the premise of a sketch Saturday Night Live ran in 2013. Titled "Djesus Uncrossed" in tribute to Tarantino's Django Unchained, the sketch stars Christoph Waltz and features scenes of over-the-top violence as Jesus takes revenge on the Romans who want to crucify him. Not surprisingly, some religious groups took offense to this ultra-violent portrayal of Jesus, including the Council on American-Islamic Relations, which released the following statement (per The Atlantic):
Such misrepresentation of what Jesus, peace be upon him, stands for is extremely offensive to Muslims and to all those who believe in his message. While we understand the use of shocking imagery and bizarre juxtapositions to provoke a humorous response, we believe such a distasteful portrayal of a religious figure revered by billions of Muslims and Christians worldwide crosses the comedic line.

We strongly support free speech rights for all, but one would hope that common decency and respect for the beliefs of others would help avoid such unfortunate depictions.
Next: This edgy songstress got political during her performance.
10. Sinead O'Connor rips up a picture of Pope John Paul II
When the singer performed on the show in 1992, she decided to give the world a message. "Fight the real enemy," she said as she ripped up a picture of the Pope. She then went on to play Bob Marley's "War" instead of the song she was scheduled to play. O'Connor later sent out an open letter to further explain her protest.
The Catholic church has controlled us by controlling education, through their teachings on sexuality, marriage, birth control, and abortion, and most spectacularly through the lies they taught us with their history books. My story is the story of countless millions of children whose families and nations were torn apart for money in the name of Jesus Christ.
Next: A riff on a pro athlete's marital troubles gets aggressive.
9. Making light of domestic abuse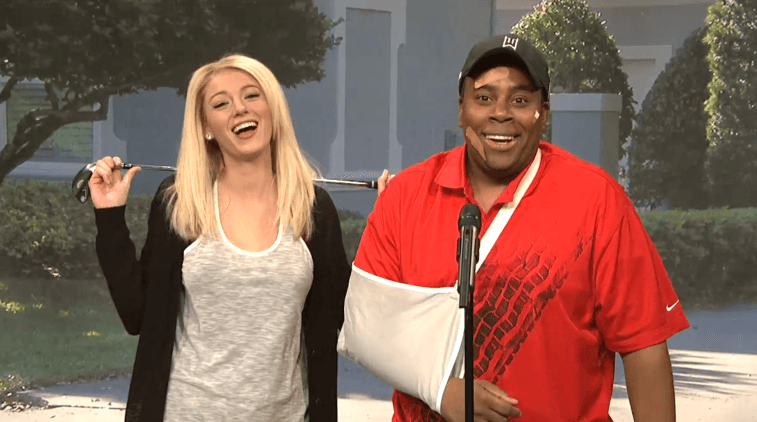 In 2009, Tiger Woods was revealed to have cheated on his then-wife, Elin Nordegren. Not surprisingly, Saturday Night Live featured a sketch about the scandal.  In the sketch, Kenan Thompson plays Tiger Woods, while Blake Lively portrays Elin Nordegren.
As Woods admits to various failings in his marriage, it becomes apparent that Nordegren is physically assaulting him off-screen. The sketch was criticized by some commentators for seemingly trivializing domestic violence. To make things even worse, the show's musical guest that episode was Rihanna, a well-known survivor of domestic violence at the hands of her former boyfriend, Chris Brown.
Next: A comedian takes his monologue too far.
8. Martin Lawrence gets banned for a risky monologue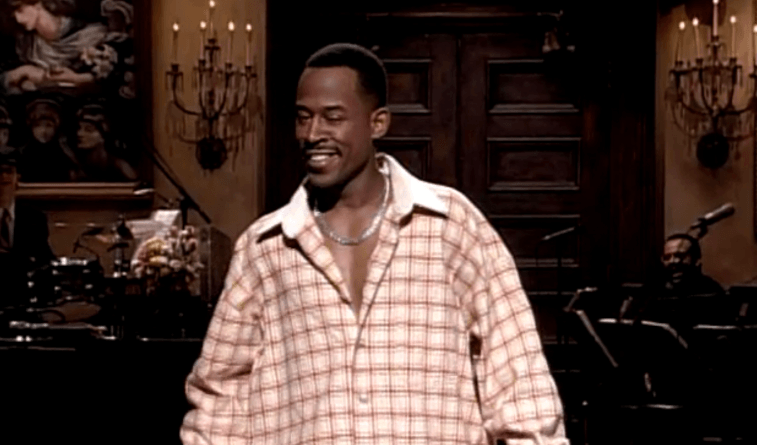 The comedian had a very successful sitcom and many funny movies, so it only made sense that he would one day host Saturday Night Live. However, when he finally got his shot he gave a shocking monologue that led to him getting banned from the show!
Part of his monologue focused on censors and women's hygiene. "It's crazy though," the comedian said, "I gotta talk about some things that the daggone censors are followin' me everywhere around, wish they'd get off my a** oops, damn, did I slip?" He then later went on to say " … I'm looking for somebody and — but I'm meeting a lot of women out there, and you got some beautiful women, but you got some out there that, uh, I gotta say somethin'. Um … some of you are not washing your a** properly." The monologue didn't sit well with the people behind Saturday Night Live so the comedian was banned from ever returning.
Next: A pop star gets caught in the act.

7. Ashlee Simpson is caught lip syncing
In 2004, the singer went on Saturday Night Live to perform "Pieces of Me," however something went wrong with her audio and rather than singing, Simpson awkwardly began dancing around the stage. The music continued to play with recorded vocals, which made it obvious to everyone that she was planning on lip syncing. "I feel so bad, my band started playing the wrong song and I had no excuse so I had to do a hoedown," she said later on in the night. "I'm sorry."
She later explained the whole debacle to E! "I think my drummer got like really excited and maybe a little bit nervous and he pressed the wrong button," she explained. "I was like okay, I think I've done the hoedown long enough — maybe I should walk off."
Next: People forget SNL is actually live.
6. Jenny Slate drops an f-bomb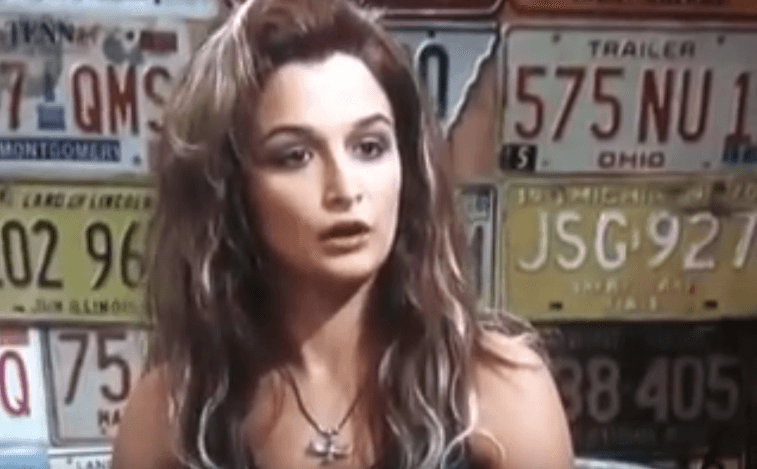 Today, Jenny Slate is well-known as the star of Obvious Child, as well as her numerous guest roles on shows like Parks and Recreation, Girls, and Bob's Burgers. However, back in 2009, she made her debut as a cast member of Saturday Night Live. Unfortunately, in her very first episode, she accidentally said the word "f**king" in a sketch titled "Biker Chick Chat." She was let go after the first season, and she credits the slip-up for her firing.
"Lorne and I never talked when I was fired at the end of the season; I got the news online," Slate told Glamour magazine in 2014. "I've still never watched the clip of my f**k-up. That'd be like watching yourself fall down the aisle at your wedding!"
Next: An actor's costume choice gets him banned from the show.
5. Adrien Brody fakes a Jamaican accent in a wig
https://www.youtube.com/watch?v=rlvKVHPzKBI
Hosts tend to take a break from comedy when introducing the musical guest. However, the Oscar winner switched things up when it was time for him to introduce Jamaican artist, Sean Paul. Brody put on a fake accent and wore a dreadlock wig. Apparently, the whole thing was weirdly ad-libbed and led to him getting banned from the show.
Next: A performance literally brings the house down.
4. The band Fear wrecked the stage while performing
Performances on the show tend to be low key, and the audience doesn't usually participate. But the band Fear switched it up and got everyone to mosh for their crazy performance. The band was invited by John Belushi who probably didn't think the band would be a problem. However, the performance ended up causing $200,000 dollars worth of damage.
Next: A popular rap group lights up on stage.
3. Cypress Hill smoked pot on stage
The rap group is forever banned from the show after lighting up on stage. In 2003 they started off their performance with an act of rebellion. "Yo, New York City," said DJ Muggs, "they said I couldn't light my joint, you know what I'm saying? Well, we ain't going out like that!" He then lit up a joint on stage.
Next: A musical guest is banned because of a song switch-up.
2. Elvis Costello switches songs randomly during his performance
Once again a celebrity decided not to play by the rules of Saturday Night Live and got banned for it. Elvis Costello got to perform on the show in 1977 because the Sex Pistols fell through. According to Ultimate Classic Rock, his record label wanted him to play "Less Than Zero" but he didn't think it fit the American crowd who probably wouldn't know that the song is about English politician, Oswald Mosley. The band starts off playing "Less Than Zero" but Costello interrupts them and switches to "Radio Radio."
Next: An accident with a sword leads to a head injury.
1. John Belushi cuts Buck Henry with a samurai sword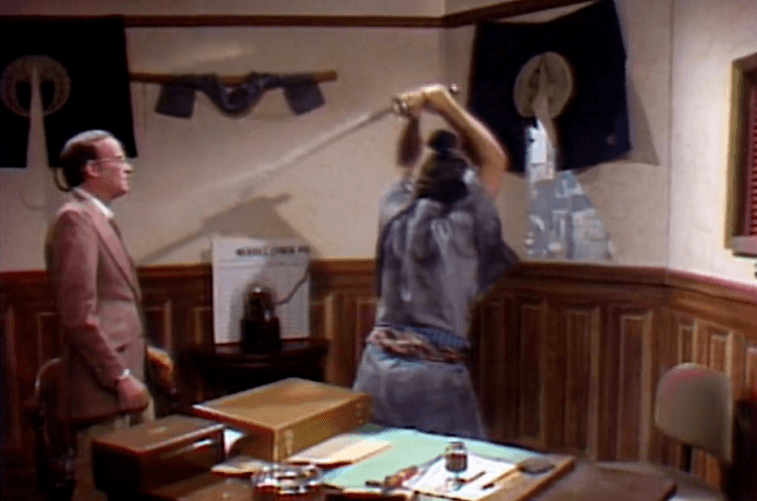 In this infamous skit, John Belushi played a samurai working as a stockbroker. Pretty much everything goes according to plan with Belushi using the sword to count and lash out at the wall. However, at the end, he gets too reckless and while flinging the sword back he cuts Henry on the head. Like a professional, the actor kept going and for the rest of the show, he wore a bandage on his head. Some of the other cast members also wore a bandage to show some support.
Additional reporting by Nathanael Arnold.
Follow Nicole Weaver on Twitter @nikkibernice.
Check out The Cheat Sheet on Facebook!