Movie Presidents: 8 of the Best (And Worst) Fictional Leaders Ever
As a nation, we've been talking about presidents a lot lately. Donald Trump is about to assume the office, while our current commander-in-chief, Barack Obama, is busy with the process of stepping down. And then there's President's Day, the fast-approaching federal holiday that we're supposed to use to reflect on our country's best and worst leaders to date.
But let's be honest: talking about real-life politicians right now is getting a little bit old. And there's something to be said for taking the time to consider which fictional leaders we'd like our current crop of candidates to model themselves after. After all, movie presidents often deal with some of the most horrific and terrifying tribulations imaginable — assassination attempts, impending war, and global alien invasions. How they choose to deal with these challenges says a lot about our own values, and what we'd like to see in a leader. Here are some of the best and worst movie presidents of all time.
Best: Tom Beck, Deep Impact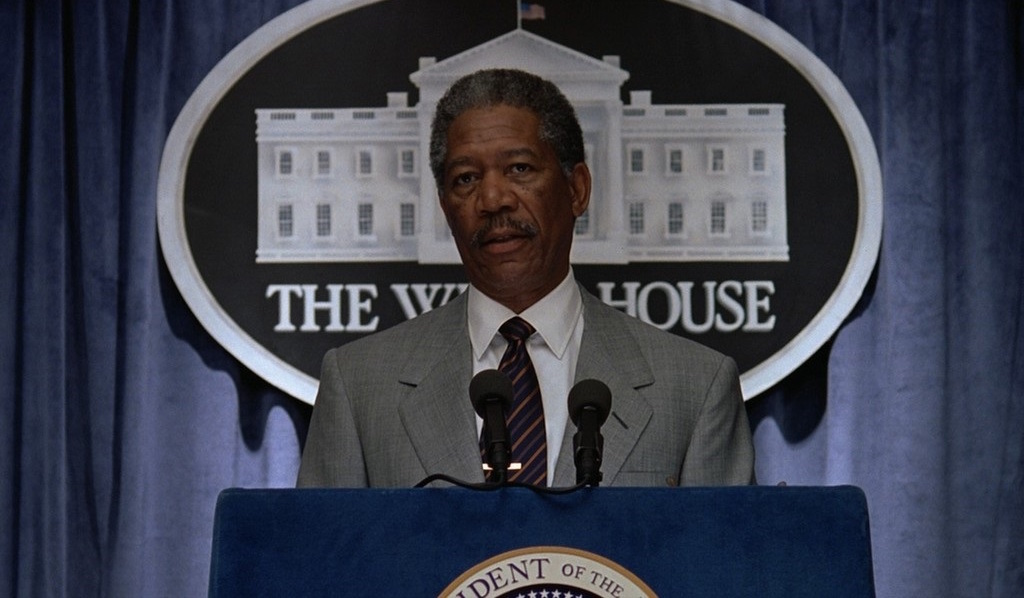 As Deep Impact's President Tom Beck, Morgan Freeman basically wrote the book on how to be an awesome fictional president. He's composed, even in the face of catastrophic danger; and capable of putting a population at ease simply with the steely resolve of his words and his voice. And more importantly, he gets stuff done. When he learns of an enormous comet hurtling toward Earth — and that it could decimated the world's population — he doesn't give in to fear. He rises to the challenge, does his best to protect the American people by building an infrastructure of underground shelters, and works diplomatically with other nations to find a potential solution. On both a symbolic and strategic level, President Beck is the type of leader that just about anyone would want to have in a crisis situation.
Worst: Thomas Whitmore, Independence Day
This may be a controversial ruling, but we're not alone in our assessment. Because when you break it down, one super-inspiring and stirring speech and the ability to fly a fighter jet does not a great fictional president make. Thomas Whitmore (Bill Pullman) is, in many ways, one of the least effective characters in Independence Day. Throughout most of the film, he's scrambling to stay on top of the impending alien invasion that's threatening millions of American lives. He's slow to action, which results in a lot of people dying. He bails on Washington D.C., leaving more countless citizens to die a fiery death. He nukes Houston, Texas. Sure, it's not easy to lead in the midst of a potentially apocalyptic crisis, but surely President Whitmore could have made some better choices.
Best: James Marshall, Air Force One
James Marshall (Harrison Ford) is more or less the poster president for not negotiating with terrorists. In Air Force One, President Marshall faces a terrifying prospect — that he, his family and innocent civilians will be killed by a group of hostile Russian hijackers. While some might characterize his decision to break free from capture and go after the men who have taken control of his plane as a little bit brazen, there's something to be said for taking matters into your own hands by way of hand-to-hand combat. At the very least, no one can ever doubt his fierce devotion to protecting his fellow Americans.
Worst: Alan Richmond, Absolute Power
Every president, fictional or real, is bound to make mistakes — but killing a mistress and covering it up is the type of error that falls into the "unforgiveable" category. In Absolute Power, that's exactly what President Alan Richmond (Gene Hackman) does. Not only does he try to frame Luther Whitney (Clint Eastwood), an admittedly morally ambiguous jewel thief, for his crime — he goes so far as to try to kill Luther's daughter Kate (Laura Linney) when he realizes that he's clued her in to the real culprit. It should go without saying that, given how much energy he pours into conspiracy, he probably didn't have much time to devote to his presidential duties.
Best: Jackson Evans, The Contender
President Jackson Evans (Jeff Bridges) is one of those movie presidents that often doesn't get the credit he deserves. Though his choices don't save lives or prevent the United States from befalling disaster, they're in many ways every bit as brave. In The Contender, he nominates a capable but contentious Democratic senator (Joan Allen) as the first female vice president. And in the face of political pressure and posturing, he showcases his leadership skills by remaining firm in his decision and standing by her side, even when it's not popular.
Worst: James Dale, Mars Attacks!
In some sense, you can admire President James Dale's (Jack Nicholson) optimism in the face of a hostile alien invasion. But there's no question that in Mars Attacks!, his leadership skills leave much to be desired. Throughout the film, President Dale is a great example of what not to do in a crisis — he fails to really step up and address the issue aside from delivering a standard-issue statement to the nation; he gets himself kidnapped by the Martians. And while he finally displays a glimmer of diplomatic prowess when his life is threatened, he ultimately dies at the hands of his captors, leaving the nation leaderless.
Best: Dave Kovic, Dave
It's a little ironic that one of the best movie presidents of all-time wasn't even meant to be president at all. But Dave Kovic (Kevin Klein), whose job as a presidential impersonator leads to him taking over for commander-in-chief Bill Mitchell after he falls into a coma, is without a doubt one of the most effective leaders we've ever seen on the silver screen. In Dave, we see the titular character learn the ropes in the White House relatively quickly. He balances the budget, improves diplomatic relationships and manages to get the better of his political adversaries — and he makes it seem easy. Despite the fact that he's not who he seems, Dave Kovic is a shining example of the good that can come from a little bit of political upheaval now and then.
Worst: Merkin Muffley, Dr. Strangelove or: How I Learned to Stop Worrying and Love the Bomb
You can give him points for trying. But despite President Merkin Muffley's (Peter Sellers) attempts to smooth things over with his Russian counterpart, his lack of leadership causes catastrophic consequences in Dr. Strangelove. It's not that he's malicious — President Muffley is just completely ineffective in the face of his opinionated cabinet. When faced with the prospect of nuclear war, the best President Muffley can offer is a plea for his men to stop fighting in the war room. And his efforts at preventing a conflict amount to the opposite result — which is bad news for pretty much the entire world.
Check out Entertainment Cheat Sheet on Facebook!