10 Must-Miss (Read: Worst) Films of 2013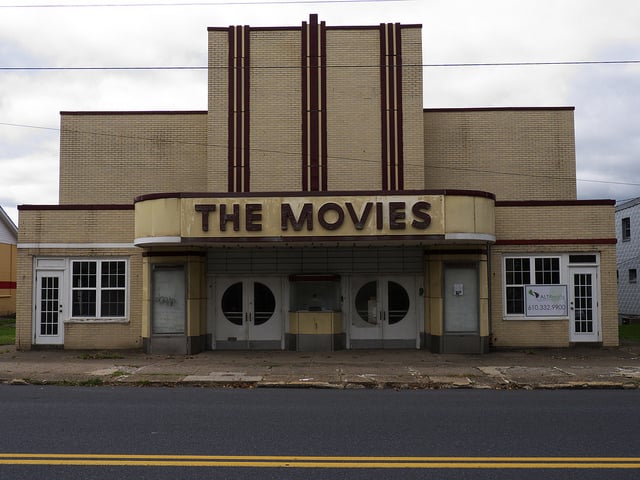 As we count down to 2014, it's easy to look back at 2013 as one of the best years in recent memory for the film industry, with this fall's slate surely going down as one of the strongest, most consistent outputs of all time. But it wasn't all good — just like every year, the best movies often serve as a much-needed cleanser for some of the biggest duds.
When it comes to organizing the worst films of the year — and best, for that matter — Rotten Tomatoes remains the champion at distinguishing the winners from the losers and everything in between. But it's also important to note that the "Tomatometer" is not perfect. Using a cutoff of 60 percent, Rotten Tomatoes chooses which reviews are considered passing or failing if actual scores are not included and, as you can guess, a hard-line pass/fail organization can sometimes mean a high-scoring film may contain many barely passing scores.
Overall, Rotten Tomatoes' methodology seems to yield strong results more often than not, which is the reason why the website has more or less become the first stop for moviegoers when deciding on a film to see. Using Rotten Tomatoes' Tomatometer, here's a countdown of the 10 worst films of 2013.
10. A Haunted House (10 percent Fresh on Tomatometer)
A spoof comedy in the same vein as the Scary Movie franchise, A Hunted House was released on April 23 and stars Marlon Wayans, Essence Atkins, Cedric the Entertainer, and Nick Swardson. While the film went on to earn $59 million on a $2.5 million budget, making the film a huge success financially, critics were not so kind to the title, proving that the long-running tradition of spoof comedies is more or less immune to critical sentiment.
Of the 50 critic reviews for A Haunted House on Rotten Tomatoes, five were considered "Fresh" and 45 were considered "Rotten," giving the film an overall score of 10 percent Fresh. When the list is narrowed to top critics, that score falls to 8 percent "Fresh," with only one of 11 critics giving the film a positive reception.
Best blurb: "Does it even qualify as a movie? Why did it take two people to write and cost $2.5 million to make?" – Sherilyn Connelly, Village Voice
9. Runner Runner (9 percent Fresh)
Runner Runner was essentially doomed from the start despite starring bankable actors Ben Affleck and Justin Timberlake. While sharing a release date with Alfonso Cuaron's Gravity was bad enough, Runner Runner was also sandwiched on one end by Cloudy With a Chance of Meatballs 2 and on the other by Captain Phillips. Though the film went on to earn $62 million on a $30 million budget, it likely didn't turn a profit when marketing expenses were factored in, and a terrible critical reception certainly didn't help.
With a total of 111 reviews, Runner Runner only received 10 positive reviews, giving the film a 9 percent Fresh on the Tomatometer. Top critics were even more critical of the film, with only one review counted as Fresh out of 24, which earns the film a 4 percent Fresh.
Best blurb: "It feels like a halfhearted bluff and has the stale smell of yesterday's after-shave." – A.O. Scott, The New York Times
8. The Host (8 percent Fresh)
Universal Pictures and Open Road Films were hoping The Host, which is based on Stephenie Meyer's novel of the same name, would be the next Twilight-like phenomenon, but the sci-fi film fizzled out in epic fashion when it was released on March 29. With a talented cast including Saoirse Ronan, Jake Abel, Max Irons, and John Hurt, among others, the film went on to become one of the bigger box office bombs of the year, earning only $48 million on a $40 million budget and attracting scathing reviews.
Out of 118 reviews, Rotten Tomatoes counted only 10 as Fresh, earning the film an 8 percent Fresh rating overall. Surprisingly, that number actually rises just a bit when counting only the top critics, with five out of 31 considered Fresh, earning a 16 percent Fresh overall.
Best blurb: "[A] bizarre Saturday Night Live sketch about a girl with a bratty alien inside her." – Owen Gleiberman, Entertainment Weekly
7. Grown Ups 2 (7 percent Fresh)
When it comes to Grown Ups and this year's Grown Ups 2, moviegoers evidently don't pay much attention to critical reception. The sequel saw its box office totals rise to $246 million despite receiving slightly worse reviews than the first film (which earned a 10 percent Fresh on the Tomatometer). Starring Adam Sandler, Kevin James, Chris Rock, and David Spade, Grown Ups 2 went on to become one of the biggest comedy hits of the summer after being released on July 12 — something that surely led to lots of confusion amongst critics.
Of a pool of 95 critics, only seven gave Grown Ups 2 reviews that could be considered Fresh, leading the film to earn a 7 percent Fresh rating overall. The top critics total is nearly identical, with only two out of 23 giving the film positive marks, resulting in a 9 percent Fresh score.
Best blurb: "Adam Sandler scrapes the bottom of the barrel — and then he pukes into it — with Grown Ups 2." – Linda Barnard, Toronto Star
6. The Big Wedding (7 percent Fresh)
Released on April 26, The Big Wedding arrived and disappeared without much attention, which might seem strange in retrospect, given the film's hugely talented cast — Robert De Niro, Diane Keaton, Ben Barnes, Katherine Heigl, Amanda Seyfried, Topher Grace, Susan Sarandon, and Robin Williams. But The Big Wedding's cast is likely one of the main reasons critics absolutely skewered the film upon release, questioning how such a talented group could bomb so badly.
Out of 100 reviews, Rotten Tomatoes counts only seven as Fresh, putting the film at an insulting 7 percent Fresh overall. But it gets even worse when only top critics are considered. Of the 29 reviews by top critics, only one is considered Fresh, giving The Big Wedding one of the worst Tomatometer scores of the entire year: 3 percent Fresh.
Best blurb: "This movie plays like an episode of Gilligan's Island done as straight as an episode of Lost." – Frank Lovece, Newsday
5. Battle of the Year (4 percent Fresh)
Released in September, Battle of the Year is a film that falls into the more recent sub-category of dance films, often shot in 3-D. But unlike previous films in this genre, Battle of the Year fell completely flat at the box office, earning only $14 million on a $20 million budget. And critical reception, which isn't very good to the genre to begin with, was spectacularly terrible, making Battle of the Year one of the worst movies of the year.
Of 46 reviews, Battle of the Year earned only two Fresh ratings, putting the film at 4 percent Fresh overall. When it comes to top critics, the score was a bit kinder — those two Fresh reviews happened to come from top critics, putting the film at 11 percent Fresh when met with a smaller pool of 18 critics. But two out of 18 isn't anything to get excited about.
Best blurb: "A frenetic mess that makes Breakin' 2: Electric Boogaloolook like a Fellini film." – Scott Bowles, USA Today
4. Paranoia (4 percent Fresh)
Paranoia is another film with box office failures that are much more glaring due to its impressive cast. Starring Liam Hemsworth, Gary Oldman, Amber Heard, Harrison Ford, and Richard Dreyfuss, Paranoia was released on August 16 and quickly became one of the biggest financial and critical bombs of the summer and year.
Out of 77 reviews, only three critics gave Paranoia a passing Fresh rating, earning the film a 4 percent Fresh score overall. But when it comes to the top critics, Paranoia earns the distinction of being the first film on this list to earn zero Fresh ratings from 23 different critics. And in many ways, 0 percent Fresh might be just as impressive — and rare — as 100 percent Fresh.
Best blurb: "I smiled twice during Paranoia. Both times when Harrison Ford and Gary Oldman had scenes together and hammed it up like pros in hog heaven." — Peter Travers, Rolling Stone
3. Scary Movie 5 (4 percent Fresh)
Another year, another Scary Movie film. But Scary Movie 5, which stars Ashley Tisdale and has cameos by Charlie Sheen and Lindsey Lohan, is by far the worst-reviewed movie in the series, a distinction that isn't exactly easy in a franchise consistently blasted by critics. However, with $78 million earned on a budget of only $20 million, there's no reason to believe this movie train is anywhere close to being stopped.
Over the years, it appears as though more and more critics choose to simply ignore Scary Movie releases entirely, but that didn't stop Scary Movie 5 from earning only two Fresh reviews out of 50 for an overall score of 4 percent Fresh. And when it comes to top critics, Scary Movie 5 becomes the second film on this list to receive zero Fresh reviews, going 0 for 12.
Best blurb: "Put it this way, there's a spoof of Rise of the Planet of the Apes in which gorillas throw their feces at the wall to see if it sticks, and you can't help wondering if this is actual documentary footage of the script meetings." – Kyle Smith, New York Post
2. Movie 43 (4 percent Fresh)
Released on January 25, Movie 43 earned the early distinction of worst movie of the year less than a month into 2013 — that's how badly it was received by critics. A sketch comedy anthology co-produced and co-directed by Peter Farrelly and featuring a long list of directors and stars, the unusual concept and star power of the film didn't affect its negative critical sentiment, which arrived with surprising vitriol. But with a budget of only $6 million, the movie's nearly $30 million box office take meant Movie 43 wasn't a total disaster. The film has earned somewhat of a cult status nearly one year since its release.
Of 76 reviews, only three critics put out reviews that were considered Fresh by Rotten Tomatoes, giving the movie a 4 percent Fresh score overall. Top critics were a little kinder, with two Fresh reviews out of 18 reviews — a percentage that gives the film an 11 percent Fresh score with top critics.
Best blurb: "Movie 43 is the Citizen Kane of awful." – Richard Roeper, Chicago Sun-Times
1. Getaway (2 percent Fresh)
Just when it seemed unlikely that any film would take the worst movie of 2013 title from Movie 43, along came Getaway in late August to truly push negative critical reception to new heights. Starring Ethan Hawke, Selena Gomez, and Jon Voight in an action-thriller that was as poorly marketed as it was poorly produced, Getaway was blasted by critics for everything from the odd casting to the poor editing and direction. The film earned $10 million at the box office on an $18 million budget and Hawke, whose turn in Before Midnight has earned rave reviews, was likely left shaking his head as to what exactly he was thinking when he signed on to the project.
So just how bad was the critical response to Getaway? Let's start with the overall number of critics who wrote reviews for the film: 122. That means that Getaway had more reviews written on it than any other film on this list, yet the film still managed to only receive three positive reviews for an overall 2 percent Fresh rating. While Getaway managed to avoid the dreaded 0 percent Fresh distinction when it comes to top critics, for a blockbuster-type release to only earn one positive review in 32 tries is in many ways far worse than some of the other films on this list — Paranoia's 0 percent Fresh from top critics is the only record more insultingly impressive.
Best blurb: "For 89 minutes that feel like 89 hours, cars speed out of control and crash doing only PG-13 damage. The damage to your brain while watching it is incalculable." — Peter Travers, Rolling Stone
Don't Miss: 5 Movie Trailers That Signal a Promising New Year.