2 Guns Scares Away the Box Office Competition
The Universal (NASDAQ:CMCSA) R-rated action film 2 Guns took first place at the North American box office this weekend, making $27.4 million despite releasing to tepid reviews. Audience members weren't nearly as critical, giving the film a CinemaScore rating of B+, while the film has generated huge interest in foreign markets with Sony Worldwide Acquisitions Group (NYSE:SNE) purchasing rights to the film in most of the markets outside of North America.
Starring Denzel Washington and Mark Wahlberg, the film's success was seemingly fueled by an ethnically diverse audience composed of 28 percent African-Americans and 14 percent Hispanics, along with a successful pull of female audience members, who totaled 49 percent of the this weekend's audience. 2 Guns tells the story of a DEA agent (Washington) and a Naval Intelligence Officer (Wahlberg) who end up working together to take on a corrupt CIA group.
The Wolverine, in its second weekend, made $21.7 million, which is good for second place, and has made a  total of $95 million in North America so far. The 20th Century Fox (NASDAQ:FOXA) film has done well overseas, having already reached a foreign total of $160.2 million, which gives the film a total of $255.2 million worldwide on a budget of $120 million.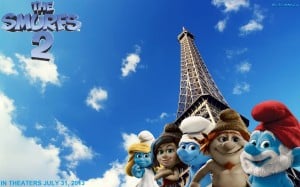 Sony's The Smurfs 2 disappointed stateside, with a weekend total of $18.2 million and a five-day total of $27.3 million — meaning the film's five-day tally wouldn't have even been good for first place this weekend. Despite scoring an A- CinemaScore with audiences, the film likely fell into the trap that DreamWorks Animation's (NASDAQ:DWA) Turbo fell into two weeks earlier: over-saturation in the family film market.
While this could be a cause for concern for Sony, especially given the recent criticism from shareholder activist Daniel Loeb, the film was always expected to do better business overseas, despite under-performing slightly domestically. The film took in a total of $52.5 million in foreign markets bringing the film's global box office total to $80.3 million, good for number one at the global box office. The film is still expected to be a big hit for Sony when all is said and done with the studio banking on the film making something close to the $420.4 million The Smurfs made internationally.
Besides the three heavy hitters, the Warner Bros. (NYSE:TWX) horror film The Conjuring continues to impress, taking fourth place and bringing in a weekend gross of $13.6 million in its third weekend, dropping only 38 percent from last weekend. The film has now made a total of $108.5 million on a $20 million budget.
At number five, Universal's Despicable Me 2 showed the same kind of resiliency as The Conjuring. It made $10.4 million in its fourth weekend, bringing its domestic total to $326.7 million for a worldwide total of $713.7 million. Steve Burke, NBCUniversal's CEO, recently said that the film "is going to end up being the single most profitable film in the 100 year history of Universal Studios."
Going down the list, Sony's Grown Ups 2 took sixth place with $8.1 million while DreamWorks Animation's Turbo continued to disappoint, bringing in $6.4 million. Lionsgate's (NYSE:LGF) Red 2 made $5.6 million, Fox's The Heat grabbed $4.7 million, and the Warner Bros.' Pacific Rim dropped to tenth with $4.5 million.
Don't Miss: America's Got Talent Has NBC on a Roll.