5 Films Most Likely To Do Big Business in October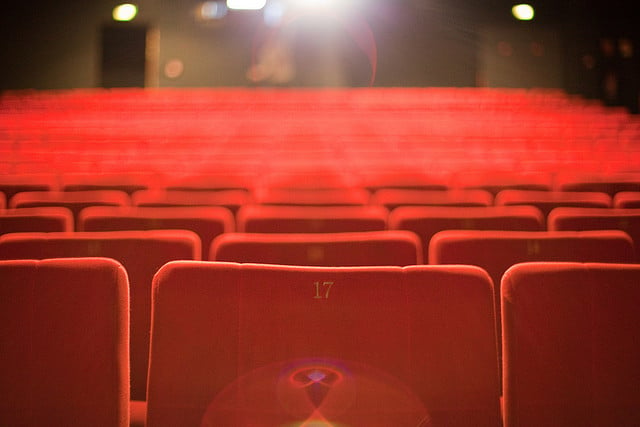 While October is historically a slow month at the box office, Hollywood is offering several films this year that could potentially buck the trend and make October a surprisingly profitable month. And of the films to be released in October, none represent the kind of potential that Warner Bros.' (NYSE:TWX) has in its space-epic, Gravity. 
But aside from Gravity and the huge amount of buzz and acclaim it already commands, there are a variety of films set to be released in the month of October with the kind of potential that studios salivate over. The question is whether movie-goers will make the trip to theaters.
Here are the five films most likely to breakout at the box office and rake in the patrons in October. Check them out after the jump.
Gravity (Warner Bros.)
Gravity stars Sandra Bullock and George Clooney as two astronauts forced to rely on one another to survive after debris from a satellite crashes into their shuttle. Directed by Alfonso Cuarón, the film is purported by those who have seen it to be a technical marvel; director James Cameron, who was shown the film in a private screening, told Variety, "I think it's the best space photography ever done, I think it's the best space film ever done, and it's the movie I've been hungry to see for an awful long time."
According to pre-release tracking overseen by The Hollywood Reporter, Gravity is set to be a high-performer in the typically slow October box office. The newest estimates have Cuarón's 3-D space film poised to gross between $35 million and $40 million domestically when it is released October 4 and considering the kind of buzz the film is already garnering, Gravity appears to be the kind of film that will continue to perform well from week to week on the strength of buzz and word of mouth.
For a film that reportedly cost $80 million to produce, it looks like Warner Bros. will have the first smash hit of the fall season and a solid monetary takeaway.
Captain Phillips (Sony)
Sony's (NYSE:SNE) Captain Phillips is based on the true story of Captain Richard Phillips, who was taken hostage by Somali pirates during the Maersk Alabama hijacking in 2009. Directed by English director Paul Greengrass (The Bourne Supremacy, The Bourne Ultimatum, United 93) and starring Tom Hanks in the titular role, the film looks to blend Greengrass' trademark style of action and suspense with a story revolving around the complex nature of globalization.
Although there aren't enough reviews from critics yet to get a definite reading on the film, critical sentiment so far has been overwhelmingly positive. Scott Foundas of Variety writes, "At every step, Hanks excels at showing what's really going on in the character's mind while maintaining his facade of almost folksy calm. It isn't one of the actor's rangiest roles, but it culminates in an eruption of emotional fireworks." And Todd McCarthy of The Hollywood Reporter called the film "a pulsating account of the kidnapping of the captain of an American cargo ship by Somali pirates."
The film's reportedly high budget and lack of a built-in market might hinder the film's ability to make a huge profit for Sony, but historically both Hanks and Greengrass have been able to draw audiences to the theaters, so a box office take approaching $100 million isn't unimaginable. And while that number probably wouldn't make the film profitable, Sony can at least rest easy knowing that the film is a front-runner for Best Picture at the Oscars.
Carrie (Sony and MGM)
Carrie is the third film-adaptation of Stephen King's novel of the same name, which was originally released in 1974. The supernatural horror film tells the story of Carrie, a shy high-school girl who discovers that she has telekinetic abilities and releases her powers on her tormentors. The newest adaptation is directed by Kimberly Peirce (Boys Don't Cry, Stop-Loss) and stars Chloë Grace Moretz (Kick-Ass, Let Me In) as Carrie, along with Julianne Moore and Judy Greer.
It's a little unclear what kind of box office performance Sony and MGM can expect from Carrie, but a release date in October usually bodes particularly well for horror-themed films as movie-goers seek out scary films leading up to Halloween. Also of note is the script, which was written by playwright Roberto Aguirre-Sacasa (Spider-Man: Turn Off the Dark), and is purported to be more faithful to King's source material than the original film, landing it an R-rating.
But for Sony and MGM, the profitability of Carrie will depend on what the cost of the film was to produce along with the cost of marketing — something which Sony and MGM seem to be pushing mightily in the lead-up to the film's release. A solid box office performance seems to be in the cards — whether the film profits is another question.
Jackass Presents: Bad Grandpa (Paramount)
Unlike the previous Jackass films, Paramount's (NASDAQ:VIA) Jackass Presents: Bad Grandpa features a loose plot that connects the stunts and pranks of the film together. Starring Johnny Knoxville in one of his most popular roles — 86-year-old Irving Zisman — the film chronicles his road trip across the United States with his grandson Billy.
Say what you want about the Jackass films and their creators, but all three of the Jackass films have been massively popular and profitable; the latest film in the franchise, Jackass 3D, made $170 million worldwide on a budget of $20 million. So it's safe to say that Paramount has a surefire hit on its hands when Bad Grandpa is released on October 25.
Additionally, while the budget of Bad Grandpa hasn't been disclosed, it will likely fall in line with previous entries in the Jackass franchise, making the film sure to turn a profit — perhaps even in its first weekend of release. In the film industry, the Jackass films continue to be one of the greatest investments a studio can make, and it wouldn't be surprising if Bad Grandpa ended up being the best return on investment on this entire list.
Escape Plan (Lionsgate and Summit)
Lionsgate (NYSE:LGF) and Summit Entertainent's Escape Plan is an action-thriller about Ray Breslin, a structural engineer, who is wrongly convicted of a crime and forced to be incarcerated in a prison of his own design. While inside, Breslin plans an escape with his cellmate Rottmayer.
Escape Plan is probably the biggest question mark on this list, especially given its high production budget of $70 million. But with a cast featuring Sylvester Stallone, Arnold Schwarzenegger, and 50 Cent, the film could end up capitalizing at the box office with its brand of pure, unadulterated action and spectacle.
Again, the film's budget could ultimately be a hindrance to Lionsgate and Summit in their quest to turn a profit, but if the film were to perform similarly to the The Expendables and The Expendables 2, which also offered viewers a no-excuses action vehicle, the film could easily end up being one of the more successful films — especially overseas, where Schwarzenegger and Stallone still command a sizable following. The Expendables 2, for example, made $312 million worldwide on a budget of $100 million.
Don't Miss: Box Office Preview: 8 New Films With Something for Everyone