5 Films Set to Prosper at This Weekend's Box Office
Warner Bros.'s (NYSE:TWX) Gravity broke the record for October openings last weekend with a $55.7 million domestic take and the sci-fi thriller is showing no signs of slowing down. It's moving into its second weekend at the box office amidst strong word of mouth and impressive weekday numbers. Here's a look at how the box office is shaping up this weekend.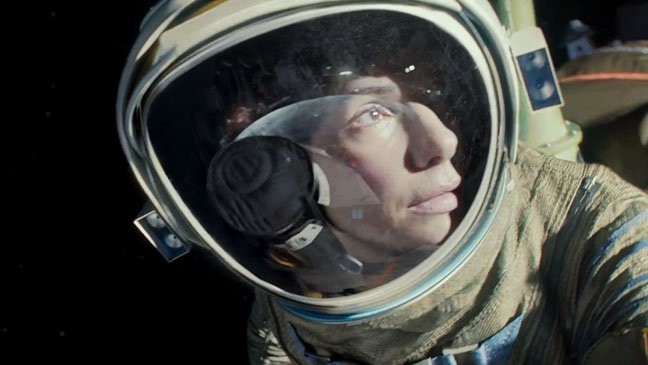 1. Gravity (Warner Bros.)
Projecting Warner Bros.'s Gravity as the top film at the box office this weekend is just about the surest bet one can make this week — the only question is how much money it will make in its second weekend in release. Alfonso Cuarón's space epic has garnered stunning critical acclaim and powerful word of mouth since its release.
If it wasn't clear last weekend just how strong Gravity's legs are at the box office, Variety reported on Wednesday that the film grossed an unheard of $6.6 million on Tuesday — unheard of both because it was a Tuesday work-day and because October releases don't historically have the muscle of summer releases or later fall releases. So far, Gravity has grossed $68.4 million domestic and $35.8 million overseas — the latter of which is set rise sharply when Warner Bros. expands to over 27 markets over the next month. However, the domestic numbers for Gravity are set to have consistent box office strength in the run up to the Oscars.

2. Captain Phillips (Sony Pictures)
Sony Pictures' (NYSE:SNE) Captain Phillips was released in limited engagements last Saturday, but this week sees the wide release of the action-drama into 3,000 theaters nationwide. Starring Tom Hanks and directed by Paul Greengrass (The Bourne Supremacy, United 93), the film is already being hailed as one of the frontrunners at this year's Oscars.
Captain Phillips tells the true story of Maersk Alabama hijacking in 2009 by a group of Somali pirates off the coast of Somolia in which Captain Richard Phillips (Hanks) served as commanding officer. Critical reception for the film has been very strong with 83 percent of the 'Top Critics" on review aggregator Rotten Tomatoes, giving the film positive marks as of this writing, with critics almost unanimously praising Hanks' performance.
Scott Foundas of Variety writes, "At every step, Hanks excels at showing what's really going on in the character's mind while maintaining his facade of almost folksy calm. It isn't one of the actor's rangiest roles, but it culminates in an eruption of emotional fireworks." Michael Phillips of the Chicago Tribune explained, "Capt. Richard Phillips is all business, and so is Hanks' portrayal." While Captain Phillips seemingly has no chance of successfully facing off with Warner Bros. movie titan Gravity, a second place showing somewhere in the realm of $15 million to $20 million seems fair. Similar to Gravity, Sony's Captain Phillips is certain to have consistent legs leading up to the Oscars.

3. Cloudy With a Chance of Meatballs 2 (Sony Pictures Animation)
The children's animated film Cloudy With a Chance of Meatballs 2 is approaching its third weekend in theaters and Sony is surely pleased to see the film still making waves at the box office. With no competition in sight when it comes to children's fare, Sony can probably expect a weekend gross somewhere around $10 million after the film was able to make nearly $21 million in its second weekend.
After a disastrous summer at the box office, industry analysts had looked to Cloudy With a Chance of Meatballs 2 as a film the studio was hoping would erase the memories of summer box office bombs After Earth and White House Down – and Sony's summer wasn't exactly great outside of it's major box office bombs.
To date, Cloudy With a Chance of Meatballs 2 has earned almost $63 million domestic and $11 million overseas, with the foreign gross set to catch up quickly and likely overtake domestic numbers as Sony expands in foreign markets. With a budget of $78 million, $22 million less than its 2009 predecessor, Cloudy With a Chance of Meatballs 2 is set to be much needed relief for the embattled studio.

4. Machete Kills (Open Road Films)
The B-Movie sequel Machete Kills is the only other wide release this week. Set to be released into about 2,300 theaters, the Robert Rodriguez-directed grind-house style action film isn't likely to make waves at the box office, but should make an appearance somewhere in the realm of $8 million to $9 million at the weekend box office.
The first film in the series, Machete, opened with $11.4 million in 2010 and went on to make $26.5 million domestic total, but the sequel has some huge competition this time around, leading to some conservative projections. Still, with a budget of only $20 million, the film doesn't need to be a blockbuster to be a successful independent picture and the film is likely to see solid, if unspectacular, business overseas.

5. Prisoners (Warner Bros.)
Warner Bros.'s thriller Prisoners is entering its fourth weekend at the box office and is likely to bring in around $3 million or so after finishing fourth last weekend with $5.7 million. The early Oscar contender has so far grossed $47.9 million domestic, but Prisoners is seeing a steep decline as some of the fall's biggest films begin to enter theaters.
While Prisoners is likely to see consistent business at the box office leading up to the awards season, this is likely the last time the film will see the top five. However, it wouldn't be surprising for the film to see consistent business around $1 million in the weeks and months leading up to the Oscars.
Don't Miss: 5 Movie Trailers Making Waves This Week.