5 Movie Trailers Making a Stir This Week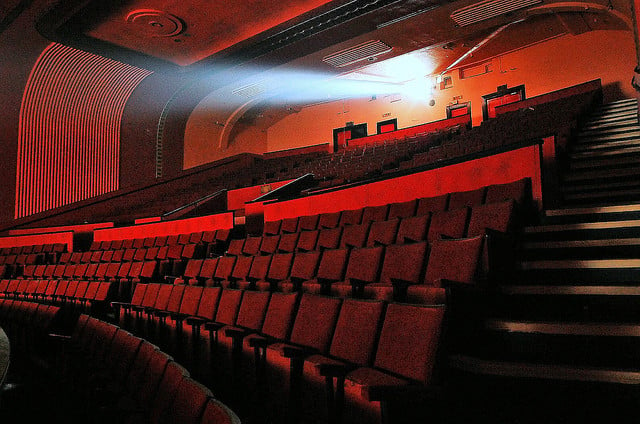 It's been a little while since any big new trailers released, but you can expect that to change very soon as some of the biggest films of the fall begin to hit theaters. With Warner Bros.'s (NYSE:TWX) Gravity set to be released on October 4, it wouldn't be surprising to see some previews for some of the biggest films of the year attached to it.
But until Warner Bros.'s big sci-fi thriller is released in a little less than two weeks, the most interesting and popular trailers around continue to be dominated by the art-house and independent scene.
Who knows — maybe we'll see a surprise Warner Bros. teaser for Batman vs Superman attached to Gravity. One can hope. For now, here are five trailers making the rounds in the last week. Check them out after the jump.
1. Cloudy With a Chance of Meatballs 2 – Sony Pictures Animation
Sony's (NYSE:SNE) Cloudy With a Chance of Meatballs 2 is the sequel to the 2009 animated hit Cloudy With a Chance of Meatballs. Actors Bill Hader, Anna Faris, James Caan, Andy Samberg, Neil Patrick Harris, and Benjamin Bratt have all returned to voice their characters from the original film, helmed by Cody Cameron and Kris Pearn. The original film's directors, Phil Lord and Chris Miller, served as executive directors.
After Flint Lockwood and friends are forced to leave Swallow Falls, Flint accepts an invitation from one of his idols to return to the island to clean it. However, unbeknownst to Flint, his machine still works and has been creating sentient food beast hybrids such as self-aware pickles, hungry tacodile supremes, and shrimpanzees. Altogether, the film will feature 39 food-animal hybrids. Sony's Cloudy With a Chance of Meatballs 2 the film is set is set to arrive on September 27.
2. Don Jon – Relativity Media
Don Jon is the directorial debut of actor Joseph Gordon-Levitt who wrote, directed, and starred in the film. The film from Relativity Media revolves around Jon Martello (Gordon-Levitt), a modern day Don Juan, who has a big problem with objectifying everything in his life — specifically women because of his addiction to porn. However, when he meets Barbara Sugarman (Scarlett Johansson), everything starts to change.
Don Jon made a big splash at the 2013 Sundance Film Festival, where it premiered to high praise. Upon seeing the film at Sundance, Entertainment Weekly's managing editor Jess Cagle wrote, "Funny, touching, smart, and supremely confident, Don Jon's Addiction is also Gordon-Levitt's feature directorial debut, and it establishes him as one of Hollywood's most exciting new directors." Relativity Media releases Don Jon on September 27.
3. How I Live Now – Magnolia Pictures
Based on the novel of the same name by Meg Rosoff, How I Live Now is a British drama directed by Kevin Macdonald with a script written by Tony Grisoni, Jeremy Brock, and Penelope Skinner. When New York City teenager Daisy (Saoirse Ronan) is sent to the British countryside for the summer to stay with her cousins, she falls in love with both the lifestyle and a local boy named Eddie (George MacKay). But everything changes in an instant when a world war breaks out leaving them on their own to survive.
How I Live Now was screened at the Special Presentation section of the 2013 Toronto International Film Festival and has been picked up by Magnolia Pictures for U.S. distribution. How I Live Now will screen at the Chicago International Film Festival on October 15, 2013 before being released in limited U.S. theaters on November 8, 2013.
4. Dom Hemingway – Fox Searchlight
Dom Hemingway is a dark British crime-comedy written and directed by Richard Shepard. Starring Jude Law, Richard E. Grant, Demián Bichir, and Emilia Clarke, the film was shown at the 2013 Toronto International Film Festival and was picked up for worldwide distribution by Fox Searchlight (NASDAQ:FOXA) and U.K. distribution by Lionsgate UK (NYSE:LGF).
Dom Hemingway (Jude Law) is a safecracker who, after returning to the streets of London after 12 years behind bars, wants what he's owed for keeping his mouth shut. But unfortantely for Dom, he doesn't have much a lucky streak and his journeys through the crime world don't go as well as he'd planned.
Law gained almost 29 pounds for his role as Dom, and apparently did so through a diet of ten Coca-Colas a day. Dom Hemingway will be released by Fox Searchlight in the U.S. on April 4, 2014.
5. Blue is the Warmest Color – Sundance Selects
Blue is the Warmest Color is a French romantic drama written, produced, and directed by Abdellatif Kechiche. The film tells the story of 15-year-old Adèle who aspires to become a teacher. But when she meets Emma, an art student at a nearby college, they enter into a transformational romance. The film won the Palme d'Or at the 2013 Cannes Film Festival — the highest prize awarded — and became the first film to be awarded the prize to both the director and actors. Additionally, it became the first from adapted from either a graphic novel or comic to win the prize.
Blue is the Warmest Color has had no shortage of controversy and the biggest source of debate has been the film's graphic depiction of sex. On August 20, the Motion Picture Association of America slapped an NC-17 rating on the film citing "explicit sexual content" — the film will have no cuts. You can also count the source material's author, Julie Maroh, as one person who doesn't agree with Kechiche's direction for the film, likening some scenes to porn.
"The heteronormative laughed because they don't understand it and find the scene ridiculous. The gay and queer people laughed because it's not convincing, and [they] found it ridiculous. And among the only people we didn't hear giggling were the potential guys [sic] too busy feasting their eyes on an incarnation of their fantasies on screen," Maroh told The Guardian. Despite the disagreements over the film, Blue is the Warmest Color remains universally acclaimed and looks to be one of the high points of art-cinema this year. It will be released in limited engagements on October 25, 2013.
Don't Miss: Survey: States With High Rates of Uninsured Aren't Obamacare Fans.