5 Things to Watch for in 'The Hunger Games: Catching Fire'
The Girl on Fire is back — and aiming for another shot at box office success. The Hunger Games: Catching Fire opens in movie theaters nationwide on November 22, 2013, and Lionsgate is hoping it will eclipse the $408 million success of its predecessor, The Hunger Games, by bringing fans and newcomers alike to see what happens next in Panem.
Whether you're new to the wildly successful film franchise, or counting down the seconds to your midnight showing, here are five things that will keep you glued to your seat when you see the sequel.
1. A Slicker, More Stylized Panem
In The Hunger Games, we got our first glimpse of Panem, a post-apocalyptic version of the United States. Director Gary Ross' take on the futuristic Capitol and impoverished District 12 was gritty and subdued.
This time around, we'll experience some of author Suzanne Collins' most memorable scenes and settings through the eyes of Director Francis Lawrence. While he's stayed true to the foundation set by Ross, early reviews are praising the new director for bringing "a much stronger sense of style" to the sequel. With a tour through the districts, a lavish ball at the Presidential Palace, and another round of the Hunger Games set in a treacherous tropical landscape, the promise of "a darker, more drastic, and suitably thrilling" experience should excite fans and casual moviegoers alike.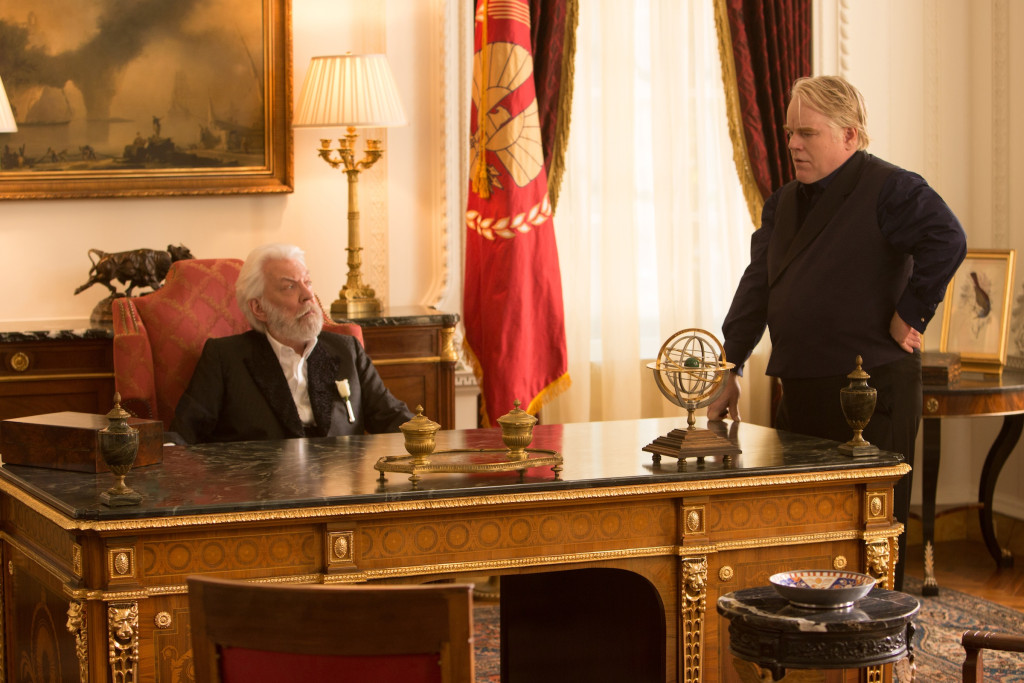 2. Powerful Performances From Hollywood Heavyweights 
The Hunger Games book series has a strong plot and memorable characters, so it's no wonder that some of the most respected actors in Hollywood have signed on to be a part of the film franchise. Catching Fire packs even more star power this time around.
Oscar-winner Jennifer Lawrence is back as heroine Katniss Everdeen, Hollywood icon Donald Sutherland also returns as evil President Snow, along with fan favorites Woody Harrelson and Stanley Tucci. Philip Seymour Hoffman, Jeffrey Wright, and Amanda Plummer join the cast, and are already earning praise for their performances. Together, this incredible ensemble promises to make every moment of Catching Fire memorable.
3. Fresh New Faces With Some Dark Secrets
Catching Fire introduces a slew of new characters into the fray, and fans are especially excited to finally see charming Finnick Odair and rebellious Johanna Mason come to life. Both are former Hunger Games victors and skilled killers, and they each have a secret or two up their sleeves. If early reviews are any indication, Sam Claflin and Jena Malone don't disappoint. Audiences across the country won't want to miss a minute as Katniss and Peeta try to figure out the intentions of their new allies.

4. Sparks Flying in a Hot Love Triangle
In The Hunger Games, Katniss pretended to be head-over-heels in love with fellow District 12 tribute Peeta to win sponsors and save both their lives. Her longtime friend and possible flame Gale was forced to watch their televised romance unfold. In Catching Fire, Katniss is torn between the two suitors as they both make a play for her heart. Will she choose her brooding best friend or the charismatic baker?
5. Higher Stakes in a More Treacherous Arena
In Catching Fire, the Districts of Panem are in revolt. Evil President Snow is threatening the lives of everyone Katniss loves, and she and Peeta must fight to the death again — this time against teams of seasoned fellow victors. The 75th Hunger Games is staged in a jungle full of horrifying creatures and deadly detours at every turn. We'll be on the edge of the seats as we watch to see who makes it out alive.
Don't Miss: 3 Big Holiday Films for Children.