7 Films for Grown-Ups This Holiday Season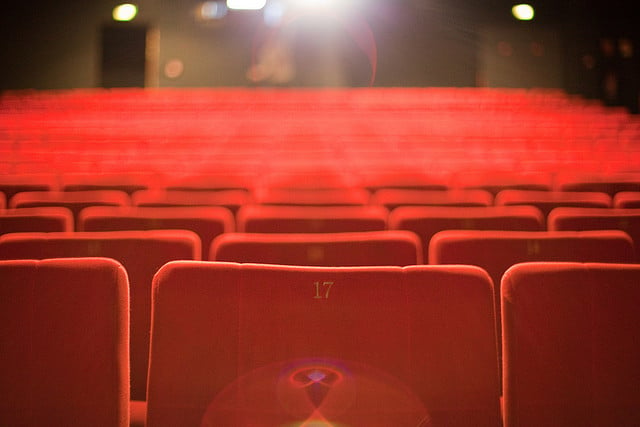 While the holiday season was once a period when theaters were dominated by films aimed at younger audiences, things have changed in recent years as more and more adult-oriented films have entered theaters in the months of November and December. While an aging population has been cited as one reason for the shift in recent years, there's no doubt that the Academy Award's recent expansion of the Best Picture category from five films to ten films is likely the biggest factor when it comes to the increase in adult-fare.
The question of course is whether some of these films will get lost in the shuffle, even if they come with strong reviews and A-list talent. Phil Contrino, chief analyst at BoxOffice.com, told the Hollywood Reporter, "It's going to be incredibly crowded." He added, "Many of these films are competing for that valued upscale-adult crowd who reads tons of reviews and pays attention to the Oscar race."
But even if the crowded adult-oriented movie landscape might make life difficult for some of the studios and independent distributors, there's no doubt that this holiday season is set to become one of the best in recent memory for adult movie fans. Here's a list of seven R-rated films set to be released before the end of the year that are getting sizable buzz.
Nebraska (Alexander Payne)
Nebraska is the newest film by director Alexander Payne (The Descendants, Sideways) starring Bruce Dern and Will Forte. Described as a comedy-drama in the same vein as Payne's previous critically acclaimed work, Nebraska was nominated for the Palme d'Or at the 2013 Cannes Film Festival where Bruce Dern won the Best Actor Award.
Nebraska revolves around a Woody Grant and his son David who journey from Montana to Nebraska to claim prize money that may or may not exist. Along the way, the two meet friends, relatives, and acquaintances who say that Woody owes them money. Shot in stark black and white, Nebraska is earning consistently high marks from critics. David Edelstein of the New York Magazine writes, "The movie is a triumph of an especially satisfying kind. It arrives at a kind of gnarled grace that's true to this sorry old man and the family he let down in so many ways." Nebraska will be released November 15 by Paramount Vantage.
American Hustle (David O. Russell)
American Hustle is a crime-drama directed by David O. Russell (Silver Linings Playbook, The Fighter) and written by Russell and Eric Warren Singer. Originally entitled "American Bullshit," Singer's screenplay first garnered the attention of Hollywood when it ranked number eight on the 2010 Blacklist — a now yearly list of the best unproduced screenplays as voted by members of the film industry.
Featuring an all-star cast, including Christian Bale, Bradley Cooper, Amy Adams, Jeremy Renner, and Jennifer Lawrence, American Hustle is based on the FBI ABSCAM operation of the late 1970s and early 1980s that began as an operation to target stolen property, but later transformed into a public corruption investigation. When con man Irving Rosenfeld (Bale) and his British partner and lover Sydney Prosser (Adams) are forced to work with FBI agent Richie DiMaso (Cooper), the pair are pushed into the dangerous and glamorous world of Jersey pawnbrokers and the mafia. While American Hustle hasn't screened for critics yet, you can expect the film to be major player at this year's Academy Awards simply based on the talent involved. American Hustle will be released on December 18 by Sony Pictures.
The Wolf of Wall Street (Martin Scorsese)
The Wolf of Wall Street is dark-comedy bio-pic directed by Martin Scorsese (The Departed, Hugo) and based on the memoir of the same name by Jordan Belfort. After reports that the film was likely to fall back to 2014 amid editing delays, Paramount announced late mast month that The Wolf of Wall Street had returned to the 2013 holiday season with a Christmas Day release.
Starring Leonardo DiCaprio, Jonah Hill, and Matthew McConaughey, The Wolf of Wall Street tells the story of Belfort's rise to power on Wall Street after founding the brokerage firm Stratton Oakmont, which functioned as a boiler room. Belfort was later convicted of crimes related to stock market manipulation as a large securities fraud case involving corruption on Wall Street, the corporate banking world, and mob infiltration came to light. The Wolf of Wall Street will be released on December 25 by Paramount Pictures.
Inside Llewyn Davis (The Coen Brothers)
Inside Llewyn Davis is a comedy-drama from Joel and Ethan Coen (No Country for Old Men, Fargo), who wrote, directed, and edited the film. The film premiered at the 2013 Cannes Film Festival where it won the Grand Prix – the second most prestigious award given at the festival.
Inside Llewyn Davis revolves around New York City's legendary folk scene in the 1960s, telling the story of a week in the life of a young singer-songwriter struggling to make ends meet in the winter of 1961. Starring Oscar Isaac in the title role, the film also features Carey Mulligan, John Goodman, and Justin Timberlake. The film has gotten high marks from critics in the early going, with Scott Foundas of Variety writing, "The result is a movie that neatly avoids the problems endemic to most period movies — and biopics in particular — in favor of a playful, evocatively subjective reality." Inside Llewyn Davis will be released December 6 by CBS Films and StudioCanal.
August: Osage County (John Wells)
August: Osage County is a dark comedy-drama directed by John Wells (best known as the showrunner of ER, The Westwing, and Shameless) and based on Tracy Letts' play of the same name, which Letts also adapted for the screen. Brimming with talented A-list actors, August: Osage County features Meryl Streep, Julia Roberts, Ewan McGregor, Chris Cooper, Abigail Breslin, Benedict Cumberbatch, Juliette Lewis, and Sam Shepherd.
August: Osage County tells the story of the strong-willed women of the Weston family whose lives are brought back together when a family crisis forces them back to the Midwest house they grew up in and to the woman who raised them. While critical reception has been mostly positive so far, August: Osage County might not be for those opposed to loud, booming drama that seems to be doing all it can to get noticed by award voters. As Scott Foundas of Variety writes, "This two-ton prestige pic won't win the hearts of highbrow critics or those averse to door-slamming, plate-smashing, top-of-the-lungs histrionics, but as a faithful filmed record of Letts' play, one could have scarcely hoped for better." August: Osage County will arrive in theaters December 25 via The Weinstein Company.
Her (Spike Jonze)
Her is a sci-fi romantic-drama written, directed, and produced by Spike Jonze (Where the Wild Things Are, Adaptation), and is Jonze's first feature film in which he has been the sole screenwriter. The film recently premiered at the 2013 New York Film Festival. Starring Joaquin Phoenix, Amy Adams, Rooney Mara, Olivia Wilde, and the voice of Scarlett Johansson, Her tells the story of a man who slowly falls in love with a new advanced operating system.
Originally intended to have a November 20 release date, Her was recently pushed to a limited release on December 18 by Warner Bros. Pictures before the film's wide release on January 10, 2014. So while it's possible you can check out the film this December, it's highly unlikely to be available unless you happen to be near Los Angeles or New York. Otherwise, make sure to take the time to put Her on your calendar as one of the first films to see in the new year.
Lone Survivor (Peter Berg)
Lone Survivor is an action war-drama written and directed by Peter Berg (Battleship, Friday Night Lights) and based on the real events and book Lone Survivor: The Eyewitness Account of Operation Redwing and the Lost Heroes of SEAL Team 10 by Marcus Luttrel. 

Starring Mark Wahlberg, Taylor Kitsch, Eric Bana, Emile Hirsch, Ben Foster, and Alexander Ludwig, Lone Survivor tells the true story of SEAL Team 10′s failed mission Operation Red Wings on June 28, 2005, in which their goal was to capture or kill a high-level Taliban target during the War in Afghanistan. But when the team is ambushed, they must fight for survival in the dangerous Hindu Kush region of Afghanistan.
Like Warner Bros.' Her, Lone Survivor is a film that's getting a limited release this holiday season before having a wide release on January 10, 2014. So if you happen to be in Los Angeles or New York, you might be able to check it out — otherwise, you'll have to wait until the New Year to check out Universal Pictures' gritty looking War film.
Don't Miss: 4 Movies Taking Disney to All-Time Super Success.