7 Films to Pay Attention to This Weekend
The fall movie season is heating up and this week adds some notable wide and limited releases into theaters where Warner Bros.'s (NYSE:TWX) Gravity continues to soak up the majority of headlines. But as Sony's (NYSE:SNE) Captain Phillips proved last week, even with Gravity breaking records left and right, there's still room for other films to shine at the box office. Here's a preview of the weekend box office along with some notable limited releases.
1. Gravity (Warner Bros.)
The movie event of 2013 just keeps on running circles around the competition. As of Tuesday, Alfonso Cuarón's Gravity was first place at the box office every single day since its release — that's twelve straight days at number one. Although Tuesday represented the lowest box office daily total for the film yet — $4 million — that's a still a huge number for a Tuesday in October. Warner Bros.'s space epic is widely expected to place first this weekend to make it three weekends in a row at number one. A weekend take somewhere in the realm of $30 million seems reasonable, which would put Gravity's box office decline through three weekends at about 20 percent week over week — a hugely impressive number by any measure.
As of October 16, Gravity has grossed about $136 million domestic and $68 million overseas for a worldwide total of $204 million. While the domestic run for Gravity still has strong legs moving forward, the film is expected to garner a huge box office take overseas where it has only just begun an expansion into some of the most powerful film markets. Additionally, Warner Bros. recently received the good news that China — the world's second largest film market — would accept Gravity for distribution following weeks of speculation that the film might be shut out by China's Film Bureau.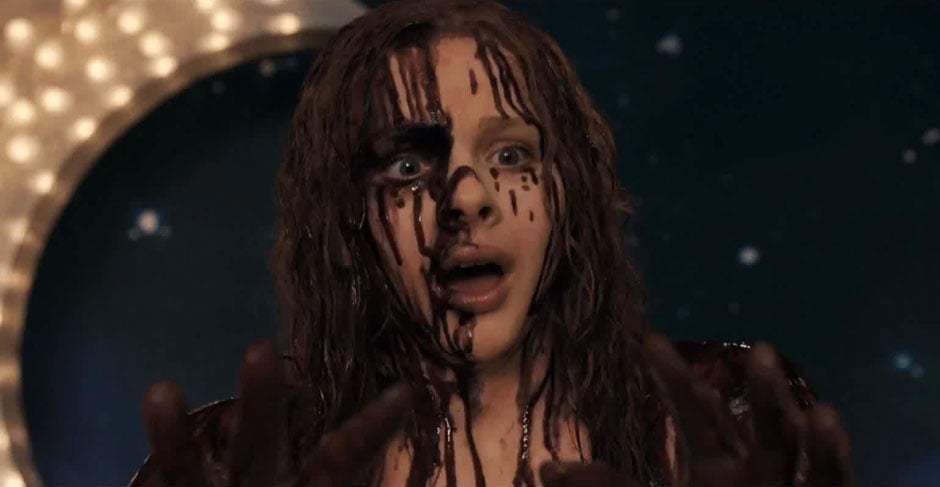 2. Carrie (Sony and MGM)
Sony (NYSE:SNE) and MGM's new adaptation of Stephen King's horror classic Carrie is the only real competition for Warner Bros. Gravity, but the horror film isn't expected to truly give the reigning box office champion a run for its money. Current Major Theater Chain (MTC) Tracking has the film grossing $25.2 million, but even that number might be a liberal estimate given the continuing buzz and success of Gravity.
Directed by Kimberly Peirce (Boys Don't Cry) and starring  Chloë Grace Moretz and Julianne Moore, Carrie is purported to be much more faithful to King's novel of the same name than the classic 1976 adaptation directed by Brian De Palma. Still, a lot of the discussion leading up to the film's release has focused on whether a remake is necessary when the 1976 film remains one of the biggest horror classics of all time — as a result, the film hasn't garnered much buzz leading up to release and a more realistic weekend estimate might land somewhere around $22 million.
As of Thursday, critical sentiment was somewhat limited, but what few reviews exist show a split reception. Moira MacDonald of the Seattle Times writes, "It speaks well to the talents of Peirce and her cast that, in this Carrie, you find yourself caught up in the story once more." But Karen D'Souza of the San Jose Mercury News explains that, "For all its cheesy '70s vibe, De Palma's movie far better captured the primal, almost Lord of the Flies nature of the high school experience, the sheer terror of being a social outcast." However, with Halloween coming up and Carrie being one of the few horror films in theaters at the moment, a relatively strong performance at the box office certainly isn't off the table.
3. Captain Phillips (Sony)
Considering that Sony watched as Warner Bros.'s Gravity blew up at the box office only one week before its Oscar-hopeful Captain Phillips was released in theaters, the studio is likely breathing a sigh of relief as box office numbers last weekend showed that there was enough to go around for both studios. With a higher-than-expected opening weekend of $26 million, a second weekend take of around $15 million seems reasonable given that many movie-goers who finally got a chance to see Gravity will now get a chance to see the other critically acclaimed film in theaters.
As of October 16, Sony's Captain Phillips has earned $34 million domestic (the film hasn't been released overseas yet) and, like Gravity, is expected to have good legs at the box office for weeks to come. With a production budget of $55 million, the film might come close to hitting that number by the end of the weekend making Sony's investment in the Paul Greengrass-directed and Tom Hanks-starred thriller a sound one. Additionally, the film has received glowing critical acclaim making the film essentially a lock for some of the top awards at this year's Oscars.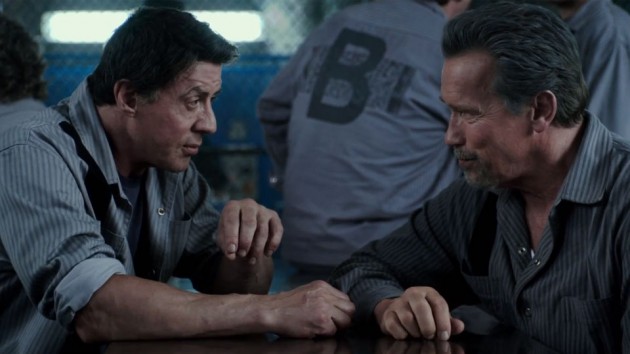 4. Escape Plan (Summit Entertainment)
The only other new release projected to hit the top five at the box office this weekend, Summit's action-thriller Escape Plan is an ode to old-school action films of the past starring Sylvester Stallone and Arnold Schwarzenegger. But if you haven't heard of the movie, you're not alone — Escape Plan arrives this weekend to an impressive lack of buzz although the film stars two of the most iconic action heroes of our time.
MTC Tracking has projected a $10.2 million weekend take for Escape Plan, but given the lack of buzz and the continuing strength of Gravity and Captain Phillips, it seems likely that the film will fall short of that projection. Coming in with a budget of $70 million, the film is likely to be a huge disappointment for Summit unless the overseas box office can make up the difference — something that is certainly possible given Stallone and Schwarzenegger's power to bring international audiences to the theater.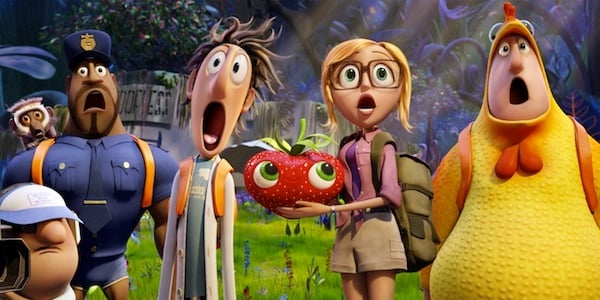 5. Cloudy With a Chance of Meatballs 2 (Sony)
Sony's animated sequel Cloudy With a Chance of Meatballs 2 continues to be a strong performer at the box office as it now approaches its fourth weekend in theaters. Last weekend, the film earned $14.2 million in its third weekend and a weekend take of about $8 million seems realistic given that there's still no competition for the children's film market. In fact, it wouldn't be surprising if Cloudy With a Chance of Meatballs 2 ended up overtaking Escape Plan for number four at the box office, although that would be more an example of Escape Plan's failings than Cloudy With a Chance of Meatballs 2′s box office prowess.
To date, Cloudy With a Chance of Meatballs 2 has earned $82 million at the domestic box office and $21 million overseas for a worldwide total of $103 million. For a film that came in with a budget at $78 million — $22 million less than its predecessor – Cloudy With a Chance of Meatballs 2 can already be labeled a success considering that the film is likely to earn at least as much as its domestic total overseas once the film expands in the foreign markets.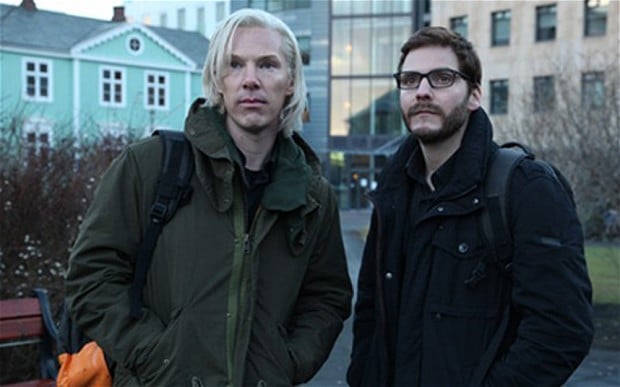 6. The Fifth Estate (Walt Disney Co.)
Distributed by Walt Disney Co. (NYSE:DIS) The Fifth Estate opens this weekend in about a 1,700 theaters. MTC tracking shows the film earning about $4 million, which seems slightly conservative given the film's notable marketing and interest from viewers. A weekend take in the realm of $5 million seems far more likely.
Starring Benedict Cumberbatch as WikiLeaks editor-in-chief and founder Julian Assange, The Fifth Estate is a thriller based on Inside WikiLeaks: My Time with Julian Assange and the World's Most Dangerous Website. Along with a strong ad campaign by Disney, the film has received notable press due to the real Julian Assange's extremely critical response to the film and its script, which he notably leaked online via WikiLeaks.
But according to critics, the problem suffers from one thing more than all else: pacing. The film has so far received mostly negative reviews pointing to the film's laborious pace that, despite Cumberbatch's impressive turn as Assange, is "stuck running in place," according to Peter Travers of Rolling Stone.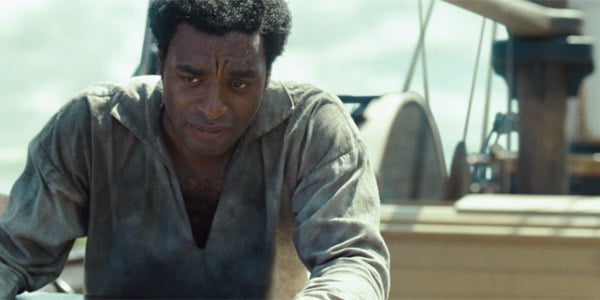 7. 12 Years a Slave (Fox Searchlight)
Considered by many critics to be the Oscar front-runner, movie-goers will get their first chance at checking out Fox (NASDAQ:FOXA) Searchlight's 12 Years a Slave — that is, if you happen to live near one of only 18 theaters in major markets that the film is opening up in.
Directed by Steve McQueen, whose two films Hunger and Shame have both been huge critical hits, 12 Years a Slave is based on the autobiography of the same name by Solomon Northup — a free black man who was kidnapped in Washington D.C. in 1841 and sold into slavery. With an all-star cast including Chiwetel Ejiofor, Michael Fassbender, Benedict Cumberbatch, Paul Giamatti, and Brad Pitt, Fox is working 12 Years a Slave into theaters slowly, but the film is sure to expand over the next several weeks and should be a strong player at the box office through the awards season.
Don't Miss: Google X Leader on Wearable Computing: It's Coming.