8 People Making Hollywood's Most Visually Striking Films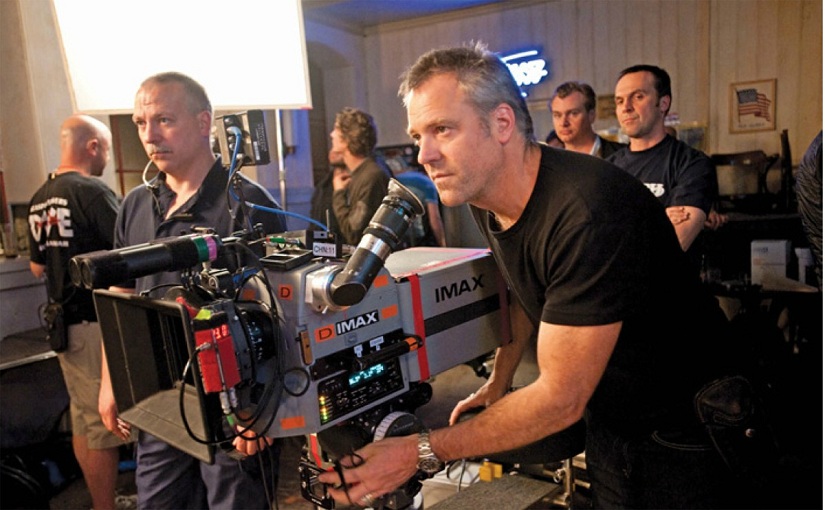 Of all the major roles behind the camera, the cinematographer is often one of the most overlooked pieces of the puzzle even though the position carries enormous responsibility. Alternatively called the director of photography, or DP, the cinematographer is the person responsible for the camera and lighting crews on the set of a film. And depending on the director, a cinematographer is responsible for varying degrees of creative control over the artistic and technical decisions related to the image in the final film.
If you tend not to pay attention to the names of the cinematographer attached to some of your favorite films, you might be surprised to see the same names popping up in some of the most visually striking films over the past several years. With collaborations between directors and cinematographers being one of the closest relationships on set, some directors have used the same DP over the course of two or three films — sometimes even more.
Here are eight of the top working cinematographers in the film industry and some of their recent projects and notable successes in the craft.

Roger Deakins
Roger Deakins is an English cinematographer best known for his work on numerous films by the Coen brothers and last year's James Bond film, Skyfall, for which he was nominated to receive an Academy Award for Best Cinematography. But Deakins' storied career as a cinematographer goes back nearly three decades, having "lensed" some of the most visually arresting films since hitting the scene in 1984.
While Deakins has received ten nominations for the Academy Award for Best Cinematography, he has yet to win the award. Critics, industry members, and film-lovers have often referred to Deakins as the greatest living cinematographer to never receive the award, but the lack of Academy attention has not lead to any less work over the years. Among his films nominated for an Academy Award over the years are Skyfall, True Grit, No Country for Old Men, The Assassination of Jesse James by the Coward Robert Ford, Fargo, and The Shawshank Redemption. This year, Deakins' cinematography in Prisoners could possibly garner an eleventh Oscar nomination.
Deakins has also increasingly found work as a visual consultant on animated films like How to Train Your Dragon — and its upcoming sequel – The Croods, and Rise of the Guardians. Though Deakins has no personal experience with animation, his consulting role has seen the English cinematographer oversee lighting and coloring using his expertise as a live-action DP. To date, films in which Deakins has served as cinematographer have earned $1.64 billion worldwide.
Emmanuel Lubezki
Emmanuel Lubezki is the front-runner for the Academy Award for Best Cinematography this year for his work on Alfonso Cuaron's Gravity, but the Mexico City-born cinematographer has been churning out highly respected work for close to three decades. A five-time Academy Award nominated cinematographer, in recent years Lubezki has worked with directors Terrence Malick, the Coen brothers, Alejandro González Iñárritu, Tim Burton, and Cuaron.
Known for his groundbreaking techniques and characteristic style, Lubezki has been nominated for the Academy Award for Best Cinematography for his work on Malick's The New World and The Tree of Life, Cuaron's A Little Princess and Children of Men, and Burton's Sleepy Hollow. Next up for Lubezki is Birdman from Iñárritu and two films from Malick – Knight of Cups and a so-far-untitled second project. And don't be surprised if Lubezki takes home his first Oscar this year for his groundbreaking technical work on Gravity.
Matthew Libatique
Matthew Libatique is best known for his frequent collaborations with director Darren Aronofsky, whom he met at AFI while both were students. He has been nominated once for the Academy Award for Best Cinematography on 2010′s Black Swan — another of his collaborations with Aronofsky. Since attracting the attention of Hollywood with 2000′s Requiem for a Dream, Libatique has worked with major directors such as Spike Lee, Jon Favreau, and Joel Schumacher along with his continuing partnership with Aronofsky.
Known for his strong visual style, Libatique has served as cinematographer on most of Aronofsky's films including Pi, Requiem for a Dream, The Fountain, Black Swan, and the upcoming Noah. Other major projects include Favreau's Iron Man, Iron Man 2, and Cowboys & Aliens, and Spike Lee's Miracle at St. Anna and Inside Man. He's currently lensing Pele, a bio-pic based on the life of the Brazilian football legend.
Robert Elswit
Cinematographer Robert Elswit is best known for his frequent collaborations with director Paul Thomas Anderson and for being a fierce supporter of shooting with film, refusing whenever possible to shoot with digital cameras. He has been nominated for the Academy Award for Best Cinematography twice, having won in 2008 for his work on Anderson's There Will Be Blood after missing out on George Clooney's Good Night, and Good Luck in 2006.
In recent years, Elswit has worked on some of the biggest Hollywood blockbusters, including The Bourne Legacy, Mission: Impossible – Ghost Protocol, The Town, and Salt. And while Elswit was unable to work on Anderson's The Master in 2012, the pair has completed photography on the director's next film, Inherent Vice, an adaptation of the novel by Thomas Pynchon. To date, Elswit's films have grossed $974 million worldwide.
Claudio Miranda
While Claudio Miranda's filmography as a cinematographer doesn't go back nearly as far as some of the other DPs on this list, his Academy Award for Best Cinematography for 2012′s Life of Pi, directed by Ang Lee, has put him on the map as a top candidate in his field. Miranda first worked with David Fincher as a gaffer on Seven, The Game, and Fight Club before being tasked as an additional photographer on Zodiac. Miranda was then chosen as cinematographer for Fincher's The Curious Case of Benjamin Button, which lead the way to Tron: Legacy and then his Oscar-winning work on Life of Pi.
Besides winning an Oscar, Life of Pi earned Miranda awards for best cinematography from BAFTA, the New York Film Critics Online, and the Satellite Awards. Miranda followed up Life of Pi with his work on the Tom Cruise-starred sci-fi film Oblivion — and while the film didn't earn high marks from critics or perform very well at the box office, Miranda's cinematography was often cited as one of the film's high points. Miranda's next film will be Brad Bird's Tomorrowland from Walt Disney Pictures and loosely based on the futuristic themed land at Disneyland.
Robert Richardson
When it comes to Oscars, Robert Richardson is one of two living cinematographers to have won the Academy Award for Best Cinematography three times — the other is Vittorio Storaro. Richardson has been a frequent collaborator with directors Oliver Stone, John Sayles, Errol Morris, Quentin Tarantino, and Martin Scorsese, having worked frequently with Stone during the early part of his career.

Richardson has been nominated for the Academy Award for Best Cinematography eight times during his career, winning for Stone's JFK (1992) and Scorsese's The Aviator (2005) and Hugo (2012). Besides working frequently with Scorsese over the past several years on films The Aviator, Shutter Island, and Hugo, Richardson has also worked on the Tarantino films Kill Bill Vol. 1 and 2, Inglourious Basterds (nominated for an Oscar), and Django Unchained.
Wally Pfister
Best known for his collaborations with director Christopher Nolan, Wally Pfister has been nominated for the Academy Award for Best Cinematography four times, having won in 2011 for his work on Nolan's Inception. In recent years, Pfister has established himself as a go-to cinematographer for large-scale productions, just as Nolan has established himself as a blockbuster director.
Besides working on all three films in Nolan's Dark Knight trilogy, Pfister worked on Nolan's Inception, The Prestige, Insomnia, and Memento, along with serving as DP on Moneyball and the Italian Job. But depending on how 2014 works out, Pfister's days as a cinematographer could be coming to an end, as he is currently working on his directorial debut, Transcendence – a move that means Nolan is currently working without Pfister — on the film Interstellar – for the first time since Nolan's feature debut with Following.
Sean Bobbitt
In recent years, Sean Bobbitt has become one of the hottest cinematographers in Hollywood, following his fruitful partnership with visual artist-turned-director Steve McQueen. After working with McQueen on his 2008 directorial debut, Hunger, Bobbitt and McQueen went on to collaborate on 2011′s Shame and this year's 12 Years a Slave — the latter of which could earn him his first Oscar nomination for Best Cinematography.
While Bobbitt's filmography doesn't go back very far, especially in the feature film landscape, the cinematographer is earning gigs from some high profile directors, including Spike Lee (Oldboy), Derek Cianfrance (Place Beyond the Pines),  Neil Jordan (Byzantium), and Michael Cuesta (Kill The Messenger). Look for Bobbitt's strong visual eye to start getting the attention of more and more productions following his successful work with McQueen.
Don't Miss: The 10 Books Everyone Was Reading in 2013.