8 of the Best Actors to Never Win an Oscar
February is upon us, which means that the 88th Academy Awards is almost here. While the road to the Oscars is always a tough battle for filmmakers and performers, this year is set to have one of the tightest races in recent memory, meaning that a lot of talented outings aren't just missing out on awards — they're missing out on nominations too.
This year, simply receiving an Oscar nomination might be a win in and of itself. The field seems so packed this year that films or actors who might have been in the running for an Award outright could see themselves on the outside looking in this year. And that's not even mentioning the surprising lack of diversity among this year's nominees.
But the point is, this is going to be a tough, tough year at the Oscars for those hoping to go home with the most important award in all of film. That doesn't even take into consideration just how difficult it is to go home with an award in any other year. Just take a look at the following eight actors — each one is extremely talented, has had at least one iconic role, but still hasn't earned an acting Oscar. This leads to the question: if these eight actors and actresses can't take home an Oscar for their performances, then who can? Here are eight actors and actresses you won't believe haven't won an Oscar yet.
Johnny Depp
Due to the sheer amount of memorable roles Johnny Depp has had throughout his long career, it's fairly remarkable that the actor has never gone home with an Oscar despite being nominated for Best Actor three times (even if it seems like that number should be higher). Depp's early work included a lead role on the TV series 21 Jump Street and a part in the 1986 horror classic A Nightmare on Elm Street before his lead role in Tim Burton's Edward Scissorhands made him an outright movie star.
Famous for portraying iconic loner characters, Depp has had well-regarded turns in a variety of genres including the films What's Eating Gilbert Grape, Ed Wood, Donnie Brasco, Fear and Loathing in Las Vegas, Chocolat, and the Pirates of the Caribbean series, to name a few. In 2012, Depp was listed in the Guinness Book of World Records as the highest paid actor at $75 million.
Depp's three Best Actor nominations from the Academy Awards came from Pirates of the Caribbean: The Curse of the Black Pearl (2003), Finding Neverland (2004), and Sweeney Todd: The Demon Barber of Fleet Street (2007), but most fans of the actor would likely say that those nominations don't pinpoint some of his best roles over the years. Still, considering Depp has a long career in front of him, he's pretty much assured a win down the line.

Joaquin Phoenix
How does Joaquin Phoenix not have an Oscar? From his breakout role in 1989's Parenthood, to his critically acclaimed performance in Her, Joaquin Phoenix has turned in multiple Oscar-worthy performances over the years. Despite this, Phoenix has never taken home an Oscar, although  he has been nominated three times, including two Best Performance by an Actor in a Leading Role nominations for Walk the Line and The Master. Phoenix isn't up for any nominations this year, but it's only a matter of time before this prolific and talented actor ends up with an Oscar on his shelf.
Leonardo DiCaprio
One of the most highly sought actors in Hollywood, Leonardo DiCaprio has come a long way since his early roles in What's Eating Gilbert Grape, The Basketball Diaries, and Titanic. But despite a strong recent track-record of critically acclaimed roles, along with a strong partnership with director Martin Scorsese, an Academy Award has continued to elude the popular actor.
DiCaprio's film-acting career began as a child actor in 1991′s Critters 3, a direct-to-video release, before the actor came to prominence after a breakout role in What's Eating Gilbert Grape as Johnny Depp's mentally handicapped younger brother. Since then, DiCaprio has never let up, starring in Romeo + Juliet, Titanic, Catch Me If You Can, Gangs of New York, and more recently, The Departed, Revolutionary Road, Inception, Django Unchained, The Wolf of Wall Street, and The Revenant. Of course, those films only start to scratch the surface of DiCaprio's prolific acting career.
DiCaprio has been nominated for a total of 6 Academy Awards: in 1994 for Best Supporting Actor in What's Eating Gilbert Grape, in 2005 for Best Actor in The Aviator, in 2007 for Best Actor in Blood Diamond, in 2014 for The Wolf of Wall Street (for Best Actor and Best Picture), and finally, for The Revenant in 2016.  Vegas is counting on DiCaprio finally taking home an Oscar this year, but even if he doesn't, it's only a matter of time before this talented actor gets his first Academy Award.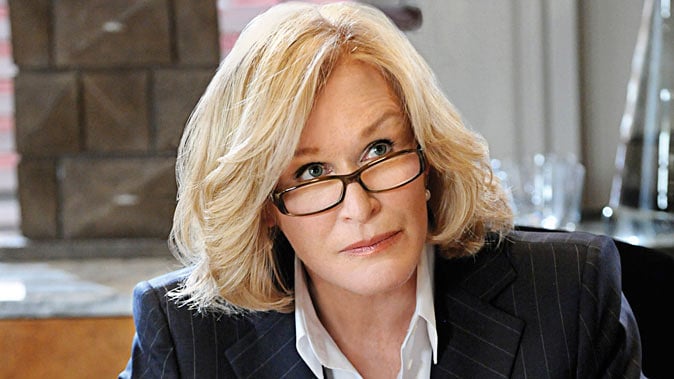 Glenn Close
Glenn Close has made a name for herself as one of the most versatile actresses around and has often been referred to as one of the greatest actresses of all time. So, it might be surprising to learn that the prolific actress has never won an Academy Award, despite being nominated six different times and tying the record for most nominations without a win (the other two are Deborah Kerr and Thelma Ritter).
Close's storied career has included roles in The Big Chill, The Natural, Fatal Attraction, 101 Dalmations, and Albert Nobbs, to name only a fraction of her filmography. The actresses has also had a highly successful career in television where she has had critically acclaimed lead roles on The West Wing, The Shield, and Damages which has led to three Emmy Awards. Of course, it's important to note that Close has also had a hugely successful career on stage where she has earned three Tony Awards.
While Close has no shortage of award winning performances on stage and on television, it's still a little perplexing that she's zero for six at the Academy Awards. Going back thirty years, Close's nominations include: Best Supporting Actress for The World According to Garp (1983); Best Supporting Actress for The Big Chill (1983); Best Supporting Actress for The Natural (1984); Best Actress for Fatal Attraction (1987); Best Actress for Dangerous Liaisons (1988); and Best Actress for Albert Nobbs (2012).
Tom Cruise
Tom Cruise may get flak over his occasionally awkward interviews or controversial religious beliefs, but there's no question that he can act. Like Leonardo DiCaprio, actor Tom Cruise has long shaken off the pretty boy image that can sometimes haunt an actor as he or she tries to be taken seriously in the acting world. Over the years, Cruise has excelled in everything from supernatural thrillers (Interview with the Vampire) to sports comedies (Jerry Maguire). Along the way, he's garnered three Best Actor nominations from the Academy, with the last one coming in 2000 for his supporting role in Magnolia. Aside from the films previously mentioned, Cruise is probably best known for his starring role in the highly successful Mission Impossible franchise. And while it's been 15 years since his last nomination, we think it's only a matter of time before Cruise finally takes home a golden statuette.
Annette Bening
Annette Bening made her big screen debut with a minor role in the 1988 film The Great Outdoors before experiencing a breakout performance in 1990′s The Grifters. Since then, the actress has had strong, steady work throughout the years, although not necessarily as prolific as some of her peers.
Bening is probably best-known for her role in 1999′s American Beauty in which she plays an ambitious real-estate broker whose career goals are thwarted by her husband's mid-life crisis and a deteriorating relationship with their teenage daughter. But the actress' work has been consistently praised by critics over the years, having been nominated for 75 awards throughout her career, winning 40.
Of course, the one award that's eluded Bening is the Academy Award, despite four previous nominations. After being nominated for Best Supporting Actress for The Grifters (1990), Bening would go on to be nominated for Best Actress for American Beauty, Best Actress for Being Julia, and Best Actress for The Kids Are All Right.
Matt Damon
Matt Damon is often compared favorably to Tom Hanks as a talented actor who makes it easy for an audience to get behind. While Damon has so far been unable to take home an Academy Award in a career that includes no shortage of memorable turns, at the age of 43 he has a lot of time to rack up some Oscars.
Damon's film career began with a small role in Mystic Pizza in 1988 and his acting work would slowly grow over the next nine years until Good Will Hunting, for which he and Ben Affleck won the Oscar for Best Original Screenplay, catapulted him to fame. Since then, Damon has been one of the most sought after Hollywood stars, with roles in Saving Private Ryan, The Talented Mr. Ripley, the Ocean's 11 series, the Bourne series, The Departed, True Grit, Elysium, and many, many more.
Although Damon won an Academy Award for Best Original Screenplay in 1998 for Good Will Hunting, he has not yet earned a win for acting. He was nominated for Best Actor for Good Will Hunting and was then nominated for Best Actor over ten years later for Invictus (2009). This year he has yet another chance to take home a Best Actor Oscar after being nominated for his lead role in The Martian. Although Damon hasn't had much luck at the Oscars, he's had no shortage of nominations from other sources, having been nominated for 115 awards over his career and winning 33.
Laura Linney
A former acting student at Juilliard as a member of Group 19, Laura Linney began appearing in minor roles in the early 1990s before being cast in several high-profile films including Congo, Primal Fear, and Absolute Power. But in 1998, Linney would have her breakout performance as Jim Carrey's on-screen wife in The Truman Show.
Linney would immediately follow up her successful outing with the first film to bring her award attention: 2000′s You Can Count on Me. From there, her streak of attention-grabbing roles would continue with Mystic River, Love Actually, Kinsey, The Squid and the Whale, and The Savages. In recent years, she's also become a force in television with strong turns in the mini-series John Adams and The Big C. Rounding out the trifecta, Linney has also had notable success on stage in the Crucible, Sight Unseen, and Time Stands Still, all three of which earned her a Tony Award nomination. All said and done, Linney has won four Emmy Awards, two Golden Globe Awards, a Screen Actors Guild Award, along with three Academy Award nominations and three Tony Award nominations.
While Linney hasn't exactly had a shortage of attention for her work, her lack of Oscars is fairly notable given her reputation as an actress. She was first nominated for Best Actress for You Can Count On Me (2000) before landing the same nomination for her turns in Kinsey (2004) and The Savages (2007).
Additional reporting by Nathanael Arnold.
Check out Entertainment Cheat Sheet on Facebook!       
More from Entertainment Cheat Sheet: