Can the Chevy Camaro and an Animated Snail Win Box Office?

Have you always wanted to see your dream car hit the big screen — in animation? General Motors' (NYSE:GM) Chevrolet brand may be able to realize that fantasy for you. The company has said that it is partnering with Dreamworks Animation SKG (NASDAQ:DWA) to help give an animated snail and the animated versions of its Chevrolet Camaro and other Indy cars their big movie debut. The three stars will be featured in an upcoming film, Turbo, which will hit theaters July 17.
The Detroit News said that the movie features the film's protagonist, a snail named Turbo, receiving some much-needed speed after he encounters a Camaro. The Chevrolet bowtie will even be seen during the film's scene of the Indianapolis 500, looking identical to its model that raced over the Memorial Day weekend. Chevrolet has also gone so far as to create a real-life replica of the Camaro that is featured in Turbo, a vehicle that is currently being showcased at auto shows.
The collaboration is expected to prove to benefit both partners as Chevrolet will not only use Turbo as part of its global advertising campaign, but will begin airing 30-second ads that feature the Traverse segueing into a short preview of the film, earning the animated snail even more airtime. The ad will be shown during family-friendly programs, in movie theaters before family movies, and in family-related magazines as print ads.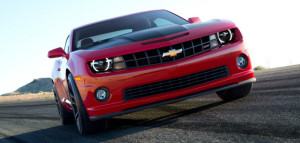 Both Chevrolet and Dreamworks Animation voice similar excitement about the partnership. Tim Mahoney, chief marking officer of Chevrolet, said in a statement, "Millions of future drivers will be inspired by Turbo to realize their dreams both big and small."
Anne Globe, the Dreamworks Animation chief marketing officer, is on the same page, saying: "In a film about a slow snail who dreams of being fast, who better than Chevrolet to give our hero his first taste of high-speed driving on the open road?"
Don't Miss: Power Machine: A Peek Into GM's Newest Corvette.