Despicable Me 2 Soars While The Lone Ranger Disappoints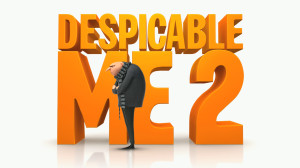 It was a successful July 4th for Comcast Corp.'s (NASDAQ:CMCSA) Universal Pictures as Despicable Me 2, the sequel to the 2010 animated hit, took in $34.3 million in ticket sales on its July 3rd opening. The film's biggest competition for the competitive holiday slot, Walt Disney Co.'s (NYSE:DIS) The Lone Ranger, did not fare nearly as well with a disappointing opening day box office take of only $9.67 million.
As has become customary for the studios' highly touted releases, both Disney and Universal released their films ahead of the July 4th holiday in order to take full advantage of the national holiday. The strategy was a huge success for Universal as Despicable Me 2 is projected to take in $140 million from it's opening day release on July 3rd through the weekend — which is estimated to be about $88 million.
The Lone Ranger, on the other hand, is already being compared to Disney's 2012 science-fiction film John Carter – a film in which the budget spiraled out of control and ended up costing Disney $200 million. While The Lone Ranger is projected to take in a respectable $60 million for the five-day holiday period and $38 million for the weekend, those numbers are a huge disappointment for Disney when the film cost upwards of $225 to make. Doug Creutz, an analyst at Cowen and Co. which is based in San Francisco, predicts that the film will lead to a $100 million write off for Disney.
Following the box office trend, reviews for The Lone Ranger have been decidedly negative. Of 152 tallied reviews on the aggregate site Rotten Tomatoes, the film only holds a 24 percent "fresh" rating — for "top critics," that number falls even lower to 11 percent positive. The critics were much more responsive to Despicable Me 2, giving the film a 75 percent "fresh" rating out 138 reviews and an even higher 82 percent when looking at the top critics.
While film-goers are sometimes criticized for their choices in cinema entertainment, the July 4th weekend box office seems to prove for at least one weekend that quality is still of paramount importance.
Investing Insights: Will Verizon Continue To Rise?