Disney Pixar's Monsters University Continues to Impress
Disney's (NYSE:DIS) Pixar animated film Monsters University continued to impress in its second weekend, grossing an estimated $49 million, which places it at number one at the box office for a second straight week. Newcomer The Heat, which is distributed by News Corp.'s (NYSE:NWS) 20th Century Fox, is on pace for about $40 million and good for second place. Starring Sandra Bullock and Melissa McCarthy, The Heat is a career-best opening for the two actors and with a budget of $43 million, the film stands to be a huge success for 20th Century Fox.
The continued success of Monsters University should not be a surprise. The sequel to Pixar's popular film Monsters Inc. is on pace for a $175 million total box office after ten days. However, the film's hold on the top spot at the box office is likely to change next weekend when Dreamworks Animation Studio's (NASDAQ:DWA) Despicable Me 2 is released. When Despicable Me was released in 2010, it went on to make $56 million in its opening weekend and $251,513,985 for its total domestic gross.
The Heat is the big surprise of the weekend, taking the second spot in the box office that most people assumed would go to the Jamie Foxx action film White House Down. With a production budget estimated at $43 million, the film will nearly make it back in its opening weekend. A Fox executive told Deadline, "Look for word of mouth to really kick in now, and The Heat to be hot for a good long while this summer."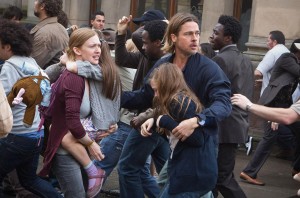 At number three at the box office is World War Z, which is from Viacom's (NASDAQ:VIA) Paramount Studios. The apocalyptic zombie film made an estimated $29.2 million at the box office for a respectable -56 percent hold from its surprising opening weekend.
At number four, we find the weekend's big surprise and disappointment. White House Down, distributed by Sony's (NYSE:SNE) Columbia Pictures, is on pace for an estimated $25 million in its opening weekend. With a budget of $150 million, the action thriller starring Jamie Foxx and Channing Tatum looks to be a disappointment, especially considering the success of Olympus Has Fallen — a strikingly similar film with less than half the budget of White House Down.
Rounding out the top five is Man of Steel, distributed by Time Warner Inc.'s (NYSE:TWX) Warners Bros. Pictures. The film is on pace to make $21 million in its third weekend while the Friday box office showed a -52 percent drop, which is better than the viewer drop from the first weekend to the second weekend. With July 4th coming up, Man of Steel looks to continue bringing in consistent box office numbers.
Don't Miss: Liberty Media to Time Warner: Let's Make a Deal.