How Can Sony's 'Madame Web' Film Connect To Spider-Man?
The deals between Sony and Marvel are infamous at this point. Even though Tom Holland's web-slinging hero is around to save another day in the MCU, Sony is amping up its Spider-Verse with a few movies up their sleeves. 
Venom is getting a sequel, and so is Spider-Man: Into The Spider-Verse. Now Sony is adding another comic book character to their list of solo movie projects, and she's a bit more unknown. Could she ever meet up with Peter Parker?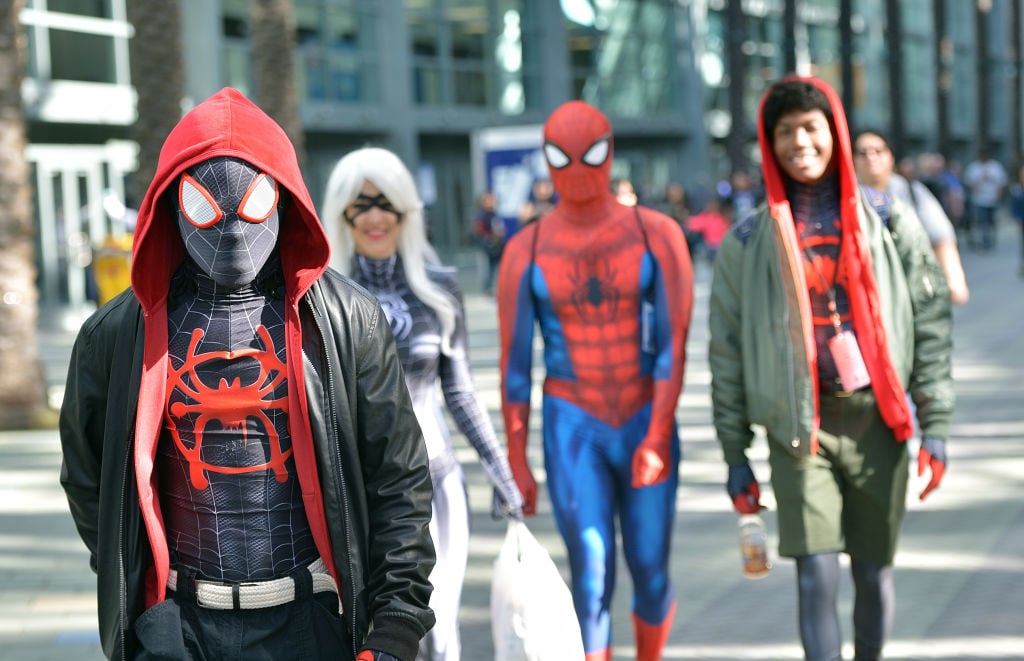 Sony is planning a solo film for this Spider-Verse character
The character in question is Madame Web, aka Cassandra Webb. Collider reported the news on Sept. 26, a day before Sony and Marvel revealed their final deal. The Madame Web movie will have the same writers as Morbius, Matt Sazama and Burk Sharpless. 
Who is Madame Web?
According to the official Marvel website, Cassandra Webb is an older woman who has been blind her whole life and has myasthenia gravis. She was hooked up to a machine that looked like webs were behind her, adding to the entire spider vibe. She has psychic abilities that were strengthened by her disabilities, hence why she's a medium who can see the future at times.
The character has been around since the '80s, and has appeared as a younger woman on the shows as well. Cassandra has a deep connection with other Spider-Women, including her granddaughter Charlotte Witter.
Can Spider-Man ever meet up with Madame Web in a live-action film?
As many have pointed out already, making Madame Web the main character of a solo film is an odd choice. She's only ever been a supporting character, yet Sony is making her the protagonist.
Collider did point out that a Marvel expert told them Madame Web "holds the key to a shared multiverse," meaning that this side character could easily have a significant role. "The development of a Madame Web movie may signal where Sony is looking to take the Spider-Man franchise next, since as of right now, the character will have no future ties to Disney's MCU," they wrote. The MCU has established a multiverse, but this would be a great way for Sony to do that in their live-action Spidey films as well. 
So far, there's just Venom, because even though Into The Spider-Verse is based around a multiverse, it's animated, making it its canon separate from the live-action movies. With this character being a liaison between dimensions in Sony's upcoming live-action Spider-Verse films, it opens the door for a new Peter Parker to make his way into their story. 
Cassandra Web's story is so closely tied to Spider-Man, that it would be hard not to have him in her film somehow. In the comics, she finds out Spidey's identity after he saves one of her students. And, of course, the fact that they're both Spider-people, they work together. So if Sony can't use Tom Holland's Spidey, right now, there are other characters Sony could bring on that thanks to this multiverse angle. 
It's also very possible that Sony will create a whole new version of Cassandra that doesn't rely on a Spider-Man, and connect her with a Spider-Woman. Jessica Drew, perhaps?
What other movies does Sony have planned in their Spider-Verse?
This new movie comes at a time when Sony is digging into its Spider-Verse properties, creating their cinematic universe. As stated before, they have Venom and are currently developing Morbius, which will focus on the living vampire.
With all of these superhero stories taking place, Spider-Man is going to be getting lots of company, whether he ever meets up with them on the big screen or not.