How Did Monsters University and World War Z Do This Weekend?
The movie box office continued its impressive run this weekend as Monsters University, made by The Walt Disney Company's (NYSE:DIS) Pixar Studios, and World War Z, distributed by Viacom's (NASDAQ:VIA) Paramount Pictures, both exceeded their expected ticket sales. Overall, the box office is on pace to have a 45 percent increase from the same time last year.
Monsters University is currently on pace for an opening weekend above $75 million, after taking in an estimated $30 million on Friday alone, making it the number one film at the box office. The estimated weekend box office yield would make it Pixar's second-largest opening behind 2010′s Toy Story 3, which had a $110 million opening weekend.
The bigger surprise is the performance of World War Z, which has been mired by reports of production problems and bad buzz. It appears the rumors have been overblown, or at least ignored by the general public, as the film made $25 million on its opening day putting it on track for a $65 million weekend yield, second to only Monsters University.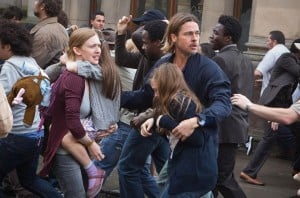 World War Z, which stars Brad Pitt and is based off of Max Brooks' best-selling novel of the same name, cost an estimated $190 million to make due to cost-overruns and re-shoots. What many people believed would be an enormous box office disaster for Paramount Pictures now looks like it could be a potential money-maker, although it still has a long way to go.
Man of Steel, made by Time Warner's (NYSE:TWX) Warner Bros. Studios, had a Friday box office take of $12.4 million, putting it on track to make about $40 million for the weekend. While that isn't a terrible box office yield by any means, it does represent a 71 percent drop from last week's weekend performance of $113 million, which is the second-highest weekend box office yield of all time. Still, Warner Bros. hopes that Man of Steel will continue to perform strongly after the opening weekend surprises for Pixar and Paramount.
Rounding out the top five was Sony's (NYSE:SNY) Seth Rogen comedy This is the End with an estimated $13 million weekend take followed by Summit Entertainment's Now You See me, starring Jesse Eisenberg and Morgan Freeman, with an estimated $7.6 million weekend take.
Don't Miss: Is Lululemon Stretched Too Tight?