Is Chewbacca Set to Take Disneyland by Storm?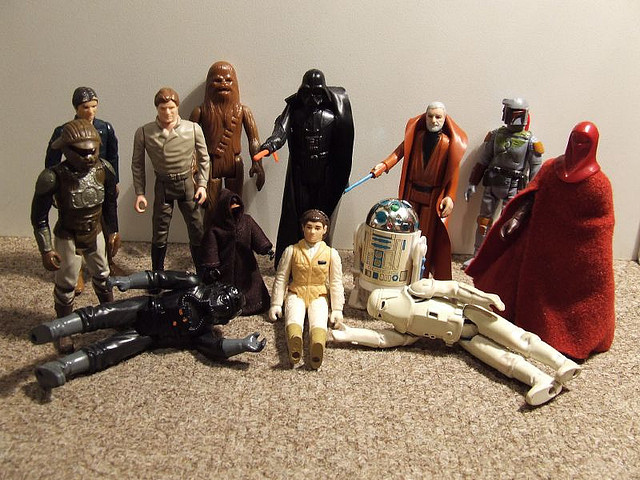 New hints from Walt Disney Co. (NYSE:DIS) illuminate that fan favorites like Luke Skywalker and Chewbacca the Wookiee might soon be joining the Star Wars cast that already entertain parkgoers at the Disneyland theme park in Anaheim, California, and it's all thanks to Disney's acquisition of "Star Wars" maker Lucasfilm Ltd. last year. Following the wrap-up of Disney's annual D23 Expo Sunday, fans are now walking away with new "Star Wars" anticipation.
According to Bloomberg, the Burbank, California-based company puts on a three-day convention every year, called the D23 Expo, that gives fans a sneak peak into what's in store for Disney in the coming months. Sometimes, big film releases are the star of the show, while other years, updates to park attractions and exhibits are what steals fans' attention.
This time around, many of the company's hints involved Luke Skywalker and friends, and effectively intimated what could be in the works for a new Star Wars-themed attraction, exhibit, or ride. Crates with "Star Wars" references lined the area of the Expo designed for new attraction ideas, and fans saw R2-D2 cutouts and lightsaber assortments which clued them in to what Disney was designing up for the future.
These "Stars Wars" attractions have been anticipated by the company ever since it aquired Lucasfilm last year for $4.1 billion. Fans have long been making big predictions, guessing that a new "Star Wars" attraction could be erected at Disney's Hollywood Studios park in Orlando, or even speculating that a new standalone "Star Wars" park could eventually be built, but the company has been able to stay relatively mum about the location of this new "Star Wars" park attraction until recently.
Whenever the next "Star Wars" ride or exhibit makes its debut, it'll join the Star Tours motion attraction that landed in Disneyland back in 1987. Taking guests to the site of battle scene in Star Wars Episode VI: Return of the Jedi, riders get to be the space tourists on this ride as they make their way to the forest moon of Endor. The ride has since been upgraded since its debut but still continues to entertain guests to this day, and now, Disney is hoping that that the success of the Star Tours can roll over onto a new "Star Wars" attraction.
The D23 Expo was momentous in that it finally provided conclusive hints about what was in store for the parks and Chief Executive Officer Robert Iger even offered, "We're going to continue to invest in Disneyland. We've going some pretty exciting things that we'll be announcing over the next couple of months."
Bloomberg explains that Disney annually spends billions of dollars upgrading its parks, a figure which is less surprising when one considers that the company earned 19 percent of its nearly $10 billion in operating incomes from its park division last year. These improvements and new attractions are what make fans keep coming back for more, and Disney recognizes the need to keep its parks fresh if it wants to keep the traffic stabilized.
Now, it seems as though "Star Wars" is the next big thing that the company has up its sleeve, and for good reason. The franchise boasts a solid base of loyal followers and its distinct characters are ones that almost everyone recognizes. Luckily, if the Expo's hints ring true and Disney really is planning on bringing these fan favorites to Disneyland, the company certainly has some wiggle room. It already owns 461 acres in Anaheim and has an additional 49 acres accessible for new "Star Wars" stomping ground.
And with Disney's latest earnings report, missing analysts' expectations for revenue, the company is likely looking for a way to redeem itself. Popular characters like robot C-3PO and Chewbacca could be just what the company needs to make a big splash, and with a new "Star Wars" film expected to hit theaters in 2015, the timing couldn't be more perfect.
Editor's Note: This post has been updated to include a reference to Star Tours, a Star Wars-themed motion-simulated space flight attraction in Disneyland.
Don't Miss: NBC Wants Twitter Users to Generate News Content.