Outlook: Industry Movers Outerwall, Netflix, and IMAX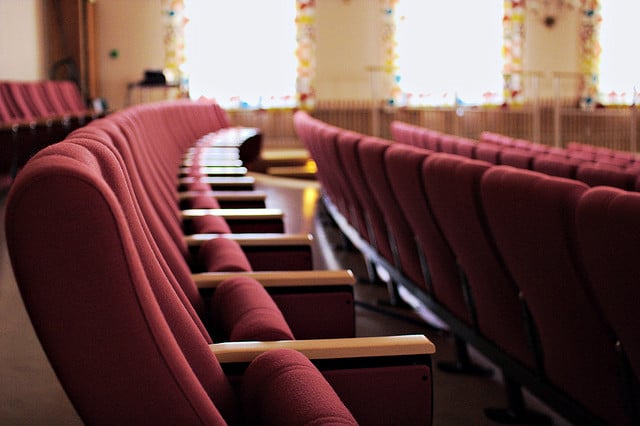 Outerwall (NASDAQ:OUTR) management appears committed to a shareholder-friendly approach. We believe guidance is reasonable, EPS and adjusted EBITDA guidance suggest expenses are under control, and the company's new capital structure and share repurchase strategy reflects management's commitment to harvesting all available cash and returning a significant amount to shareholders. We cannot say enough about management's responsiveness to the concerns of the company's shareholders.
Last month, an activist shareholder filed a list of concerns, and Outerwall management addressed virtually everything in its earnings conference call. In particular, we are impressed that the company is willing to add a layer of debt and run its business to generate cash, which it intends to return to its shareholders.
With reductions in capital spending and investment in New Ventures, we believe Outerwall can conservatively generate well in excess of $200 million in free cash flow annually, and can return that amount to its shareholders either by regular dividend, special dividend, share repurchase, or a combination of those things. We believe that the recent purchase of ecoATM gives the company a growth vehicle, which could drive its multiple higher, but it is difficult to assess the potential of used phone trading.
We expect Netflix (NASDAQ:NFLX) to eventually hit a ceiling on its growth, and although we acknowledge that the service is sufficiently sticky to allow the company to substantially raise prices, we do not believe that the current valuation is warranted, even if a large price increase drops to the bottom line. As a hypothetical, assume that Netflix was able to raise prices by $4 per month per subscriber; assume further that subscribers were so satisfied that none quit the service; finally, assume that content providers were sufficiently complacent that none would seek an increase in fees for their content.
If we were to annualize Q3 profits, Netflix would deliver $128 million in net income. If it were to raise prices by $4 per month for its 40 million subscribers, its profits would rise to around $1.362 billion, or approximately $22/share. On November 15, Netflix stock closed $349/share, reflecting a valuation of 15.8x this hypothetical EPS figure. We submit to rational investors that Netflix is unlikely to raise pricing by $4/month any time soon. If it were to do so, we believe that a significant number of subscribers would terminate the service, although we acknowledge that the service is sufficiently sticky that price elasticity would likely be less than 1.0.
In our survey completed last month, 79 percent of subscribers said that they would not accept any price increase. Notwithstanding their protestation, we think that fewer than 25 percent would actually quit if prices were raised. We cannot say the same for content providers. If Netflix were to become wildly profitable, we would expect content providers to seek higher fees for content, in a manner similar to movie studio deals with theatrical exhibitors. The studios share in ticket sales, irrespective of ticket price, although minimums are set for film rent. We think that Netflix's current content deals reflect minimums, and believe that if Netflix were to increase prices, content costs would rise in lock step.
Movie Rental Industry
Key Redbox releases this year (with domestic box office total in millions from www.boxofficemojo.com):
o 11/5: Grown Ups 2 ($134), The Hangover Part III ($112), White House Down ($73), The Purge ($64)
o 11/12: The Heat ($160), Pacific Rim ($102)
Key Redbox releases last year (with domestic box office total in millions from www.boxofficemojo.com):
o 11/6: Prometheus ($127), Arthur Christmas ($46), The Raven ($16)
o 11/13: The Amazing Spider-Man ($262), The Campaign ($87)
Over the next two weeks, there are three rental releases that grossed over $50 million in domestic box office compared to two last year. DVD rentals for the upcoming two-week period should be roughly flat with the same period last year.
Exhibitor Industry
We expect Q4 domestic box office to end down roughly 3 percent from a strong release slate last year causing difficult comps. Q4:12 experienced year-over-year increases in the box office each month of the quarter. We believe the week later Thanksgiving in 2013 and the quicker rollout of wide-release films in October 2012 compared to 2013 (13 wide releases in 2012's first four weekends, compared to 9 in 2013) will drive y-o-y box office declines for Q4:13. Q4 is trending down 11.0 percent through November 17.
We expect a very active M&A market to continue in 2013 and 2014 as the industry continues to consolidate. The transition to digital, IMAX (NYSE:IMAX), and 3D screens is helping to drive industry consolidation. Approximately 85 percent of screens have been converted to digital, and, while most circuits have some portion of screens converted, a significant number (around 6,000, or 15 percent) remain unconverted. The recent S-1 filed by AMC suggests to us that the company, once public, may enter the fray, and we expect prices for independent screens to rise as competition for acquisitions increases.
The following is an excerpt from a report compiled by Michael Pachter of Wedbush Securities.
Investing Insights: Will Comcast Continue to Trade Near Highs for the Year?