Telegram From Downton: Series Wins Season 5 Renewal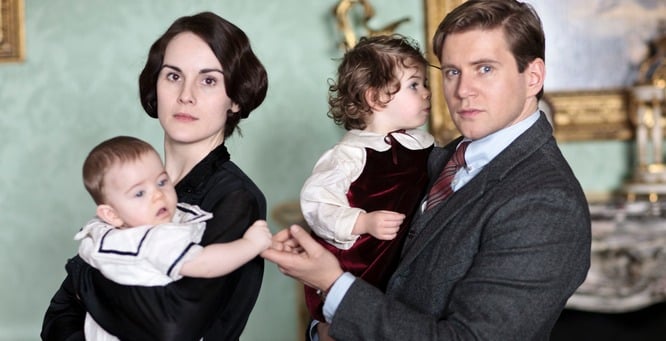 It's been a waiting game for fans of NBC's hit drama Downton Abbey, but at least they can sleep soundly knowing that once Season 4 finally airs on January 5, another will follow in its wake.
The production firm responsible for the Emmy-winning drama, Carnival Films, announced Downton's renewal for a fifth season in the UK Sunday night, and the good news came just as the fourth series' finale concluded. The fourth installment of the British television series aired in the UK on September 22, and it will debut again on PBS's Masterpiece Classics January 5 in the U.S., almost a year after the third season wrapped on February 17.
According to the Hollywood Reporter, the show's finale drew 9.8 million viewers in the UK on Sunday night, and that reflects a 40 percent share of British consumers watching television. Overall, Downton's fourth season scored an average audience of 11.8 million viewers, and Carnival Films expects the show's success to continue once it returns stateside where it grossed 24 million viewers for its third installment.
The popular costume drama co-produced by Carnival and Masterpiece has enjoyed significant critical acclaim in the U.S., and despite the lengthy wait, PBS president and CEO, Paula Kerger, expressed confidence Monday that Downton will continue wooing viewers on the network. She told the Hollywood Reporter, "Like millions of other Downton fans, I can't wait to see what's next for the Crawley family. We're proud to be the home of this extraordinarily entertaining series, and along with our stations, we look forward to sharing season five with U.S. audiences."
It'll be interesting to see how Downton unfolds on Jan 5, as the series has now lost two popular cast members, and the cuts could continue if more stars express frustration with the U.K. production. Despite any rumors, Carnival managing director Gareth Neame maintained Monday that, "As far as we know, we're all doing season five next year," and Downton lovers are just hoping he's right.
Don't Miss: 5 New Netflix-Original Series Set for 2014 Premieres.