Things to Watch for in the Movie Rental and Exhibitor Industries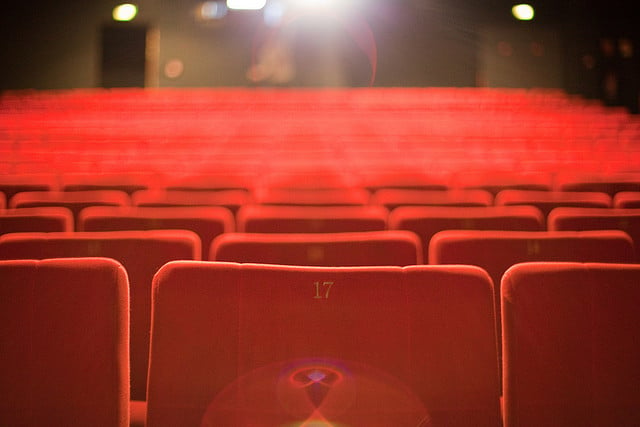 The following is an excerpt from a report compiled by Michael Pachter of Wedbush Securities.
Movie Rental Industry
Key Redbox releases this year (with domestic box office total in millions from Boxofficemojo.com):
– 10/1: This is the End ($101)

– 10/8: After Earth ($61)

– 10/15: Kevin Hart: Let Me Explain ($32)
Key Redbox releases last year (with domestic box office total in millions from Boxofficemojo.com):
– 10/2: The Avengers ($623), The Five-Year Engagement ($29)

– 10/9: Snow White and the Huntsman ($155), Dark Shadows ($80), People Like Us ($12)

– 10/16: Madagascar 3 ($216), Rock of Ages ($38), That's My Boy ($37)
Over the next two weeks, there is one rental release that grossed over $50 million in domestic box office, compared to two last year. DVD rentals for the upcoming two-week period should be flat with the same period last year based on box office results.
Earlier this month, JANA Partners filed a form 13D disclosing ownership of approximately 13.5 percent of Outerwall (NASDAQ:OUTR) shares. As expected, JANA Partners's stake has attracted interest from other shareholders; TPG-Axon disclosed a roughly 5 percent passive ownership stake in Outerwall this month. Outerwall generates more than $400 million in adjusted Ebitda from its existing operations, and we believe that the company can generate as much as $300 million in annual free cash flow if it were run to harvest cash. If JANA Partners is successful in its efforts, Outerwall could see its free cash flow rise well above historical levels, and we believe it is likely that the company will return that cash flow to shareholders. We expect JANA Partners to be joined by several other shareholders, and expect the group to convince management to focus on cash generation. We believe that there is room for cost-cutting, believe that the coin business can be sold for a significant sum, and believe that Outerwall's balance sheet can support some level of debt that would permit the company to buy back a significant percentage of its stock. Our addition of Outerwall to the Wedbush Securities Best Ideas list was predicated on four factors: 1) a stabilization of Redbox revenues; 2) the launch of ecoATM; 3) the continuation of the company's share repurchase program; and 4) the reduction in spending on new ventures.
In October, Wedbush completed another consumer survey with responses from over 1,000 domestic Netflix (NASDAQ:NFLX) streaming subscribers. The survey results reinforce our belief that Netflix faces a difficult balance as it attempts to contend with ever-increasing content costs while satisfying the demands of its customers for ever increasing content quantity and quality. The survey leads us to the conclusion that Netflix streaming subscribers remain price-sensitive, and 79 percent oppose any price increase. We believe that the central thesis of the bull case is that Netflix has significant pricing leverage, and we continue to believe that any price increase will slow growth to a crawl, but will drive profits much higher. In our view, Netflix cannot maintain high growth and high profits at the same time. We acknowledged that Netflix is doing the right thing with its content strategy. Unfortunately, that strategy has resulted in a discrepancy between net income over the past three quarters and free cash flow over the same period. The difference between net income and free cash flow represents investment in Netflix's content library, and this difference must be amortized over the life of that content. This means that Netflix faces an earnings headwind. Should net income continue in positive territory and free cash flow continue in negative territory, the difference will widen, and the headwind will grow into a hurricane. We think that is the best evidence that Netflix's content strategy will lead to low profitability, limiting the company's value to well below its current price.
Exhibitor Industry
We expect fourth-quarter domestic box office to end down roughly 3 percent from a strong release slate last year causing difficult comps. Q4:12 experienced year-over-year increases in the box office each month of the quarter. We believe the week later Thanksgiving in 2013 and the quicker rollout of wide release films in October 2012 compared to 2013 (13 wide releases in 2012's first four weekends, compared to nine in 2013) will drive year-over-year box office declines for Q4:13. Q4 is trending down 6.5 percent through October 20.
We expect a very active mergers and acquisitions market to continue in 2013 and 2014 as the industry continues to consolidate. The transition to digital, IMAX (NYSE:IMAX), and 3-D screens is helping to drive industry consolidation. Approximately 85 percent of screens have been converted to digital, and while most circuits have some portion of screens converted, a significant number (around 6,000, or 15 percent) remain unconverted. The recent S-1 filed by AMC suggests to us that the company, once public, may enter the fray, and we expect prices for independent screens to rise as competition for acquisitions increases. As IMAX's largest customer, the increased capital could also lead to further penetration of the IMAX format.
Michael Pachter is an analyst at Wedbush Securities. 
Don't Miss: 21st Century Fox Investors: Murdoch Is Too Powerful.