Thor Reigns at Top of U.S. Box Office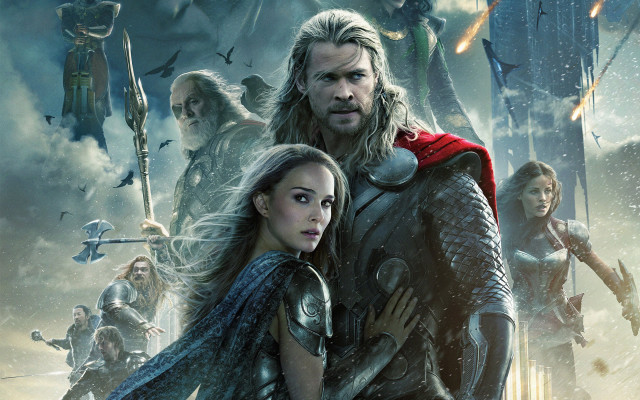 The holiday season is nearly upon us, and retailers aren't the only companies expecting to benefit. Distributors are, too. The lucrative box office period kicks off Friday with the debut of Liongate's (NYSE:LGF) The Hunger Games: Catching Fire, but moviegoers still took to the theaters this weekend to see much-anticipated movies like Paramount's Thor: The Dark World and Universal's The Best Man Holiday. The two films topped the box office charts for the weekend, but many were surprised to see how well The Best Man Holiday performed next to Thor. According to the BBC News, Thor earned $38.5 million over the weekend, while The Best Man Holiday scored $30.6 million.
Starring Chris Hemsworth and Natalie Portman, Thor was made for $170 million and expected to be the stand-out film in the weeks leading up to Thanksgiving, as it was released in the U.S. on November 8. The movie follows the success of the series' first installment, Thor, in 2011, and depicts Thor's journey as he works to reunite with love interest, Jane Foster. On the other hand, The Best Man Holiday was only made for $17 million, and reunites the characters from 1999′s The Best Man. The film has a largely African American cast, proving to appeal to broad audiences everywhere this week as it reeled in a box office figure close to that of Thor. 
Movies that especially appeal to black audiences have been known to do well in the theaters, but according to BBC News, director Tyler Perry worked hard to expand this film's target audience this year as he designed a plot that follows a group of college friends who reunite over Christmas. The film's director, Malcom Lee, recognized that so called "black films" are becoming a "familiar refrain" and "getting a little tired." Therefore, he and Perry focused on working outside the box as he explained, " I thought we had a chance to do something special."
As it turns out, "special" was exactly what audiences wanted this weekend as they ordered tickets for the movie, helping it rake in $30.6 million. The film was released on Friday and will continue showing at the theaters through the holiday season.
Aside from Thor and The Best Man Holiday, CBS Films' (NYSE:CBS) Last Vegas came in third on this week's chart and it scored $8.9 million with the help of Michael Douglass, Robert De Niro, Morgan Freeman, and Kevin Kline who decide to have a bachelor party in Las Vegas. Following Last Vegas was Relativity Media's Free Birds, grossing $8.3 in its second week since release, with Jackass comedy Bad Grandpa coming in the fifth spot at $7.7 million. Warner Bros' (NYSE:TWX) Gravity held its own in the sixth position, more than a month after its release in the U.S., and it was followed by Twelve Years As a Slave, Captain Phillips, and British romantic comedy About Time.
Don't Miss: Free Birds and 6 Older Films That Rule Thanksgiving.