Warner Bros. and The Weinstein Co. Battle Over 'The Hobbit'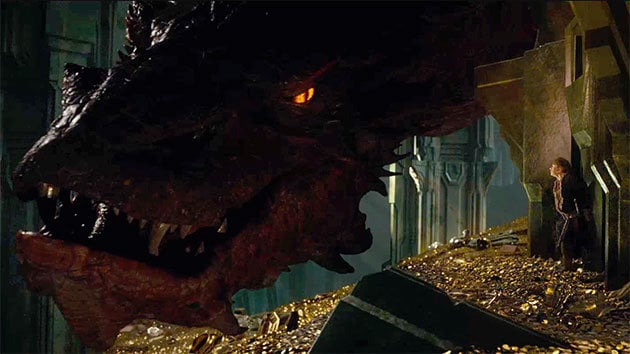 Warner Bros.' (NYSE:TWX) The Hobbit: The Desolation of Smaug is set to be released this Friday and if the early reactions are any indication, the second film in Peter Jackson's The Hobbit trilogy could be a monster at the box office. But it looks like Warner Bros. will also have to contend with newly filed lawsuit against them via the Weinsteins, who are asking for $75 million in compensation related to a longstanding dispute that goes back to when the Weinsteins owned Miramax, which, in turn, owned the rights to The Lord of the Rings and The Hobbit.
The dispute revolves around claims to a percentage of revenue on Warner Bros.' The Desolation of Smaug and There and Back Again – the second and third films in the trilogy, respectively. While The Weinstein Co. received a 2.5 percent cut of first-dollar gross for An Unexpected Journey — the equivalent of $12.5 million — the two sides are in dispute over whether the Weinsteins are owed a percentage of revenue for the next two films in the series.
According to The Hollywood Reporter, which obtained a copy of the contract, the suit could be a complicated one as the language could be interpreted both ways. However, any perceived ambiguity in the the 1998 contract doesn't appear to worry Warner Bros.
"This is about one of the great blunders in movie history. Fifteen years ago, Miramax, run by the Weinstein brothers, sold its rights in The Hobbit to New Line. No amount of trying to rewrite history can change that fact," the studio said in a statement. "They agreed to be paid only on the first motion picture based on The Hobbit. And that's all they're owed."
But the language of the contract certainly isn't cut-and-dry. Under the terms of the contract, New Line, which has since merged with Warner Bros., had agreed to make payments for the "the first motion picture, if any, based in whole or in part upon such book which is produced, but excluding remakes." What exactly constitutes the "first motion picture" is complicated by the studio's decision to split up the series, as it did with The Lord of the Rings.
In the suit by the Weinsteins, it is alleged that all three Hobbit films are installations of one movie, using Jackson's production of all three simultaneously as a fact that supports its claim. "We are surprised and frustrated by the position Warner Bros. is taking with regards to The Hobbit franchise," the Weinsteins said in a statement. "Since the beginning, Miramax, Harvey and Bob have been a force in getting these books to the screen. In fact, they funded the initial technology for the films at Peter Jackson's (SFX company) WETA. Without these early investments, none of these pictures would have been made."
Don't Miss: 8 New TNT Series the Network Is Banking On.