Was Kick-Ass 2 Taken Down by…The Butler?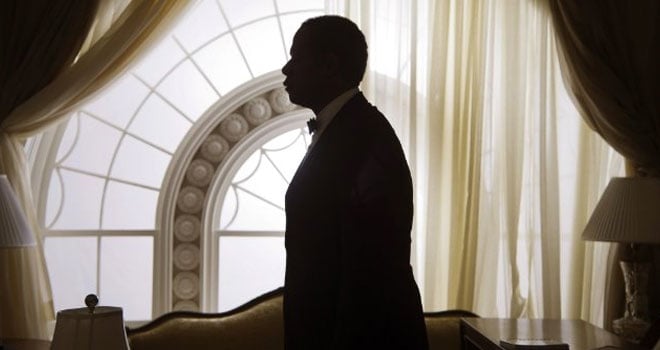 What originally looked like Kick-Ass 2's weekend to lose is now projected to be Lee Daniel's The Butler by a landslide. The historical drama starring Forest Whitaker and Oprah Winfrey is now estimated to finished the weekend with at least $24 million in ticket sales.
The Butler beat out all other films on Friday with an estimated $8.3 million and received a stellar CinemaScore of A. The film has also benefitted from positive marks from critics, settling at 73 percent on Rotten Tomatoes, with critic A.O. Scott of the NY Times writing, "A brilliantly truthful film on a subject that is usually shrouded in wishful thinking, mythmongering and outright denial." The film is already considered an early wards contender among industry veterans.
As reported on Friday, The Butler had been viewed by industry onlookers as a potential wildcard and a title that looked destined to perform better than estimates. The Weinstein Co. had been aggressively promoting the film's cast which, besides Whitaker and Winfrey, also includes Cuba Gooding Jr., Robin Williams, Jane Fonda, Alan Rickman, Terrence Howard, and John Cusack, and it appears to have paid off. The questions of whether Oprah's sizable marketing weight and built-in fan-base would impact ticket sales also seems to have been underestimated in early analysis.
Universal Pictures' (NASDAQ:CMCSA) Kick-Ass 2 seems poised to disappoint after most industry analysts had the film originally finishing as much as $5 million above The Butler, settling a little under $20 million. The film made an estimated $5.8 million Friday and is projected to make around $15 million for the weekend. A box office take of that amount not only puts it nearly $10 million below that of The Butler, it also puts it in jeopardy of not even taking second place at the domestic box office with Warner Bros.'s (NYSE:TWX) We're the Millers projected to make very close to that amount.
Starring Aaron Taylor-Johnson, Chloe Grace Moretz, and Jim Carrey as crime-fighters gearing up to take on an evil army, Kick-Ass 2′s projections were largely based on the results of the first film: Kick-Ass. That film debuted at $40 million in the spring of 2010, but the outlook for the sequel is not looking nearly as promising. However, the film does have at least one thing going for it: word of mouth. The film received a CinemaScore of B-plus despite the film being panned by the majority of critics. Kick-Ass 2 currently stands at 28 percent "Fresh" on Rotten Tomatoes and Manohla Dargis of the NY Times gave the film a rare 0 out of 5, writing, "There isn't anything good to say about Kick-Ass 2, the even more witless, mirthless follow-up to Kick-Ass."
Of the other big openings this week, none seem poised to crack the top ten. The Steve Jobs biopic Jobs, starring Ashton Kutcher in the title role, took in an estimated $2.6 million Friday and is projected to make between $7.5 and $8 million this weekend putting it around the sixth or seventh spot at the domestic box office. The independently produced film seems to have been hurt by the poor marks from critics and view ratings didn't differ too much — the film received a B-minus CinemaScore rating.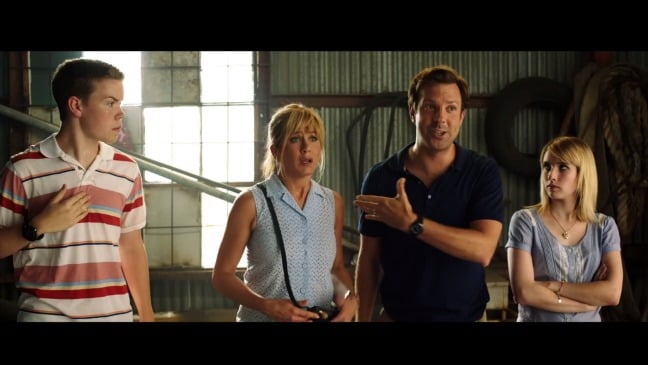 The other big opening, Paranoia, is taking a pummeling at the box office. The thriller starring Liam Hemsworth, Gary Oldman, and Harrison Ford made an estimated $1.3 million on Friday putting in on track for a weekend gross of around $4 million. The $35 million dollar film is projecting so poorly that the film might not place within the top ten in fact. The film has received comically poor marks from critics — Rotten Tomatoes shows the film sitting at a ridiculous 2 percent "Fresh" — and movie-goers unfortunate enough to see it have agreed, giving it a CinemaScore of C-plus.
We're the Millers, the R-rated comedy featuring Jason Sukeikis and Jennifer Aniston, took in $5.4 million on Friday putting it on track to make a weekend gross right around the $15 million mark — so close in fact that there's a chance it could overtake Kick-Ass 2 for the number 2 spot. The Warner Bros. comedy continues to exceed expectations with a strong second weekend and looks likely to have about a $70 million domestic total as of Sunday.
Going down the line, Sony's (NYSE:SNE) Elysium looks to place at number four at the box office, making $3.9 million on Friday and putting it on track for a domestic total of $55 million by the end of the weekend. And in the five-spot, Disney's (NYSE:DIS) Planes made an estimated $3.6 million on Friday and is likely to hit around $45 million by the end of the weekend.