Will Iron Man 3 Fuel Disney's Weekend Box Office Record?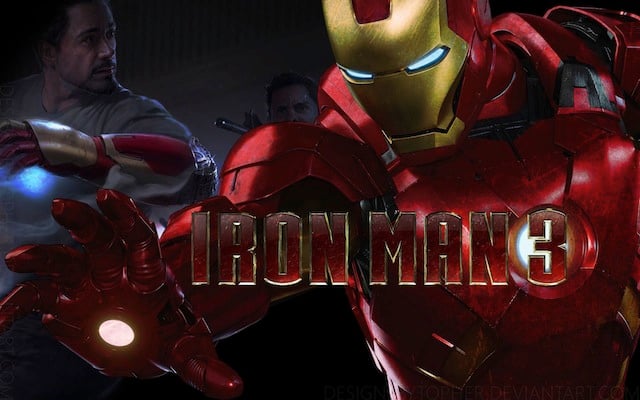 Will Disney's (NYSE:DIS) Iron Man 3 set a record with one of the highest-grossing opening weekends ever? Iron Man 3 has already earned a spot in the record books with its initial box office haul of $68.3 million on Friday. This debut bonanza makes Iron Man 3 the eighth-highest grossing movie ever on its opening day.
Iron Man 3's haul edges out Lions Gate's (NYSE:LGF) Hunger Games, which earned $67.3 million on its opening Friday.  Hunger Games eventually went on to bring in a total of $152.5 million over its entire first weekend. However, Iron Man 3 has a much larger demographic appeal than Hunger Games and is currently lacking any other serious blockbuster challengers from Hollywood.  The closest runner-up was Pain & Gain, which only collected $2.3 million on Friday. Because of this, Iron Man 3 is expected to earn an even larger amount than Hunger Games did over its entire weekend run.
How is Iron Man 3 comparing to Tony Stark's last appearance in a superhero-powered vehicle? The Avengers racked up an even more impressive $80.8 million on its opening Friday and it went on to collect a record-setting $207.4 million over the entire weekend.  However, if Iron Man 3 grows its box office receipts at a similar superhero pace, we can expect it to collect somewhere around $175 million over the weekend…
Iron Man 3 is not taking any prisoners in the overseas market either. It has already surpassed the $300 million mark and has smashed China's opening day box office record with an estimated total of $21.5 million. This bodes well for Disney's strategy of courting Chinese audiences with specially shot Iron Man 3 bonus footage.
Here's how Disney traded throughout the past week.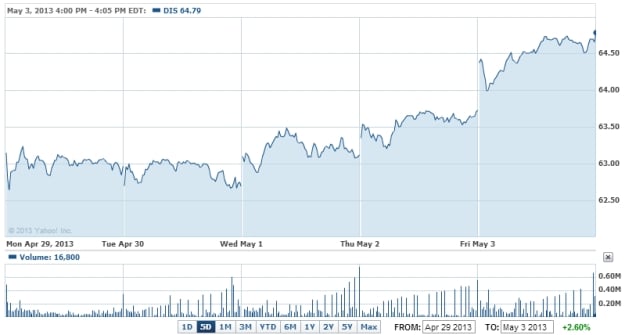 Don't Miss: Whose Back Does the Next FCC Chairman Have?