'Mozart in the Jungle': Should You Watch This Golden Globe Winner?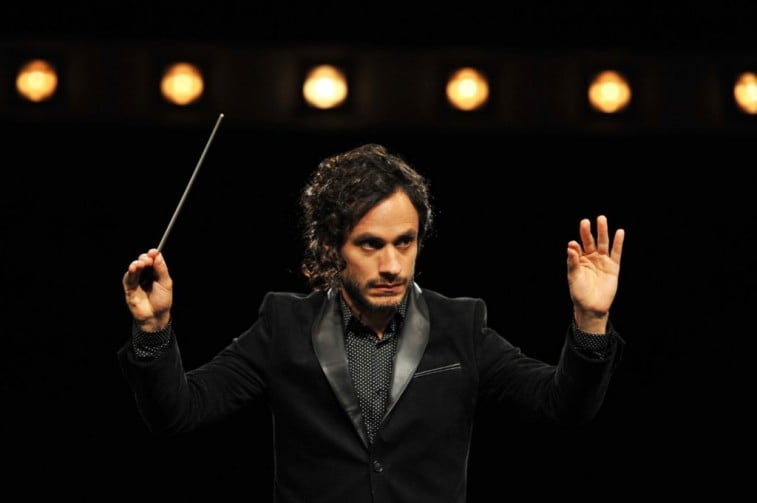 One of the biggest and most unexpected winners at this year's Golden Globes was Amazon series, Mozart in the Jungle. The little-known comedy surprised many by walking away with two of the biggest awards of the night, Best TV Comedy and Best TV Comedy Actor for star Gael Garcia Bernal. So what exactly is this show and should you be watching it? Here's what you need to know.
Mozart in the Jungle is actually already two seasons in, but there's a reason you — like most of the public —  probably hadn't heard about it until Sunday night's awards. Though the show has drawn strong reviews, it hasn't received anywhere near as much buzz or made quite as much a cultural impact as the other titles in its category (including Amazon's own Transparent or favorite vets like Orange is the New Black and Veep.) Instead, it's entrance, although apparently worthy of a 95% score on Rotten Tomatoes, has been quiet, with very little fanfare.
This is probably at least partly due to the subject matter. The show takes place in the classical music scene of New York — a world that, while not without its fair share of fans and drama, is somewhat isolated and not as splashy as the issues of transgenderism or women in prison. It follows a group of elite classical musicians in a fictional New York symphony as they battle to keep their art form alive in a society of digitally streaming music.
The series starts with a focus on Hailey (Lola Kirke), a twentysomething oboist on the cusp of success who strikes up a friendship with a veteran musician (Saffron Burrows) and is eventually forced to navigate the whims of the charming, eccentric new conductor Rodrigo (Bernal). Malcolm McDowell, Hannah Dunne, Peter Vack, and Bernadette Peters also co-star.
Mozart in the Jungle was part of Amazon's second pilot slate in early 2014, the same one that also included Transparent. Though it didn't receive quite as much hype as the latter, the pilot earned a largely positive response and Amazon eventually ordered a full season, which premiered in December 2014.
While most critics have agreed it doesn't quite live up to Transparent, Mozart has earned praise for its quirky writing, likable leads, and binge-ready structure. It's a show that marries the serious world of professional musicians with sillier aspects. There's competition, but it's not gritty and dark as you might expect. All of the young musicians are struggling with the same things: money troubles, roommates, messy love lives, etc. The mixture of both these worlds is what makes this show so original. As The Hollywood Reporter put it, Mozart is a "refreshing situational mix of earnest music, slow-building drama, solid humor and, yes, sex."
The second season premiered in December 2015, with Hailey assuming a larger position in the orchestra, but struggling to find her footing both as an oboist and in her love life. Meanwhile, a world tour and illicit romances dog the orchestra, especially Rodrigo, who is anxious about his Mexican homecoming. In addition to adding a little diversity to the venues (from a brief stop at the Los Angeles Philharmonic at the Hollywood Bowl to Mexico City), Season 2 also features some classical music cameos from Gustavo Dudamel and Lang Lang – a nice touch for those in the know.
So should you be adding this to your binge-watch list? In the end, Mozart in the Jungle is too niche to ever become as big of a headliner as Transparent. But for classical musical fans and those willing to try something new, it's an intriguing, well-acted series that serves as a pleasant addition to Amazon's lineup.
More from Entertainment Cheat Sheet:
Want more great content like this? Sign up here to receive the best of Cheat Sheet delivered daily. No spam; just tailored content straight to your inbox.