'Mrs. America': Uzo Aduba Reveals That Playing Shirley Chisholm in the New Hulu Series Was 'Intimidating'
Mrs. America, the Hulu series produced by FX, was released on April 15th of this year. Renowned actress Cate Blanchett plays the right-leaning author Phyllis Schlafly, who was famously against passing the Equal Rights Amendment. Uzo Aduba portrays a woman on the other side of the political spectrum, activist and U.S. congresswoman Shirley Chisholm, in the new television show. Aduba admitted recently that playing the role of Shirley Chisholm in Mrs. America was "intimidating."
Actress Uzo Aduba was cast in 'Mrs. America' as women's rights activist Shirley Chisholm
No doubt, Uzo Aduba had large shoes to fill in her role in Mrs. America. Shirley Chisholm was the first-ever woman of color in the United States House of Representatives. Born in Brooklyn, Chisholm represented the 12th district of New York for 7 terms. In 1972, she became the first female candidate for president to participate in a presidential debate.
In an interview with Newsweek, Aduba was asked if it was "intimidating to play such an iconic figure from history."
"Yes," the Orange Is the New Black star responded. She went on to explain her reasoning:
Even though I didn't know so much of the ins and outs of her politics, I knew she was a force for justice and change mostly because my mom was a passionate lover of hers, so that made it doubly intimidating.
When asked what she wanted viewers of Mrs. America to learn about Chisholm, Aduba hoped they would find "a real respect for her innate strength."
"I also really want people to understand that there was someone who came before that proverbial door was open to people of color and women in office," she continued. "I want her to hold her rightful place in history."
'Orange Is the New Black' star Uzo Aduba was inspired by her own mother for her character
The Mrs. America cast member also spoke to the Boston Globe about playing Shirley Chisholm. Aduba, age 39, credited her own mother for some of the inspiration for the role. She told the newspaper:
I could anchor this woman in a lot of parallels with my mom, because Shirley did not feel hindered by her gender or her race. She did not view those as obstacles to what she could achieve. She knew she was intelligent and that she could do the job, at least equally as well as any other political candidates.
Aduba remembered how her mother always told her: "I never knew there was anything wrong with being Black — until I moved America. I never thought something was impossible for me to be or do."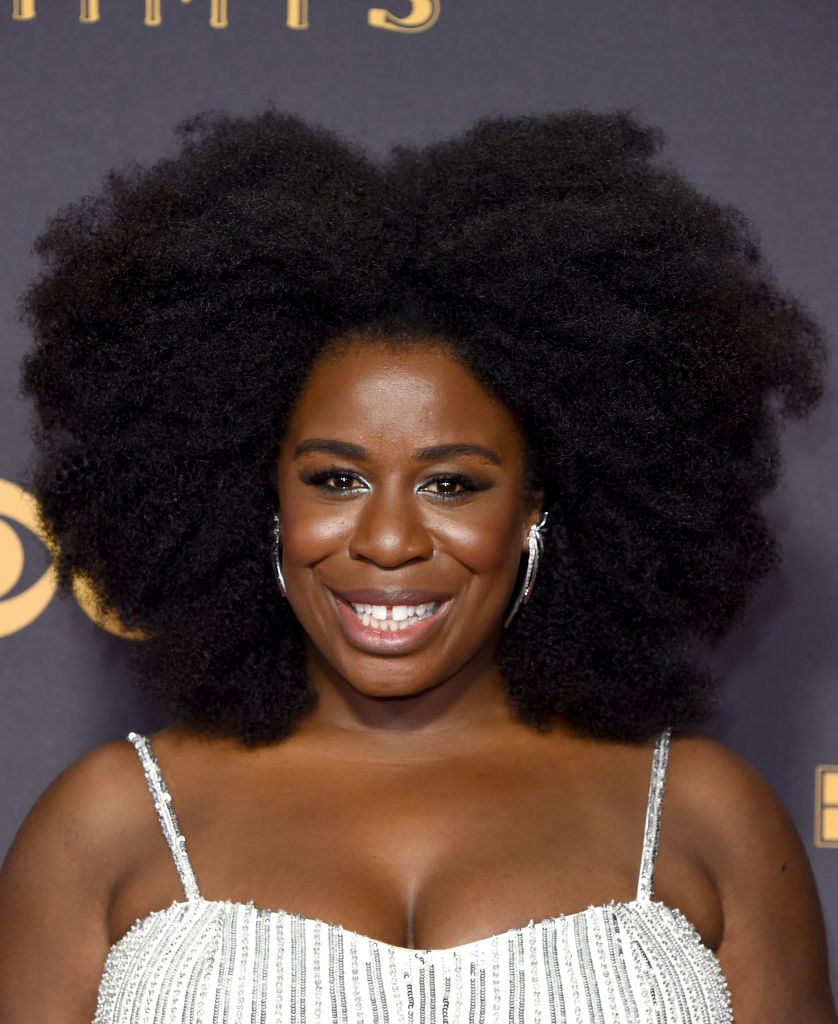 "I understood why my mother connected with Shirley because she could see herself and her own struggle in Shirley," Aduba explained.
What the Hulu TV show 'Mrs. America' means to Aduba
Aduba also shared with the Boston Globe what she took from Shirley Chisholm's autobiography, titled Unbought and Unbossed. She shared:
You realize this woman has such a sure sense of self and such strength, she cannot be deterred. That's what conviction looks like. Regardless of how a campaign ends, you can end with your head held high and your dignity intact if you stood by something you really believe in. That's where your power lies — in standing on your beliefs.
Dahvi Waller, who created the Hulu series Mrs. America, told the Globe about Aduba's "charisma and intellectual heft" that made her so powerful in the role of Chisholm.
"You just can't stop watching her," he gushed. "She's such a powerhouse, and she has this maverick wildness to her that Shirley had." Again, Aduba gave credit to the history-makers of our past.
"[The show] tells the stories of these giants whose shoulders we all stand on. I will never forget that first table-read," Aduba recalled. "You could really see the scope of womanhood and female identity."
Although it took Aduba several years to make her name in the acting world, Mrs. America is a long-time dream come true. She told the publication:
I had always wanted to do something in this realm [of acting], but the truth is that I was never sure if there was a place for me, because I'd never really seen somebody like me onscreen before or seen my own story reflected.
With Mrs. America–as well as her upcoming project, Americanah, that's shifted.
"Now I've made it a mission of mine to tell stories of the missing people whose voices we almost never get to hear," Aduba said. "And Shirley is one of those."