MTV VMAs 2019: Fans React To Camila Cabello, Shawn Mendes' Sizzling 'Señorita' Performance
Camila Cabello and Shawn Mendes turned the heat up at the MTV VMAs 2019 with their performance of "Señorita" that left everyone hot and bothered. The couple made their official debut as a couple at the awards show stage with a musical number that exuded sexiness and flirtation between the stars throughout.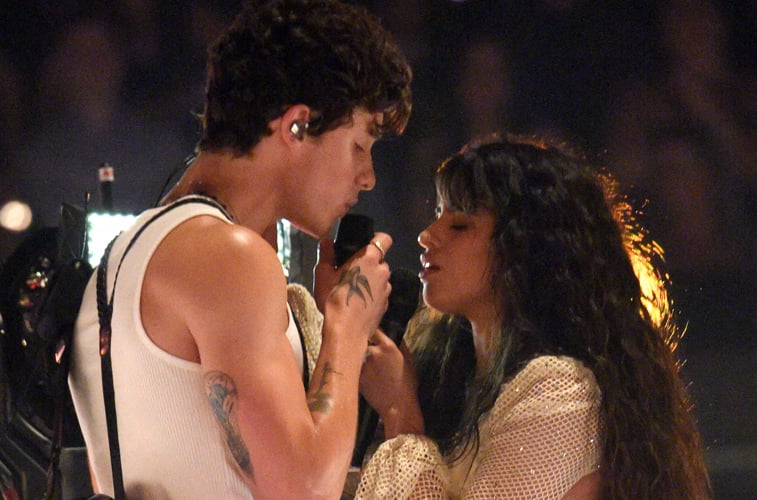 Hot Musical Number
Cabello and Mendes took the stage that was illuminated with Edison lightbulbs. The Cuban-born singer wore a sheer dress that was backless and looked extremely sensual dancing around as Mendes sang his part of the song. The Canadian heartthrob wore a white tank top with suspenders that showed off his muscular arms. Both were giving hot vibes as the performance went on exchanging sexy looks and teasing each other.
Fans react to Camila Cabello and Shawn Mendes' performance
Fans reacted as the couple performed live.
"Camila and [Shawn's] 'Señorita' performance is on repeat," a fan tweeted.
Some viewers compared it to Disney's Tangled.
"I'm no Shawn Mendes or Camila Cabello stan but dang, that performance of 'Señorita' changed me in ways I can't explain," a user wrote on Twitter.
A Brazilian fan reacted in Portuguese: "The 'Señorita' performance was incredible, it showed them being sensual, romantic, even their incredible connection between Shawn and Camila. I loved it."
"Shawn Mendes and Camila Cabello are the new Justin Bieber and Selena Gomez. Maybe even better than Justin and Selena. I just hope that they are not doing it for publicity like Lady Gaga and Bradley Cooper did for 'A Star is Born,'" a fan reflected.
"Camila Cabello and Shawn Mendes' 'Señorita' performance was sultry, intimate and sexy without being over the top," another fan observed.
"The 'Señorita' performance was truly a masterpiece. Shawn and Camila did THAT, both of their vocals are so perfect together," a fan mentioned.
'Señorita' won at the MTV VMAs
To top off the night, the duo won Best Collaboration for their song "Señorita". They both took walked up the stage to accept the award and said a few words to all the fans.
"Thank you, thank you so much. We are just so happy that everyone loves the song, we worked super hard on it. We love you. Thank you for this, this is incredible," Mendes said.
Cabello chimed in after Mendes to show her gratitude for winning the trophy.
"Yes, what he said," Cabello quipped. "Thank you so much to all of our fans out there watching. We love you so much."
After blowing kisses to the crowd Cabello added, "Get wasted!"
Did Camila Cabello and Shawn Mendes kiss at the MTV VMAs?
Sadly the musical number ended and although we were all expecting a kiss, that did not end up happening. Cabello and Mendes got so close to each other that fans were expecting them to seal the performance locking their lips but all we got was a nose rub.
Are Camila Cabello and Shawn Mendes actually dating?
Basing our opinions on MTVs performance, we could say that Cabello and Mendes are dating as the sexual chemistry was there, but not everyone thinks it's real. Many have alleged that the couple is only together as a publicity stunt that would help "Señorita" become a hit.
For those people that are skeptical about their relationship, they should just watch the video that TMZ posted where the couple has a full-on makeout session in public. Cabello and Mendes were supposed to be dining out, but onlookers say they barely touched their food as they were too busy kissing each other.