MTV VMAs: The 10 Craziest Moments in History
The MTV Video Music Awards are interesting for many reasons. For one, they always tend to remind us how much MTV has changed. What was once a channel devoted to music is now all about reality television. But it still gives us this crazy awards show for music videos that everyone now just watches on YouTube.
Another thing about the awards show is that they are almost guaranteed to give viewers a shocking moment. Perhaps it's because celebrities are just there to have a good time, so they drink a little more than usual. Or maybe it's because the awards show seems to have the most relaxed security ever and lets anyone up on stage. Whatever the reason, there have been many crazy moments that have left audiences gasping and talking about afterwards.
But which of these moments were the craziest in the award show's history? These ten moments not only had people talking, but reminded everyone how crazy celebrities can be!
10. Lil Mama jumps in Jay Z and Alica Keys's performance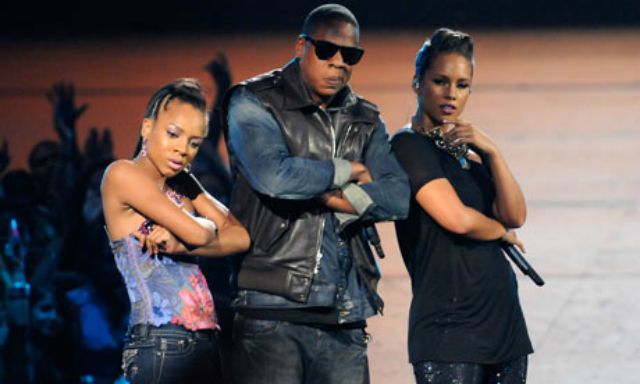 In 2009 the duo was performing their huge hit "Empire State of Mind." Of course the whole room got excited, but New York rapper Lil Mama took it a little too far by jumping onto the stage during the performance, and then posing with them. The two performers handled it like pros, but everyone was pretty confused about what was going through Lil Mama's head.
9. Diana Ross touches Lil Kim's breast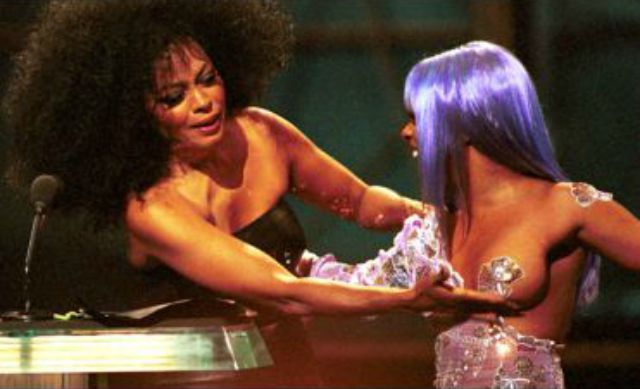 Lil Kim pushed the envelope by going to the awards show in a jumpsuit that only covered one breast and the other covered in a pastie in 2009. While on stage to present the Best Hip-Hop Video award with Diana Ross and Mary J. Blige, Ross decided to reach over and jiggle Lil Kim's breast. Everyone was pretty shocked about the intimate greeting.
8. Miley Cyrus twerks with Robin Thicke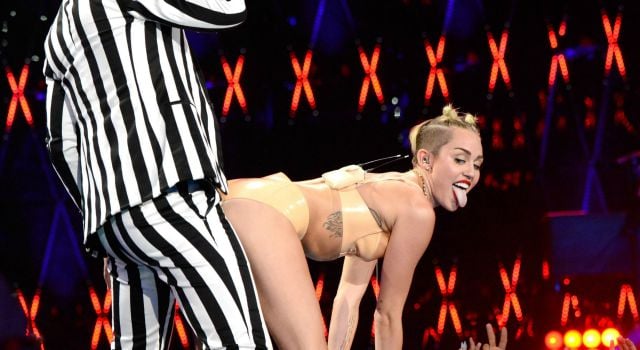 Many child celebrities go to great lengths to shed their innocent image and Miley Cyrus is no exception. Miley Cyrus and Robin Thicke were on stage in 2013 to perform "We Can't Stop" and "Blurred Lines." She then moved in front of the singer and bent over to twerk while wearing a big foam finger. This moment led to many headlines and even inspired Halloween costumes, so people could recreate the crazy moment.
7. Madonna kisses Britney Spears and Christina Aguilera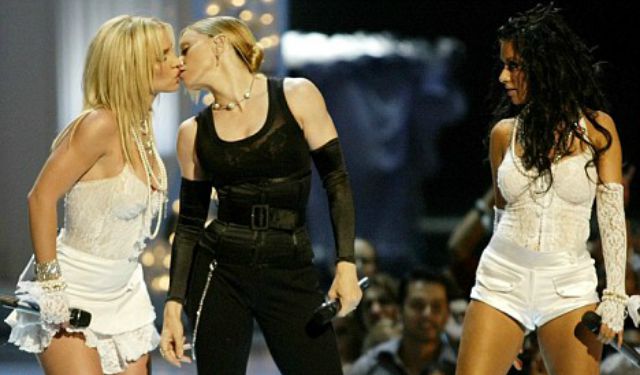 Madonna is no stranger to controversy. So in 2003 when she went on stage to perform her hit "Like A Virgin" she decided to make waves by not kissing one, but two pop stars on stage! The fact that the two pop stars used to be beloved childhood stars on the Mickey Mouse Club definitely made this moment newsworthy.
6. Courtney Love interrupts Madonna's interview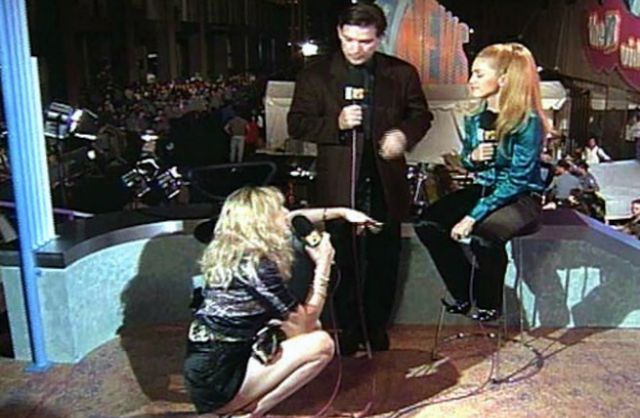 Before Kanye, there was Courtney Love. She started off her crazy by throwing her MAC compact at Madonna while she was doing an interview. She then took up a seat on the other side of Kurt Loder and completely hijacked the interview. Later on, she started having a conversation with someone who is off camera. Madonna eventually had enough and left.
5. Nirvana's Krist Novoselic gets hit by his bass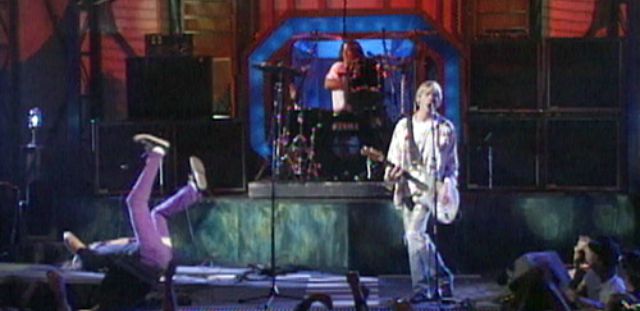 Rock stars tend to make their stunts look effortless, but sadly that wasn't the case during this awards show. In 1992 the band was performing "Lithium" when Novoselic threw his bass in the air in the hope of catching it. Instead, it landed on his head and he had to leave the stage.
4. Kid Rock and Tommy Lee's fight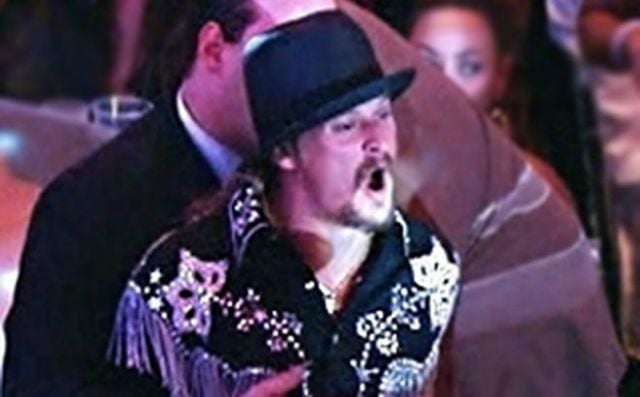 In 2007, Kid Rock had a problem with Tommy Lee, so he decided to deal with it by slapping him. The fight interrupted Alicia Keys's performance and led to the two celebrities having to be separated. The two were in the middle of a messy love triangle with Pamela Anderson.
3. Nicki Minaj calls out Miley Cyrus for comments in the press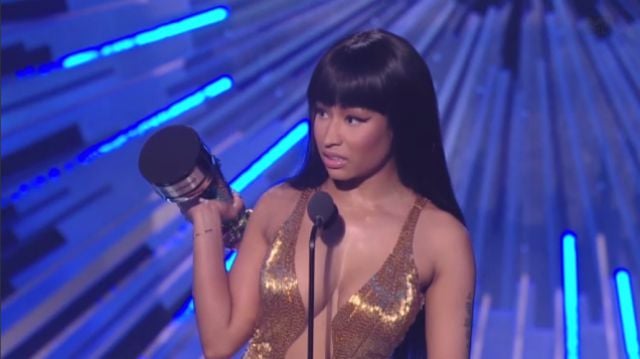 One of the latest things that has been making headlines from the awards show is Nicki Minaj calling out Miley Cyrus. In 2015, the rapper accepted her award for Best Hip-Hop Video. She then had to introduce Miley Cyrus, who just made comments to the press days before criticizing the rapper for how she talked about race and calling her "not too nice." In response, Nicki Minaj said, ""And now, back to this bitch that had a lot to say about me the other day in the press, Miley what's good?" The whole thing led to an uncomfortable response from Miley Cyrus about how interviewers manipulate people's words.
2. Kanye West interrupts Taylor Swift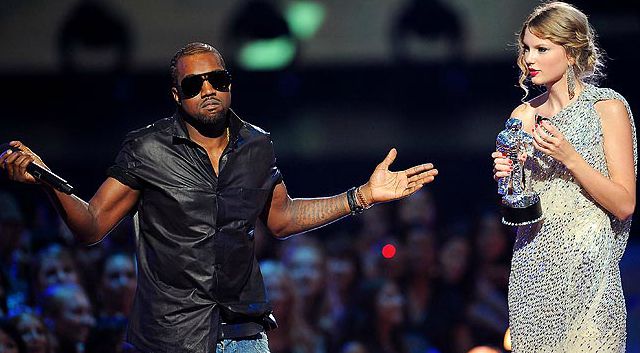 The rapper was apparently having a busy night drinking, so he had a good amount of liquid courage to speak his mind. In 2009, he stopped Taylor from giving her acceptance speech for Best Female Video to tell the world that, "Beyoncé had one of the best videos of all-time!" People were at first just confused, but then later really turned on the rapper for the interruption.
1. Kanye West announces he's running for president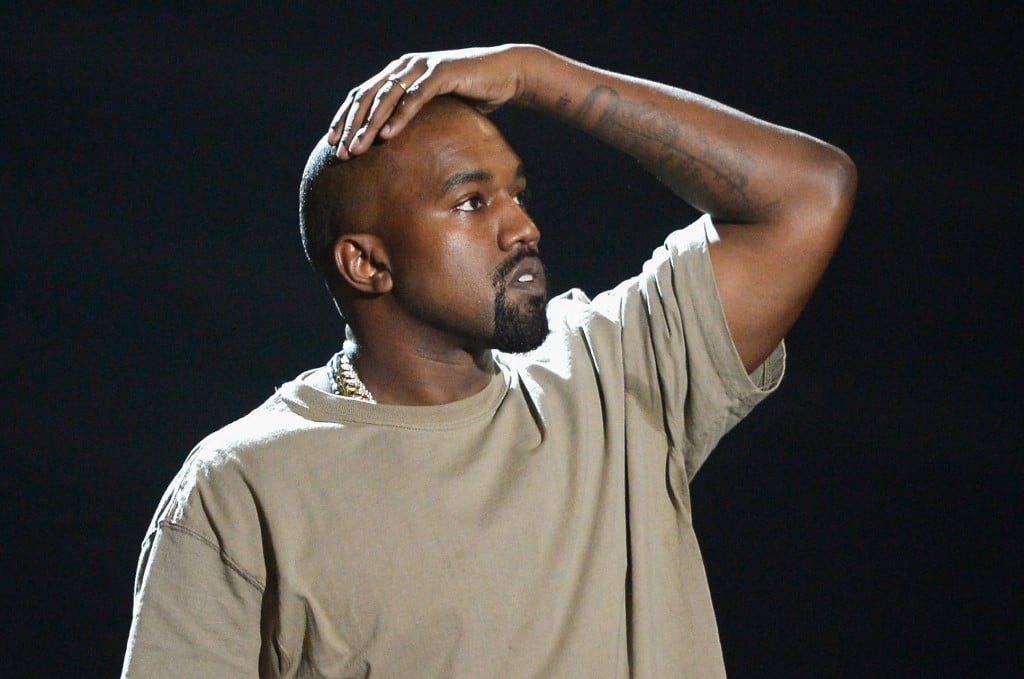 Another moment from the most recent award show is this one. In 2015, the rapper was accepting the Vanguard Award. His speech was obviously unplanned and was turning into a weird rant about wanting people to like him, how artists should approach their work, seeing previous losers of awards be upset, and more. But then he ended his speech on one deafening note: He's going to run for president in 2020.
Follow Nicole on Twitter @nikkibernice