MTV's 'Total Request Live' Turns 21: Here are 10 of the Best Moments
The late '90s and early '00s were quite a time to be alive. Before cell phones and high-speed internet, MTV's Total Request Live delivered 10 fan-voted videos each week. It was revolutionary. As we celebrate TRL's 21st birthday, we recognize some notable TRL moments cemented in history. Did your favorites make the cut?
The 'TRL Live Finale' tops the list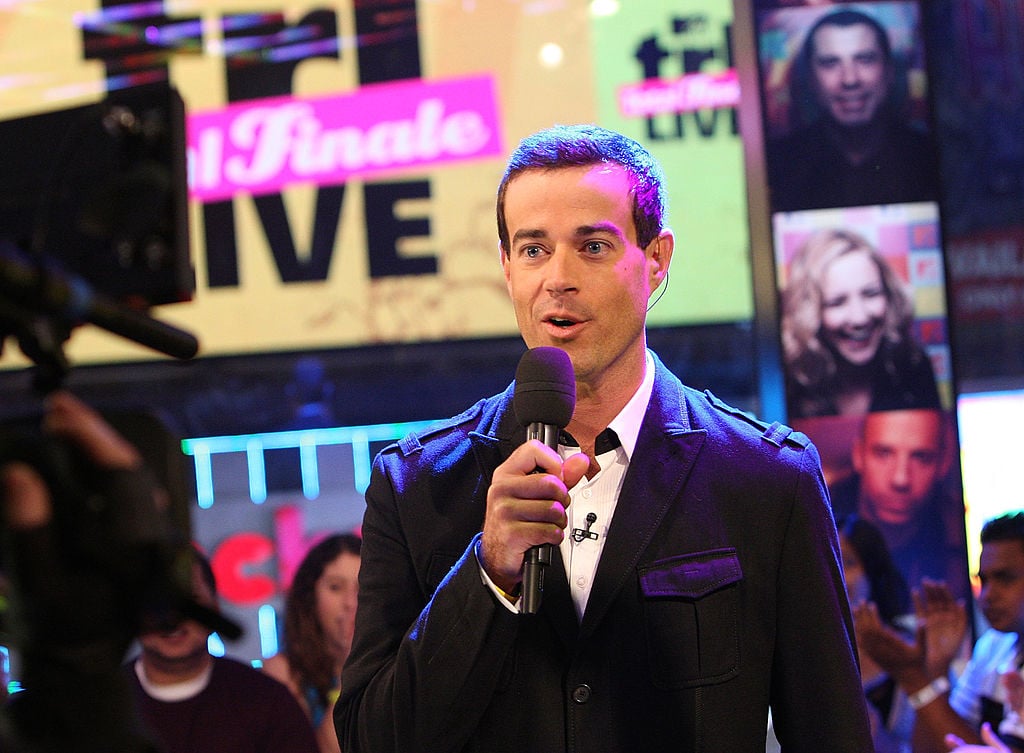 The 2-hour live finale of TRL aired in November of 2008. Longtime MTV VJ, Carson Daly, hosted with appearances from all other VJs from TRL , which included Damien Fahey, La La Vasquez, Dave Holmes, Jesse Camp, and Hilarie Burton.
Beyoncé and Fall Out Boy performed with TRL favorites like Diddy, Mariah Carey, Ludacris, Snoop Dogg, and Limp Bizkit's Fred Durst, to name a few.
P.Diddy ran on the treadmill for a long time
It sounds bananas now, but imagine a show where you could hear great music, see cool celebrities, and watch rapper, Sean "Diddy" Combs run on a treadmill for an entire episode.
The year was 2003 and it was fabulous. Did we mention he didn't stop when Britney Spears visited for an interview. She even wiped the sweat off his face.
Britney Spears Performed "Oops! I Did It Again"
Speaking of Princess Brit, the icon delivered a special performance of her hit song at the time. In sparkly jeans and one of her infamous crop tops, this is a top contender because everyone remembers how good it was.
Spears also hosted an episode alongside Melissa Joan Hart in 1999. This was when Hart's movie, Drive Me Crazy, was part of cinematic history (in which Spears wrote a hit song).
The time Daly Interviewed Michael Jackson
The King of Pop made a rare TV appearance in 2001 to promote his album Invincible. The streets of New York were chaotic and crowded (which you could see from the studio), just as you might expect.
"I don't take anything for granted," Jackson told Daly. "Every time there's a #1 album, I feel excited as if it's the first one."
NSYNC Performed "Bye Bye Bye"
Who doesn't know the "Bye Bye Bye" dance? Anyone who does can thank TRL (and don't pretend you don't know it).
The Backstreet Boys fans had Times' Square shut down
Even if you weren't a Backstreet fan, their 1999 performance to celebrate the release of Millennium flooded New York City streets. It was so much, Times Square had to be shut down. True story.
Two words: Mariah Carey
In case you weren't around to catch Carey's unexpected (and unannounced) stop at the TRL soundstage in 2001, we'll recap. Not only did she come pushing an ice cream cart, but she also removed her top layer t-shirt.
"Mariah Carey is stripping on TRL right now," Daly said. "Is it my birthday, and I didn't know about it?"
"You are my therapy session right now, Carson," she replied. "Every now and then, somebody needs a little therapy, and today is that day for me."
While it's clear now Carey was dealing with some things personally (she was diagnosed as bipolar), Daly said, "This is the most bizarre show I've ever hosted."
Christina Aguilera Performed "Genie In A Bottle" for the first time
Aguilera's first single since exiting the Mouskateers when live on TRL in 1999 (this was a big year). You could say this is when it all began.
The episode when Destiny's Child called it quits
Though the group had been together for nine years, it was time to part ways. In 2005, Beyoncé Knowles, Kelly Rowland, and Michelle Rowland announced on the show it was over. Fans may have been sad at the time, but they didn't know the glory Beyoncé would produce long after.
Robin Williams brought pure joy
During Williams's first-ever appearance on TRL in 2006, the late, great, actor and comedian did what he'd always done best: made everyone feel a little happier.
When a nervous fan asked which of his projects Williams enjoyed making most, he replied, "Personally, there's actually two. One is Dead Poets Society. And the other is Aladdin, just because I had so much fun doing the voice."
TRL's reign may be over, but the memories live on the internet forever. For better or worse.