Here's Why the Live-Action 'Mulan' Will Be the Best Movie Released Next Year
Disney found a winning formula decades ago when it began retelling fairy tales and setting up a collective of princesses through new and old stories where characters find some form of "happily ever after." At times, the princess theme would fall under the damsel in distress trope, but new characters have challenged the status quo. Disney's Mulan is one of them.
With the live-action remake of Mulan due to grace screens in March of next year, Disney invoked warm memories of its 1998 animated film that followed a young woman who did the rescuing—without the involvement of a charming prince. As reported last week by Deadline, the trailer nabbed more than 175 million views in its first 24 hours. The Chinese warrior is poised to capture audiences around the world and there are a few reasons why this movie will be a success.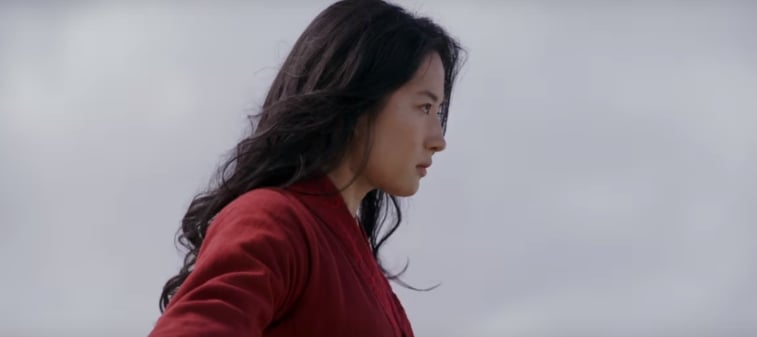 She's a symbol of girl power
Before Merida, there was Mulan. Like other Disney movies, 1998 Mulan has not been forgotten and still gets heavy rotation in households all over the world. That means new generations have been introduced to the girl who dresses up like a guy to take her father's place in the army. Mulan kicks butt—more than once— then she saves the kingdom, all while breaking free from the shackles of patriarchy.
A quick search of kids' reviews of the original movie reveals that little girls love what Mulan represents. Here are some reviews from girls ages 11-13 on Common Sense Media:
"Mulan is an inspiration to me! The way she defeats the army and shows that women can do anything men can do really moves me. I also love her love interest, voiced by Donny Osmand. Mulan has violent scenes because it is war based and it might be scary for young children. Mulan was my first hero and I'm sure she inspires many other women."
"Disney movies are usually stereotypical and about girls (meaning blonde blue eyed models) that fall in love and become princess with help from a magical beings. Not this girl! I love how Mulan fights for herself and never backs down … Mulan has good messages about that girls are strong and just as powerful as men. Every girl should se this movie at least once. One of my favorites. Really just a inspirational movie about girl power. Very good. Mulan is a true hero in my book."
'Mulan' nostalgia will be a magnet at the box office
You've seen Mulan in the animated film, and you may have seen her in ABC's Once Upon a Time, but her brilliance, heart, and bravery are what made her a legend. Though she's already smart and compassionate, Mulan winds up becoming a fierce fighter in the Chinese army, learning to work on a team and independently. Honor and love for family were central to her journey. All of those elements were present in the original and in the teaser trailer for 2020 Mulan.
Fans of Disney's first version of Mulan are hyped about seeing a more realistic portrayal of the warrior's story. She's a favorite among "Disney princesses" and although the new film will be missing Mushu and its charming musical numbers, that won't stop people from seeing it.
2020 'Mulan' is closer to the original story
When Disney released Mulan in 1998, it did not go over well with Chinese audiences. Part of that had to do with a lack of promotional activities in the country, but since the '90s, the Chinese box office has become a powerhouse for American films. Another reason it flopped was because of its storytelling. Various versions of Hua Mulan's story have been told in Asian cinema for decades, but those were accepted since they focused on the original epic.
The BBC reports that Disney was extra careful with the story of Hua Mulan this time, using the 6th century ballad as its guiding light. This time, the storytelling will be more inclusive of traditional Chinese customs that were the norm at the time. Additionally, casting focused on actors who appealed to both Chinese and Western audiences. Jet Li will play the emperor and Gong Li was cast as the sorceress villain.
When the BBC examined how the trailer was received overseas, they mentioned the social media site, Weibo, where users posted comments like this: "Hua Mulan was the heroine who graced our storybooks in school. I'm happy that the trailer is setting her story up as more of a Chinese martial arts epic rather than an American cartoon."  
In spite of complaints about historical inaccuracies, the trailer has been well-received for Mulan, a film that's shaping up to be a depiction of the legendary girl warrior who's been celebrated for centuries. For many fans, next spring can't come fast enough.