A List of Solo Songs That Show the BTS Members' Talent
There is no doubt the members of BTS are talented. When performing, the group sings, raps, and dances in perfect synchronization. BTS often incorporates different genres in their music to show their artistic range. The members of BTS also have solo songs that show their individual talent.
As solo artists, RM, Suga, and J-Hope have all released mixtapes. While the three BTS members are all rappers, they have different rapping styles and messages they communicate in their music. Even though the four vocalists of BTS have not released mixtapes, they have performed and released solo songs showing how they differ as artists.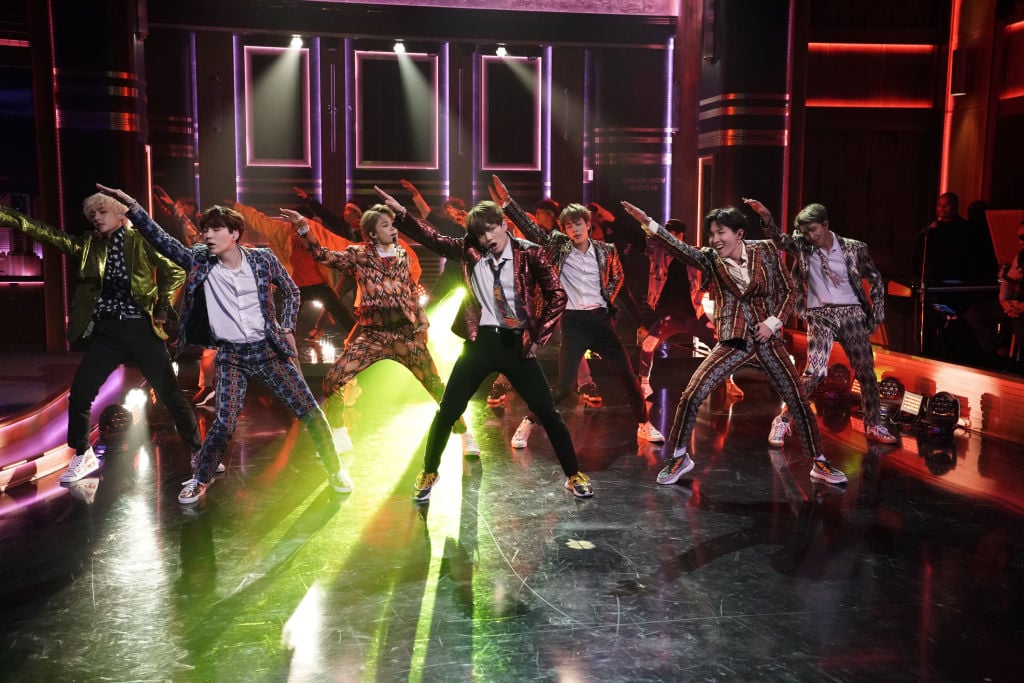 'Epiphany' shows Jin's range as a vocalist
In 2016, Jin released the solo song "Awake" for BTS's album, Wings. Jin has also released a self-composed ballad titled "Tonight." While these songs show Jin's skills as a singer and songwriter, his solo song "Epiphany" best displays his skills as a vocalist.
BTS released the song with their compilation album, Love Yourself: Answer, in 2018. In the song, Jin's vocal range spans from the D3 note to the F5 note. His performance of "Epiphany" at BTS's concert in Riyadh was so noteworthy that the song rose to the No.1 spot on Saudi Arabia's "Top Song Chart" on iTunes.
Suga released 'Agust D' in 2016
BTS fans have waited for a follow up to Suga's 2016 mixtape, Agust D, for years. For the release of the mixtape, Suga developed another alter ego by the name of Agust D to differentiate from his work in BTS as Suga. The title song of the mixtape showcases Suga's skill as a rapper.
Suga is one of the fastest rappers in South Korea. In "Agust D," Suga fiercely raps about his success and career. In latter songs in the mixtape, Suga raps about his mental health struggles.
"Intense in its vulnerability, Agust D was entirely produced by Suga, something atypical within the K-pop world," Tamar Herman wrote in Billboard.
J-Hope reached the No.1 spot on the U.S. iTunes chart as a soloist
J-Hope became the first member of BTS to chart on the U.S. iTunes chart with a solo song. Earlier in 2019, J-Hope released a collaboration with Becky G titled "Chicken Noodle Soup." The song reached the No.1 spot on the U.S. iTunes chart.
The song and music video show J-Hope's skill as a rapper and dancer. With "Chicken Noodle Soup," J-Hope became the second Korean artist to reach the No.1 spot on the U.S. iTunes chart. He also became the fastest Korean soloist to reach the No.1 spot on the chart.
BTS's Jungkook broke a record with 'Euphoria'
With his solo song "Euphoria," Jungkook set a Billboard World Digital Song Sales record. The song came out in 2018, and in August 2019 the solo song re-entered the Billboard World Digital Song Sales chart. This gave the song 22 weeks on the chart and Jungkook became the longest-charting solo male K-Pop idol on the chart. 
'Serendipity' shows BTS member Jimin's growth
Jimin released his solo song "Lie" with BTS's 2016 album, Wings. When BTS began their Love Yourself era, Jimin released "Serendipity." Both "Lie" and "Serendipity" vary greatly in tone and the message. While "Lie" is dark and deals with the lies and insecurities one deals with, "Serendipity" is a light song about acceptance and love.
Both songs showcase Jimin's skill as a vocalist and dancer. In a recent VLIVE, a fan asked Jimin if he preferred "Lie" or "Serendipity." Jimin answered the fan that while he appreciated "Lie," he does not enjoy the song's dark mood. For most of 2019, Jimin has adamantly reassured fans he has not had dark thoughts.
RM released the solo song 'Moonchild' on his 2018 mixtape
RM of BTS released his second mixtape on Oct. 23, 2018. The mixtape, titled Mono, features seven tracks. One of the songs, "Moonchild," is a fan favorite.
"Mono then leads into 'Moonchild,' a smooth, bilingual alt R&B track about the titular persona coming into one's own," writes Herman in Billboard.
"mono is hands down one of the most beautiful albums ive ever listened to. you only need to hear it once and you know namjoon poured his entire heart and soul into those 7 songs. they all hold a special place in my heart, especially moonchild #1YearWithMono," a fan tweeted.
V of BTS released the solo song 'Winter Bear' in 2019
In August 2019, V released the solo song "Winter Bear." The BTS member wrote and composed the song entirely in English. V also directed and starred in the music video for the song. With "Winter Bear," V showed his dedication and versatility as an artist.