Bobby Long Takes an Old School Approach to the Music Industry
The first time I saw Bobby Long perform was in late July 2009. He was playing a short set, one of five acts, at a restaurant in SoHo. At this point he was unsigned, fresh out of college like myself, and barely had two pennies to rub together, touring the country in a car with his manager/friend, sleeping on any available couch or floor.
By the time Long stepped on stage, the third or fourth act of the night, many of the audience were just getting to their entrées, jollily conversing with their friends and neighbors crowded into the dining area, while others stood on the dance floor in front of the stage, still drunkenly swaying to the rhythm of the previous performer. Few seemed to notice the shy British boy on stage alone with his guitar and a harmonica. That is, until he started to play.
In 2009, Long played 160 shows in seven months in seven countries. Now, almost two years later, he's still at it. He just concluded the U.S. leg of his tour, stopping in just about every city on the map, and is now headed to Australia and then Germany.
When asked why he plays so many venues, often performing 5 or 6 nights a week, a different city every night, he says, "I like playing live, I like how I feel when I'm playing live…I feel uncomfortable, I'm a little bit nervous, but I think that gets the best out of me." Furthermore, he cites its importance in establishing him as an artist, and in creating a relationship with his fans. "Touring is still so important, and that, for me, is the only way I am going to fall in love with a band completely."
And if touring is what it takes, Long is willing to sacrifice his time and even his money to make it happen. "I'm not cheap, I want to do things properly," he says. "I want to do things properly in the ways that my heroes have done, which is all for longevity." He was quick to make a list of his heroes — those whose careers he would like to emulate — among them Tom Waits, Bob Dylan, and Neil Young. "The industry is a different place now than it was, but I still have the ideals of the old ways: touring and playing."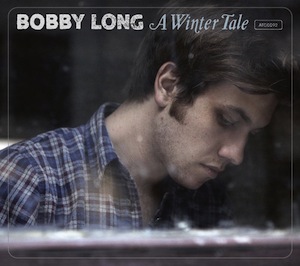 At the age of 25, Long is very sure of what he wants and how he wants to go about getting it. Maybe his idealism is a privilege afforded by his youth, but he seems completely sincere when he says, "The musicians who I admire are the guys who have always done what they wanted to do…whether it means financial loss, or whether it means that the album isn't particularly radio playable or whether fans wouldn't agree with it." Long is aware that his ideas are uncommon, and that the industry is moving in a different direction, but it's not stopping him.
Since he first picked up the guitar as a teenager, Long's path has been very organic, and very grassroots. He taught himself to play, then began writing songs every Saturday night. While attending university in London, Long would play local open mic nights, often performing for a handful of people. A friend of his, who also happened to be an artist manager, arranged for Long to play a few small acoustic sets in the U.S. during his two-week Easter break from school, and then again arranged a tour for that summer following his matriculation. The Dangerous Summer Tour included venues like Arlene's Grocery in NYC and the Troubadour in L.A.
On tour, Long sold copies of an acoustic CD, titled Dirty Pond Songs, that he recorded himself in his bedroom in London. He sold thousands of copies of the CD on the road, as well as two self-released live CDs. After the tour, he returned home to London and began recording. In 2010, he signed to ATO Records with Will Botwin, former president and chairman at Columbia Records, bringing with him a nearly complete album, recorded live. On his relationship with Botwin and ATO, Long says, "I feel real lucky to have a good label. They really believe in the development of a good artist. I feel like they're very, very much behind me." Long cites the fact that he would be granted "100% creative freedom" as the most important factor in ultimately signing with ATO.
On February 1st of this year, Long released his first real studio album, A Winter Tale, the culmination of two years of constant touring, writing, and recording. The album contained some new songs along with many of the songs he'd been performing on tour for years, but with a noticeable distinction: For the first time, Long had incorporated a band and backing vocals into many of his songs.
He also brought along a band on tour. "I just wanted to show different sides to myself," he said. And he clearly put a lot of thought into the arrangements, his band leaving the stage at one point while Long performs solo, switching to his acoustic guitar, in a throwback to the earlier days of his career, and still further back, to a young Bob Dylan peddling his folk music and anti-establishment ideals. "The live thing is so special," Long says. "It's like watching theater—it can really take you somewhere and inspire you." It helps that Long has the rare ability to sound just as good, maybe even better, live than he does on his album. It is his constant touring that has put him where he is today; Long calls it his "bread and butter."
Still, he has a long journey ahead of him if he's going to do this thing "properly," as he puts it. After gaining an unexpected leg up when a song he co-wrote was used in the first Twilight film (Long is a friend of Twilight star Robert Pattinson), Long seems intent on building his career one brick at a time, taking no more shortcuts. His approach is refreshing in this age of overnight success with its Disney Channel stars and American Idols. Long recognizes the trend, that "things are becoming very cheap and very plastic," and notes that the route he is taking is gunned towards him continuing to become a better artist while avoiding becoming a sellout. He believes in patience and hard work. He knows he can't compete with the Justin Biebers of the world, but he doesn't need to. Instead, he's hitched his wagon to the counter-cultural movement gaining steam right now, a movement away from the sticky sweetness of pop music.
Long is not alone in all of this, with more and more artists of note coming from similar beginnings. One can look at Long as representing larger social, cultural, and even economic trends. The approach he's taken toward his music and career are by no means new, and this sort of grassroots effort has worked for artists in the past, but is there a place for it in a world where "Jersey Shore" is in its third season? Is it possible that this subversive counter-culture, with its contempt for anything mass-produced or plastic, could take root and ultimately redefine the music industry, with more artists taking control of their careers as opposed to being the puppets of their producers?
There is a modern-day tendency toward homogenization, with most television stations owned by a handful of corporations, and most films being produced by the larger studios following the most basic of formulas, appealing to the lowest common denominator. The Billboard charts are dominated by the same artists week after week, their musical styles as variegated as different shades of lavender. Fame is established using a very different set of criteria than just twenty years ago, often having little to do with talent and more to do with the right marketing strategy. But artists like Bobby Long are challenging the status quo.
And so far, Long's strategy seems to be working, even if it is a bit slower than the American Idol route. Maybe he is more shrewd a businessman than he lets on. In talking to some of his fans at a show in Ann Arbor, I discovered that a fair few had driven a significant distance to be there, and this shortly after large parts of the state had been buried in a foot of snow, many left without electricity.
Among Long's fans were quite a few college students, a group that, in my experience, rarely has much spending money. When I was in college, there was a growing trend toward finding "alternative" means of downloading music that bypassed actually having to pay for it, whether that meant using platforms like Limewire or just copying music from a friend's iTunes library. But Long's fans aren't doing that — at least, not with his music. Maybe it's because Long is still getting started, or because his fans feel so much more committed to him as an artist — maybe it's a little bit of both — but Long's fans don't just buy his mp3s, they also buy CDs and vinyls and t-shirts and posters.
From following artists like Bobby Long — artists who are just getting their start, whom one is more likely to see live than on MTV — I've learned that there is a set of unwritten rules among the fans. They feel more of a responsibility toward that artist and his career, and as a result, they feel they must throw as much money at him as they can afford. This amount may well pale in comparison to the heaps of tween dollars piled on artists like the Jonas Brothers, but for artists who don't have the right look or sound to appeal to twelve-year-old girls, it will do.
Bobby Long has some very committed and supportive fans, and it is unlikely that would be the case if he didn't play shows in places like Lawrence, KS and Burlington, VT. He and artists like him have found a happy middle ground, where they might have to endure the rigors of constant touring, but they are able to maintain control over their music while still pursuing it as a viable career.
To contact the reporter on this story: Emily Knapp at staff.writers@wallstcheatsheet.com
To contact the editor responsible for this story: Damien Hoffman at editors@wallstcheatsheet.com