Must-See Arnold Schwarzenegger Films
From Terminator to governor and back again, Arnold Schwarzenegger stands virtually unmatched in his status as one of the most popular and influential action stars of the past few decades. The actor has left countless beloved films in his wake, including some that have changed the face of cinema forever. So narrowing down his extensive filmography to the best of the best is a tall order. Still, here's our take on the six most unforgettable Schwarzenegger films. For the record, we're limiting this list to one entry per franchise.
1. Conan the Barbarian (1982)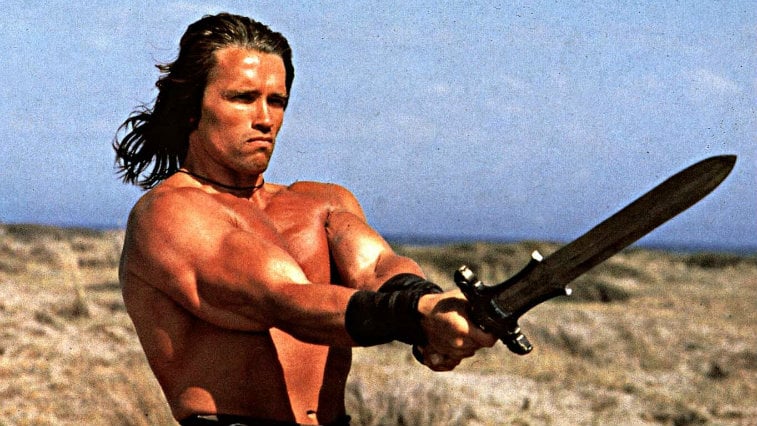 Before The Terminator gave him his most famous role, Schwarzenegger found his breakthrough role as the Robert E. Howard character. At the time, the actor was better known as a bodybuilder, and that physique certainly serves him well here, as Conan seeks revenge from a cult leader played by none other than James Earl Jones. The film — directed by John Milius and co-written by Milius and Oliver Stone — has aged far better than most sword-and-sandals epics of the era and, despite its underwhelming 1984 sequel, remains popular with fans. Schwarzenegger reportedly is still in line to reprise the role for a long-delayed coda to the Conan story.
2. Commando (1985)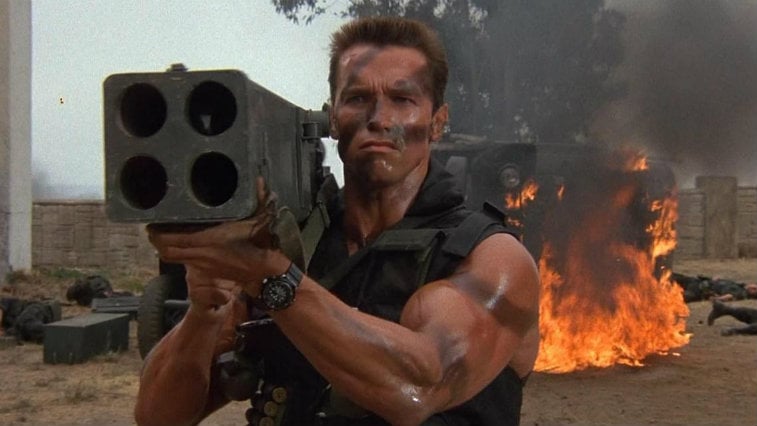 Over the years, Schwarzenegger has become known for his deft ability to transform cheesy one-liners into infinitely quotable demonstrations of badassery. That all starts with Commando. The story follows Schwarzenegger as retired Delta Force Colonel John Matrix, who must rescue his daughter (Alyssa Milano) from a band of mercenaries. Regardless, the film is really a vehicle for the actor to unleash explosive mayhem on any bad guys he finds, quipping at every turn. Notable for its tongue-in-cheek sense of humor, the film soon developed a cult following.
3. Predator (1987)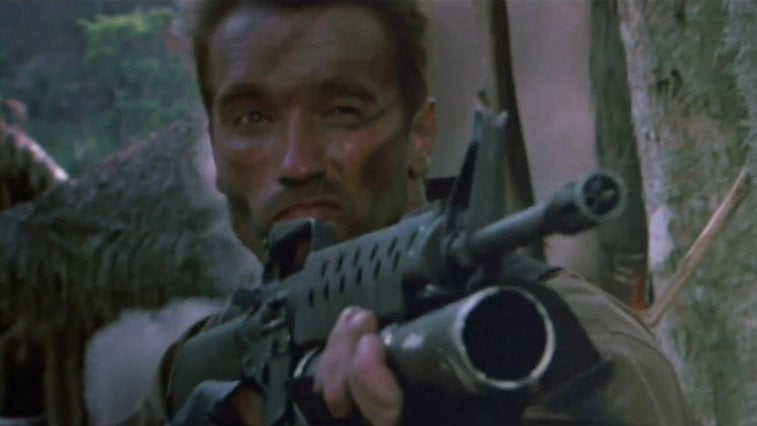 The first in Fox's Predator franchise, this John McTiernan (Die Hard) film is an absolute staple among action and sci-fi fans alike. Facing off against an extra-terrestrial hunter in the jungle, an elite special forces team is picked off one by one, leading to the epic confrontation between Schwarzenegger and the creature himself. Filled with iconic lines such as the oft-referenced "Get to tha choppa!", Predator set a standard than no subsequent film in the series has come close to matching. Here's hoping Fox's upcoming installment hews close to what made this release work so well.
4. Total Recall (1990)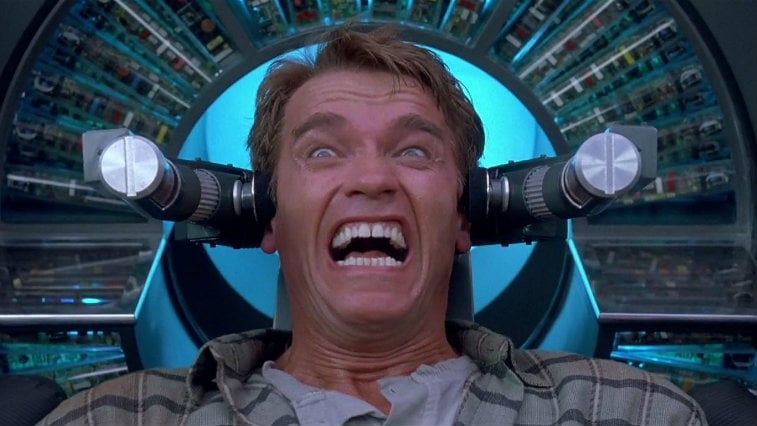 Forget the bland 2012 remake. This sci-fi thriller — based on the Philip K. Dick story "We Can Remember It for You Wholesale" — delves into the age-old theme of dreams versus reality, but it does so in such a stylish, endlessly riveting way that the film has managed to capture the imaginations of countless moviegoers since its release. As a construction worker thrust into a conflict on Mars, Schwarzenegger has tons of great material to work with, but it's the film's Oscar-winning visual effects that help sell the story at hand.
5. Terminator 2: Judgment Day (1991)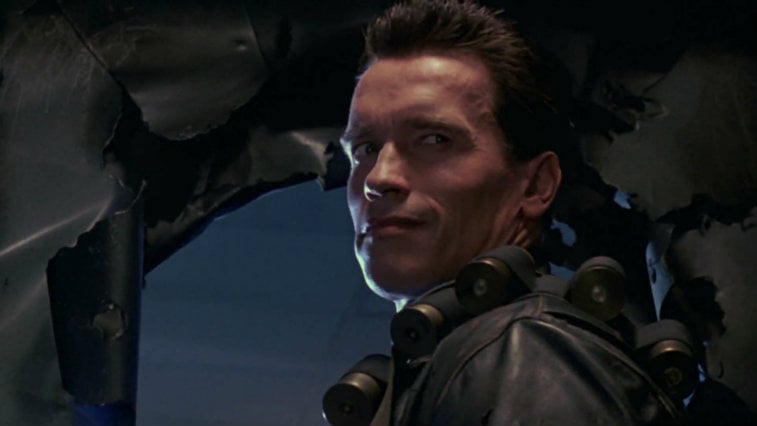 What else can be said about T2? The film is unquestionably one of the best sequels ever made, and its ground-breaking CGI still looks better than most work being done today. Director James Cameron brilliantly suberts the narrative of his 1984 original film, giving returning stars Schwarzenegger and Linda Hamilton fascinating new versions of their characters to play. Delving into the dangers of technology and the question of what it means to be human, Terminator 2: Judgment Day stands as perhaps the best film Schwarzenegger has ever made and one of the most acclaimed action films of all time.
6. True Lies (1994)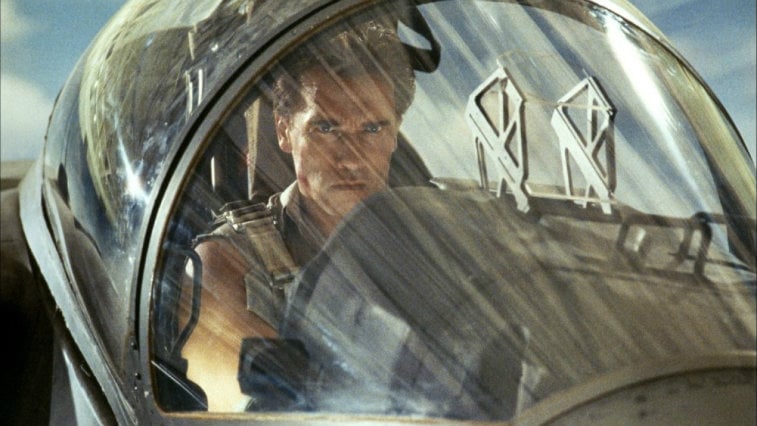 Director James Cameron teamed with Schwarzenegger for the third time for this action comedy, which has as much to do with the lead character's marriage as it does his missions as an undercover spy. The film fuses laughs with action set pieces more successfully than most film and features a Golden Globe-winning performance by Jamie Lee Curtis as Schwarzenegger's repressed wife. By the end, True Lies develops into one of the most satisfying of the actor's films and was a runaway box office hit. No wonder some fans are still hoping Cameron and Schwarzenegger someday make a sequel.
Follow Robert Yaniz Jr. on Twitter @CrookedTable
Check out Entertainment Cheat Sheet on Facebook!