6 Must-See Rob Lowe Movies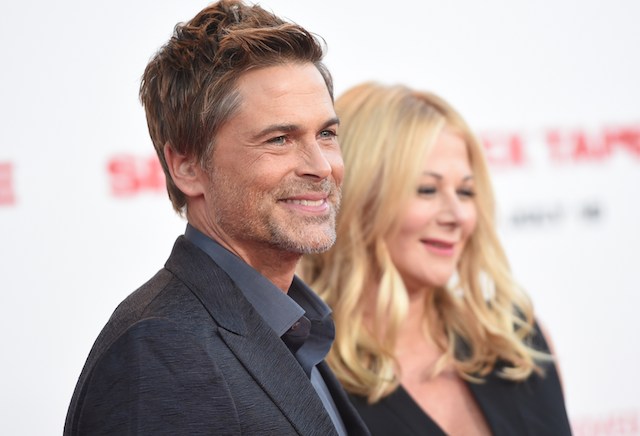 The 1980s brought just as many unforgettable classics as cinematic embarrassments, and along the way, the era of Ghostbusters, Beverly Hills Cop, and Top Gun generated tons of new young stars. Some of these actors — including Emilio Estevez, Demi Moore, and Molly Ringwald, just to name a few — ultimately became known as the "Brat Pack," thanks to their key roles in 1980s coming-of-age films, such as The Breakfast Club and St. Elmo's Fire. While their levels of fame have wildly varied over the years, the Brat Pack has continued to pop up in films and on television, proving the enduring charisma they possess.
One such Brat Packer is Rob Lowe, who has managed to maintain a pretty steady presence in pop culture since his 1980s heyday. The actor was the subject of the most recent Comedy Central roast, and now seems like the perfect time to take a glimpse back at his best film roles to date. For the record, we're obviously excluding Lowe's more recent TV work on shows like The West Wing and Parks and Recreation in favor of his appearances on the big-screen. So don't be surprised if our picks tend to lean on the earlier stages of his career.
1. The Outsiders (1983)
Lowe made his film debut as Sodapop Curtis in this Francis Ford Coppola classic based on S.E. Hinton's novel. The Outsiders features an unbelievable cast of then-rising stars like Tom Cruise, Diane Lane, and Patrick Swayze, and in many ways, its success helped spark the Brat Pack era to begin with. Telling the tale of two rival gangs in the 1960s, the film is a startling coming-of-age tale that has only become more appreciated in the years since its release.
2. St. Elmo's Fire (1985)
The film that unquestionably put Lowe squarely within the Brat Pack, this drama follows a group of recent college graduates finding their way through life and love in Washington, D.C. The film features an ensemble cast that includes Emilio Estevez, Andrew McCarthy, and Demi Moore, but Lowe is a standout as saxophonist Billy Hicks, a family man who's having difficulty letting go of the single life. A box office hit, St. Elmo's Fire is still viewed as one of the quintessential 1980s films, thanks to its cast and popular soundtrack.
3. Youngblood (1986)
Still at the height of his career, Lowe reunited with his The Outsiders co-star Patrick Swayze for this drama about a hockey player (Lowe) who has prove he's tough enough to earn a spot on a professional team. Though the film was less successful than Lowe's ensemble work, Youngblood performed significantly better than the 1984 comedy/drama Oxford Blues, which was the last film to feature Lowe as the main star. Youngblood proved that the actor had the chops necessary to become a big-screen leading man.
4. About Last Night (1986)
Just a year after Lowe starred alongside Demi Moore in St. Elmo's Fire, the pair shared the screen in this romantic comedy/drama from director Edward Zwick (Glory). Based on the David Mamet play Sexual Perversity in Chicago, the film centers on a yuppie couple (Lowe and Moore) who decide to pursue a relationship after a one-night stand. The film earned solid reviews and even weathered the storm of a less well-received remake in 2014.
5. Wayne's World (1992)
We were tempted to go with Lowe's memorable uncredited appearance in Tommy Boy for this spot but instead opted for his meatier villainous role in this Saturday Night Live spinoff. The first film to establish a big-screen partnership with Mike Myers, Wayne's World gave Lowe the chance to cement his reinvigorated career following a sex tape scandal. In the film, he even embraces that seedy reputation by playing an egregiously sleazy television executive intent on stealing Wayne's show and his girlfriend.
6. Austin Powers: The Spy Who Shagged Me (1999)
After Lowe's cameo in Austin Powers: International Man of Mystery wound up on the cutting room floor, Myers brought him back in the sequel as the younger version of Dr. Evil's second-in-command, Number Two (Robert Wagner). Not only does Lowe essentially play the role for the bulk of the film — sharing several notable scenes with Myers — but he nails a perfect impression of Wagner that elevates the character far beyond what viewers were treated to in the original film. Lowe briefly reprises the role in Austin Powers in Goldmember as well.
Follow Robert Yaniz Jr. on Twitter @CrookedTable
Check out Entertainment Cheat Sheet on Facebook!  
More from Entertainment Cheat Sheet: