Natalie Portman's Jane Foster May Be Diagnosed With Cancer in 'Thor: Love and Thunder'
Following the critical and audience adulation Thor: Ragnarok received, it should come as no surprise that Kevin Feige wanted Taika Waititi behind another Thor installment. Ever Since Marvel announced that Thor: Love and Thunder would be a major part of the MCU's expansive Phase 4 (during San Diego Comic-Con), fans have been theorizing all the possible narratives destined to unfold, especially since discovering Natalie Portman's return as Mighty Thor.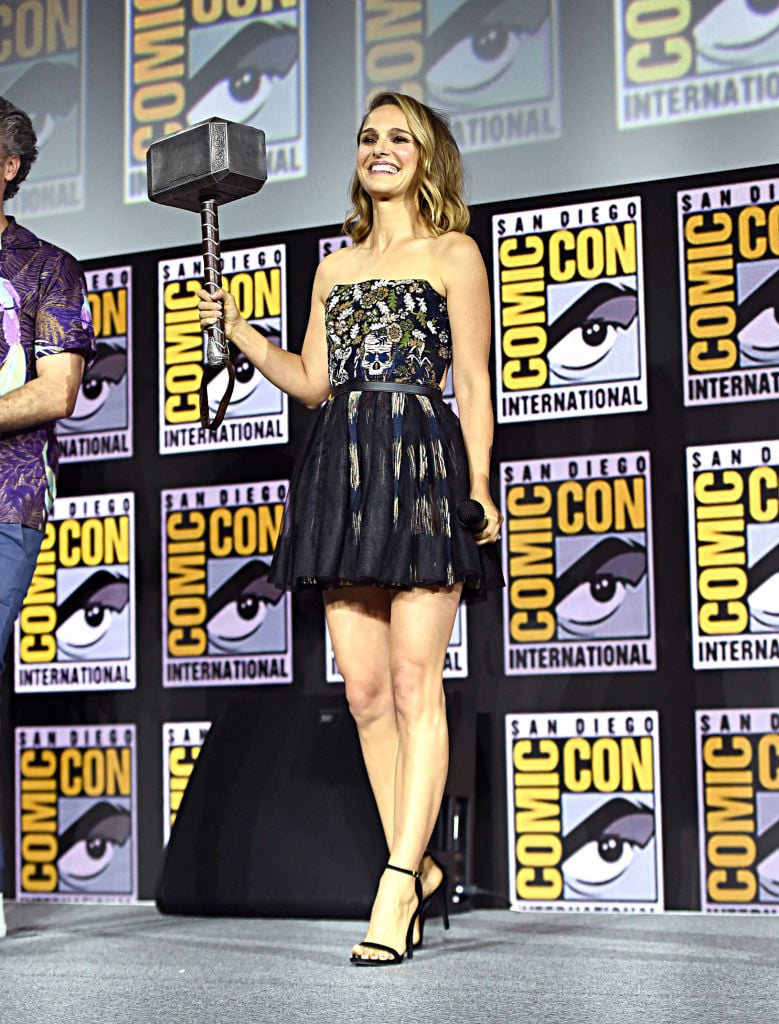 Considering Chris Hemsworth has been playing the God of Thunder for nearly a decade, and will reach the decade mark by the time Love and Thunder premieres, many have taken up the assumption that the 2021 film will be Hemsworth's denoument. The film will be his Logan … sans the R-rating, and with a lot more comedic moments strung throughout.
Given the overarching and widespread presumption that Natalie Portman is set to take the mantle, becoming worthy enough to carry Mjölnir, it seems that Love and Thunder is taking a page from the comic books. Meaning, it's quite possible that Natalie Portman's Jane Foster will suffer from cancer in the upcoming installment.
Jane Foster becomes Thor while battling breast cancer
Recent reports indicate that, though Natalie Portman's Jane will be appearing in the film, as she is set to become the next Thor, Chris Hemsworth's Thor will still be the movie's main protagonist.
Unless the director chooses to have both Hemsworth and Portman wield the hammer at the same time — tossing it back in forth like a frisbee, reminiscent of Rogers and Thor in Endgame — Jane will take the hammer towards the end, succeeding Thor somewhere during the movie's falling action.
According to comic book history, Jane Foster becomes Mighty Thor after Nick Fury whispers something in Thor Odinson's (Hemsworth) ear, which leads to the God of Thunder becoming unworthy to wield Mjölnir.
Jane steps in to defend Asgard, taking his place as a hero; however, there's one catch: she's in treatment for breast cancer when she takes on the challenge. In the comics, every time she becomes Thor, she cancels out her chemotherapy. Thinking about what we know about the MCU, the future of the landscape, and Natalie Portman's role in the cinematic universe, this narrative — with a few adjustments seems quite probable.
Why the MCU will go forward with this narrative in 'Thor: Love and Thunder,' and how it will be altered
Let's think about it: When Natalie Portman left the MCU, she didn't have great words to share regarding her experience and showed no signs of returning. However, such a complex narrative arc — a quite emotionally stirring one in which she struggles with cancer while trying to save the day, may have appealed to the actress yearning for a degree of depth in her character that was previously amiss.
Before, she was just the girlfriend, and she likely wouldn't come back to be just another hero. This plotline gives the actress something deeper to work with.
Jane Foster may be diagnosed with cancer sometime in the middle of the movie — contributing to the climax — and take on the role of Thor somewhere near the end.
If Thor becomes unworthy, or simply chooses to lead a different life — unrestricted by the shackles of his status as an heir to the throne — the MCU can progress with Jane as a selfless heroine, struggling to stay alive each time she becomes Thor. However, rather than killing off Jane in Love and Thunder, the MCU could simply alter the story, allowing her to live for another movie or so.
Since the film is Thor's final bow, he likely won't stay unworthy (if he becomes so at all), since it would tarnish the character's legacy; rather, he may willingly pass the hammer to Jane, so she can — while struggling to survive — at least relish in moments of great strength, feel instances of immense power, and rediscover the will to persist each time. A beautiful and sacrificial sentiment defining Thor in his final moments