National Treasure Betty White Is Still Alive But Here's Why Fans Are Ticked
Betty White is an impressive 97 years old and still going strong. The actress, animal lover, and advocate has far surpassed many of her former costars from shows like The Golden Girls and The Mary Tyler Moore Show. Read on to find out why fans were sent into a panic on Friday, Nov. 8 and why now, they're just plain angry.
Animal lover and actress, Betty White, is 97 years old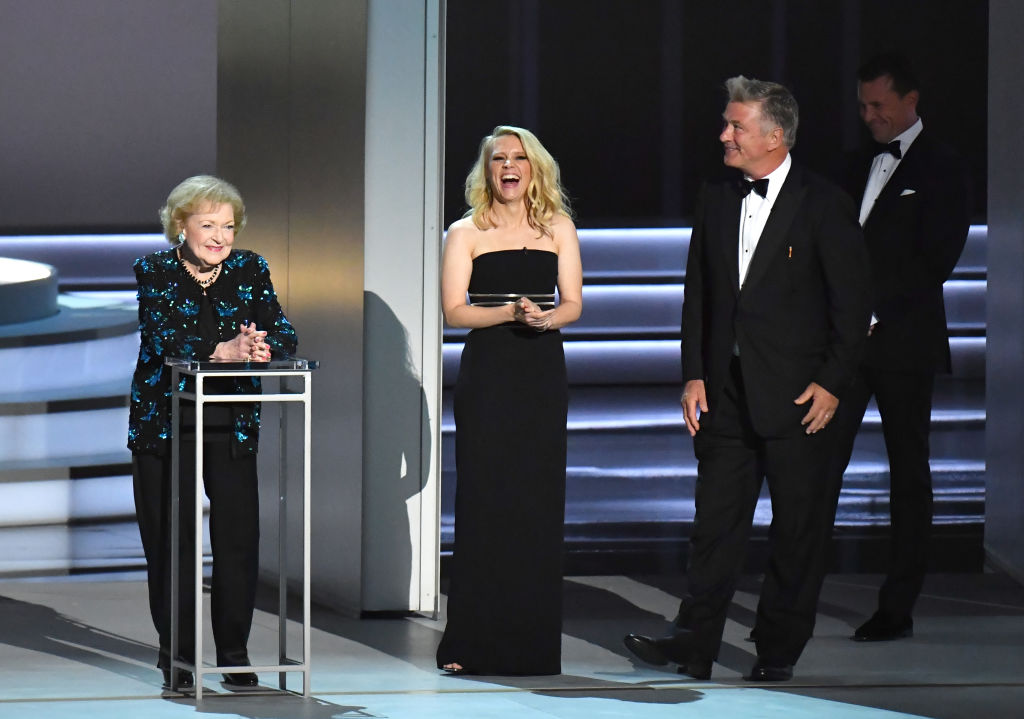 Betty Marion White entered the world in 1922 and has been part of some of the most iconic TV shows of our time. In 2014, Guiness Book of World Records deemed White with the "Longest TV Career for an Entertainer." That's over 70 years in the entertainment industry.
White made her TV debut in 1939. She couldn't recall what show, but clearly remembered what she did.
"I danced on an experimental TV show, the first on the west coast, in downtown Los Angeles," she told Guinness Book of World Records. "I wore my high school graduation dress and our Beverly Hills High student body president, Harry Bennett, and I danced the 'Merry Widow Waltz.'" 
White's showbiz career temporarily derailed when World War II began. She joined American Women's Voluntary Services and delivered supplies through the Hollywood Hills by day and danced for soldiers set to leave by night.
The three-times married actress said in a past interview, if she'd not gone into entertainment, she'd have been a zookeeper. This is no surprise considering White's love of animals.
She's known to visit zoos wherever she travels, advocates on behalf of a few different animal welfare charities, and has donated tens of thousands of dollars throughout 40 years.
As the oldest person to host Saturday Night Live (in 2010) and the oldest person to receive an Emmy nomination (in 2014), her age hasn't gotten in the way of setting some impressive goals.
All of that said, White's done a lot in her long life and doesn't seem to be slowing down. However, news of White's passing circulated on Twitter, sending fans into a panic.
White is the latest celebrity death hoax victim
It all started with a 2014 article that made that rounds again, claiming White had "dyed."
The article in question revolves around White's hair habits. She isn't a natural blonde and dyes her hair.
"Betty has often told me she feels it is relaxing and soothing to dye her own hair, peacefully in her home, where she can laugh and enjoy time with her animals. She's said on more than one occasion that as a blonde, she has had 'more fun' in her roles, and in life," longtime manager, long-time Jeff Witjas said in a press release.
It isn't the first time rumors of White's passing have gone around the web. The rumors began back in 2012, sending fans into an almost annual uproar after discovering White is still very much alive.
A rep for White confirmed to Hollywood Life that White is "alive and well," and she's looking forward to her January birthday where she'll celebrate her 98th year on the planet.
While the context of the original article clarifies that White "dyes" her hair and has no way "died," the clickbait headline was enough to cause a Twitter uproar in defense of this national treasure (White).
Fans aren't having false reports of White's death
Fans of White didn't hesitate to defend their Queen. One commented on how absurd these rumors are.
"Why WHY is the internet obsessed with killing Betty White? Like it WILL happen. Can you just be patient and let the woman enjoy the rest of her life without having to confirm her vitals every other month? FFS."
Another said what we're all thinking.
"Just had a heart attack seeing #bettywhite trending this morning. Whoever started the hoax, you'll be receiving my hospital bill."
One fan is absolutely through with fake news saying, "Don't even play with Betty White. I will hunt you down. #hoax #bettywhite."
And finally, another White-supporter said the truest part about this trending topic.
"When there's a death hoax about #BettyWhite, but everyone knows she can't die!"
There you have it. America's Golden Girl is still kicking. If you're still stressed, send well wishes to White's fan mail address and breathe easy.