'NCIS': All The Signs Season 17 Will Be The Last For Maria Bello
During its first 16 seasons, the CBS procedural NCIS has seen many of its cast members come and go. Cote de Pablo (Ziva) famously left after Season 11 before she reappeared in the last scene of the Season 16 finale, and both Michael Weatherly (Anthony DiNozzo) and Pauley Perrette (Abby Sciuto) left the series after Season 13 and 15, respectively. Now, rumor has it that the upcoming Season 17 could be the last for Maria Bello (Dr. Jacqueline Sloane).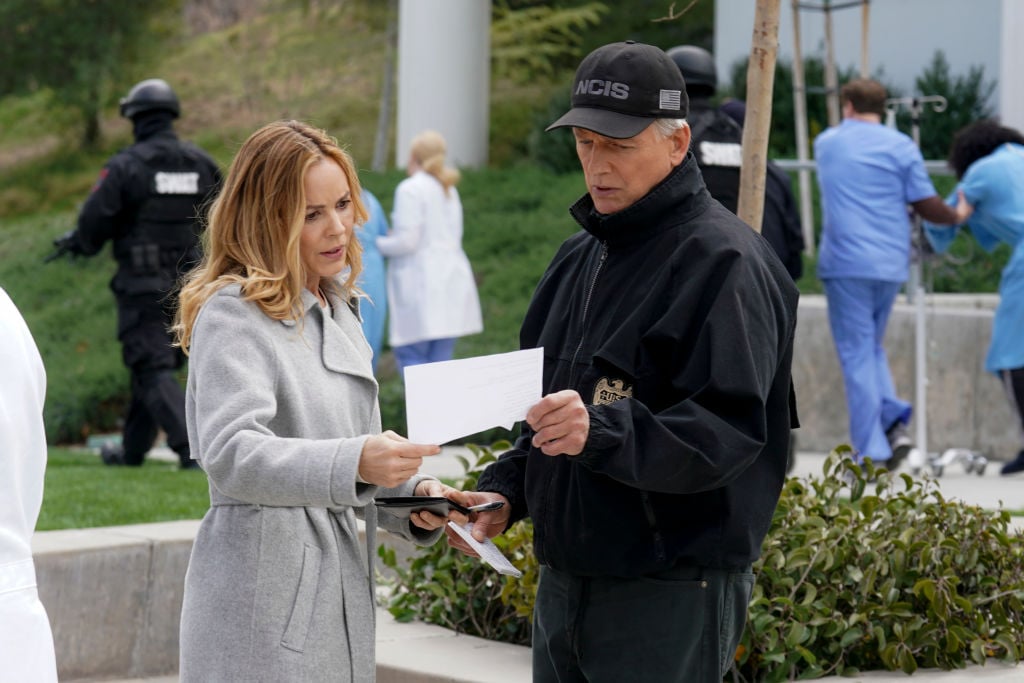 A three-season contract
According to The Express, Bello joined the NCIS cast in 2017 after signing a three-season contract, which would make Season 17 her last unless she negotiates an extension. Bello has not revealed her plans, but it appears she would have the same option as Wilder Valderrama (Nick Torres) who initially signed on for Seasons 14 and 15, but extended his deal for two more years.
As fans know, de Pablo will be returning for the Season 17 premiere, and Bello said that she hopes she gets the chance to work with her.
"I'm hoping I get some scenes with her (de Pablo) next season," said Bello. "I've never met her, I never got to work with her. So hopefully this next season she'll be coming back and we'll find out what happens with Ziva."
Bello says that producers told the cast a couple of weeks before they shot the season finale that Ziva would return. However, they "were under lock and key" and couldn't say anything, and they didn't even have the last page of the script.
On equal footing
Bello, 52, says she joined the cast of NCIS because the character of Jack Sloane was in a "position of power and respect," and she was "on equal footing with Gibbs (Mark Harmon)." Bello explained that she liked the fact that she didn't work for him, and he didn't work for her.
Instead, the two characters are colleagues who respect each other, and during her first two seasons their relationship has deepened, and they have become better friends. Bello says she loves the energy between Gibbs and Sloan, and "you can tell they really deeply care about each other, but they really want to bang each other."
Bello says there is no doubt that there is a tension between the characters, but she wouldn't reveal if Gibbs and Sloane take their relationship to the next level during Season 17. Bello did, however, admit that working with Harmon is a lot of fun and they "have a ball" together.
Never date a coworker
Number 12 in Gibbs' list of rules is "never date a coworker," but he might just break his own rule this season. Sloane and Gibbs' combative, hostile relationship has turned into a friendship over the past two seasons, and it is possible that in Season 17 it will turn into something more.
Harmon has said that Bello was a "terrific" addition to the cast, and "she's not just a great actress. She wants to be with us. That says a lot." However, he hasn't said anything about the Season 17 storyline for the two characters because no one is saying anything in the wake of Ziva's shocking return.
What's ahead for 'NCIS' in Season 17
Everyone in the cast and crew is keeping quiet about the upcoming season, which means fans are sharing their own ideas about what could happen between Sloane and Gibbs.
The NCIS senior special agent could resign and give Gibbs a chance to make his move without breaking his rule. But, considering that both Bello and Harmon love working together so much – and fans want to see where this relationship goes – news of a contract extension for Bello could be coming sooner rather than later.
Season 17 of NCIS premieres September 24th on CBS.