'NCIS: New Orleans': Which Agent Does Pride Trust the Most Now That Lasalle Is Gone?
We'd be wrong to assume the NCIS: New Orleans team is fully healed after the death of Special Agent, Christopher LaSalle (Lucas Black). The character was a vital member of Dwayne Pride's (Scott Bakula) satellite team. That said, who could possibly become Pride's right-hand-man (or woman) to fill the void?
Christopher LaSalle's death still haunt's Dwayne Pride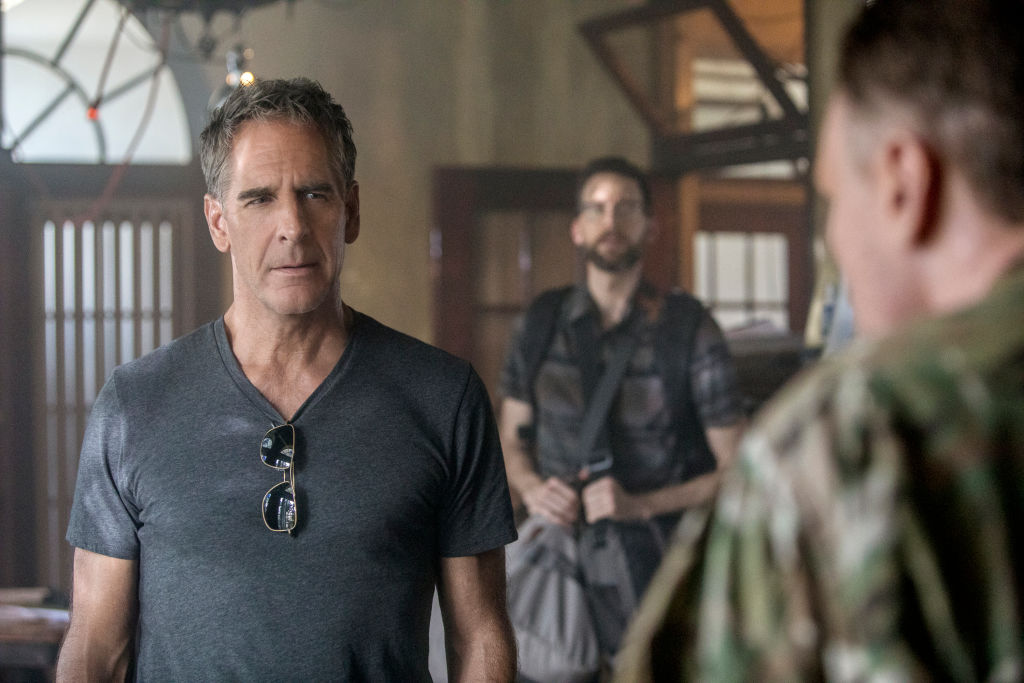 Now that the hunt for Eddie Barrett (Eddie Cahill) finally came to an end, final scenes of the NCIS: New Orleans fall finale revealed that there may be more to Pride's grief over LaSalle than previously thought.
Everyone's talking about the man in the red suit, a hallucination who appeared after Pride awoke from a nightmare. Much like the angel, Megan Sutter (Amy Rutberg), who haunted Pride for an entire year, not-so-subtly hinting that Pride's death is imminent.
With LaSalle's death still front and center, Pride's unresolved grief, mixed with the undealt with trauma from being kidnapped and drugged, has begun to take its toll.
Many think the man in the red suit is part of Pride's conscience, likely because of the way he ended things with Eddie Barrett. Only time will tell how those consequences play out, but with LaSalle gone, it's far from over.
Who can Pride trust as much as he trusted LaSalle?
If you break down the team, Pride has a different relationship with each. He trusts them all, but not a single one can compare to the father/son-like relationship Pride had with LaSalle. That loss created a bigger hole than eve Pride can understand right now.
Obviously, Dr. Loretta Wade (CCH Pounder), is Pride's closest confidante. She's been by his side from the beginning, like LaSalle, and remains a steady shoulder to lean on (and vice versa).
Sebastian Lund (Rob Kerkovich) would come next in line because he's one of three original castmates still around. His previous forensics expertise adds a nice layer to the NCIS team, but he's still a little gunshy when it comes down to taking a suspect down. That might create slight doubt in Pride's mind.
Tammy Gregorio (Vanessa Ferlito) may not be a season 1 character, but she's definitely earned her spot. The former Washington FBI Special Agent started out investigating the team but soon discovered Pride's way is the best way. She is the agent you want on your side, for sure.
Special Agent Hannah Khoury is a tough, multi-lingual part of Pride' steam. However, seeing as she first came on to oversee things while he was on desk duty, she might not ever become Pride's first go-to.
Here's why fans think LaSalle can't be replaced
LaSalle joined Pride's team arrogant, bull-headed, and strong-willed. He didn't always want to hear what Pride had to say, but those words of wisdom got to LaSalle eventually. Their bond became unbreakable; like family.
Fans agree. The Nov. 5 episode is long gone and LaSalle is still the most talked-about character of the series.
"I'm still reeling over Lasalle getting shot," one fan tweeted. "Rip to the goat Christopher "Country Mouse" Lasalle," another viewer said. "Whoa…Hannah gets her 1st look at Pride on the Prowl & his relentless tenacity in the hunt for justice…family is everything," another added.
The comments beneath the NCIS: New Orleans posts go on and on about how irreplaceable LaSalle actually is. Since it's Pride's team, he's feeling it the most. The continuation of the Eddie Barrett saga, including the man in the red suit, picks back up in February 2020.