'NCIS' Season 17: Everything We Know About Ziva's Reunion With McGee
Ziva David's (Cote de Pablo) return to NCIS sets the stage for several emotional reunions in season 17. The verdict is still out on Ziva's reunion with Tony DiNozzo (Michael Weatherly), but new photos from the set confirm that she will be teaming up with Timothy McGee (Sean Murray). With the season 17 premiere only a few days away, here's everything we know about Ziva's reunion with McGee.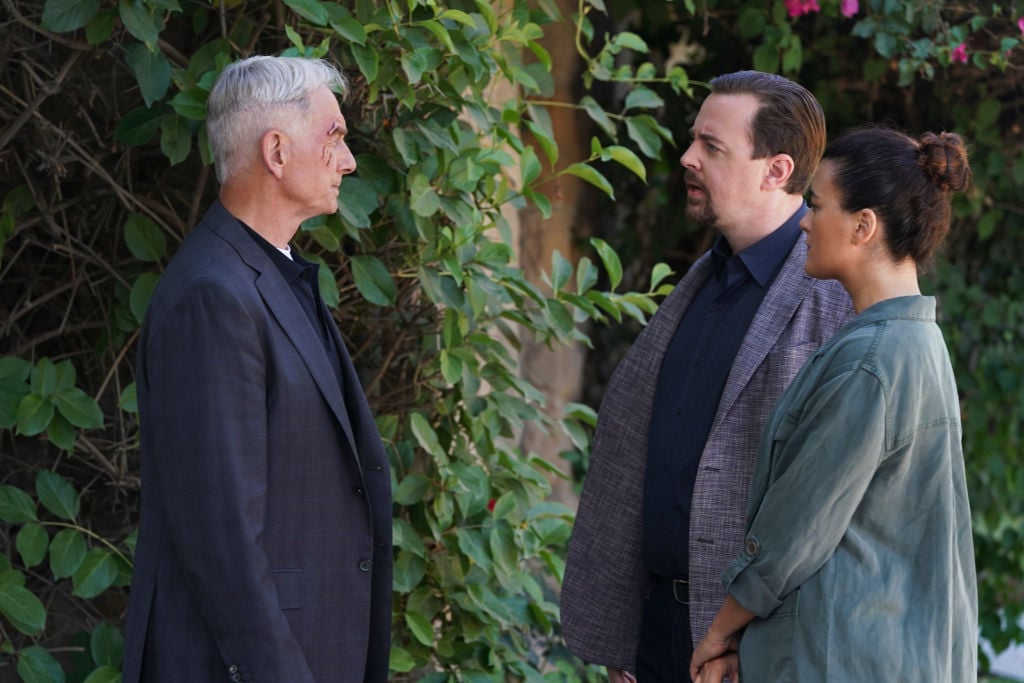 Ziva rejoins her old team on NCIS
Ziva will appear in the first two episodes of season 17 before taking a break from the action. In a recent interview, Mark Harmon revealed that Gibbs and Ziva are isolated in the premiere as they deal with a dangerous threat.
"For the premiere, we've been isolated in some ways," Harmon shared.
The series has a lot to unpack in the premiere, making it unlikely that Ziva will reunite with her old team members. The good part is we'll finally learn what Ziva has been doing since she faked her death and whether or not her family knows the truth.
In the second NCIS episode of season 17, titled "Into the Light," Ziva will join the rest of the team as they continue to deal with the mysterious threat. Several cast members have been sharing some behind-the-scenes photos on social media, some of which confirm Ziva will be coming out of hiding.
This includes photos of De Pablo hanging out with Emily Wickersham and Wilmer Valderrama, who plays Bishop and Torres respectively. This will be the first time Ziva has met the two NCIS characters as they did not join the team until after her departure.
What about McGee?
According to TV Insider, NCIS has released several photos from the set as well, including a few shots of Ziva and McGee together. One of the photos includes the pair talking to Gibbs, who is sporting some nasty cuts around his eye.
There are also some photos of Ziva and McGee spending some quality time together — and we couldn't be excited to see them back together. The two are shown on a walk and appear to be deep in conversation.
Prior to faking her death on NCIS, Ziva and McGee were very close. In the trailer for the new season, however, McGee seemed a little upset by the fact that nobody told him about Ziva's true fate.
In season 16, Bishop was the first person who discovered that Ziva was still alive, followed by Gibbs in the finale. While McGee may start the season angry, the images make it look like Ziva and McGee are back on the same page.
Unfortunately, Ziva's reunion with McGee will likely happen in the second episode. Ziva and Gibbs have a lot to tackle in the premiere, and eliminating the threat is at the top of their priority list.
Inside the mysterious threat
In the final moments of season 16 of NCIS, Ziva made a surprise appearance at Gibbs's house to warn him about some sort of danger. Ziva revealed that she faked her death to keep her family safe and that Gibbs is the next target.
There are several other things we have learned about the threat in recent weeks. For starters, the person behind the threat is called Sahar. We do not know if Sahar is working independently or if she is part of a larger group, but she is definitely someone to be worried about.
In fact, Ziva would not have come out of hiding if Sahar did not pose a significant threat. Gibbs holds a special place in Ziva's heart, so it makes sense that she warned him about Sahar, especially if his life is truly in danger.
On the other hand, Ziva is risking a lot coming out of the shadows. After all, she faked her own death to keep her daughter, Tali, safe. And coming out to Gibbs risks everything she has done over the past few years.
We can only hope that Gibbs and Ziva can take Sahar down and that they don't waste any time getting other members of the team involved.
See Ziva's return when season 17 of NCIS premieres September 24 on CBS.