'NCIS' Star Mark Harmon Spotted On Set For Season 17 After Pauley Perrette Drama Is 'Resolved'
NCIS has officially started filming season 17 and we have gotten our first glimpse of Mark Harmon on the set. NCIS star Wilmer Valderrama has been sharing photos from the studio in recent weeks, and this week's post included a shot of Harmon in action. The image is the first time we have spotted Harmon on the set following Pauley Perrette's bombshell allegations on Twitter, signaling that they may have finally resolved their drama.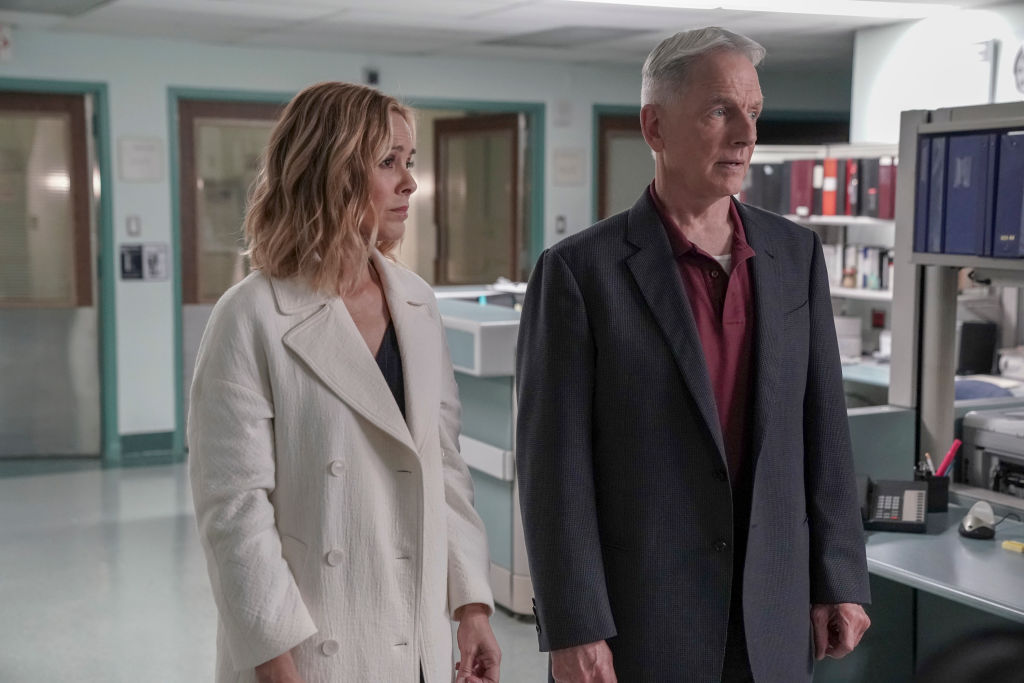 Harmon spotted on 'NCIS' season 17 set
With Cote de Pablo returning as Ziva next season, the cast and crew of NCIS have been very tight-lipped about what's to come. Fortunately, Valderrama has been giving us a few updates via social media. Although de Pablo has not been featured in any of the photos, Valderrama did take a shot of Harmon working on the set of NCIS season 17.
The image, which was a part of Valderrama's latest Instagram story, did not reveal any spoilers about the new season, but it did confirm that Harmon is back to work following his drama with Perrette.
According to Carter Matt, the photo also revealed that the cast is filming in a new lot for NCIS season 17. It is unclear how the new location will fit into Season 17, but there is a good chance it has something to do with Ziva. De Pablo had a surprise cameo at the end of Season 16 when she showed up at Gibbs' (Harmon) home to warn him about an impending threat.
The season 17 premiere will pick up with Ziva and Gibbs addressing the threat. We can only hope that this storyline will bring Ziva back to the team on a more permanent basis.
Valderrama drops hint about 'NCIS' season 17
In a previous post, Valderrama shared a photo from a table read for the new season. The pic featured a number of different cast members, though half of the table did not make it into the shot. NCIS fans immediately speculated that Ziva was probably sitting on the side that was excluded from the photo. Valderrama's caption fueled the speculation even more. The actor tagged de Pablo in the post, teasing that Ziva will play an important part in the season opener.
"This season premiere is [fire emoji] (One word.. Ziva)," Valderrama wrote.
Valderrama, of course, did not clarify what he meant in the caption, though it is clear that Ziva will be back in action next season. Some fans even guessed that the NCIS season 17 premiere will be titled "Ziva," though CBS has yet to confirm any upcoming titles.
Some of the cast members that made it into the photo include Emily Wickersham (Bishop), Rocky Carroll (Vance), and Timothy McGee (Murray). Harmon was not included in the pic but was likely present given his duties as an actor and executive producer.
Is Gibbs headed for romance in 'NCIS' season 17?
While most of the cast have not spoken about the new season, NCIS star Maria Bello, who plays Jack Sloane, recently talked about what is ahead for her character in season 17. The actress revealed that Sloane and Gibbs might take their flirting to the next level this season.
Bello admitted that she loves the chemistry between Gibbs and Sloane and believes they both care about each other. Whether that means the two will finally get romantic is yet to be seen, but it sounds like they are headed in that direction.
Bello also talked about what it is like acting alongside Harmon. Bello revealed that she loves working with the longtime NCIS star and has a lot of fun with him on the set. Bello was introduced back in season 15, around the same time that Perrette called it quits.
When Sloane first appeared on the show, she and Gibbs had a contentious relationship. That, of course, changed once they got to know each other and the pair have grown closer over the past two seasons.
NCIS season 17 is scheduled to premiere on CBS on September 24. Harmon has not commented on his drama with Perrette, who recently accused him of physically assaulting her on the set of NCIS.