'NCIS' Star Wilmer Valderrama Talks Ziva's Return and the Future of Bishop and Torres
'NCIS' star Wilmer Valderrama recently opened up about Ziva's shocking return and the possibility of a future romance between Bishop and Torres.
After appearing in the first two episodes of season 17 of NCIS, it is going to be a while before Cote de Pablo returns as Ziva David. Now that the team is getting back to their usual work, NCIS star Wilmer Valderrama opened up about how Ziva's return has affected everyone. This includes his character's relationship with Bishop (Emily Wickersham), who was the first person who discovered her secret in season 16.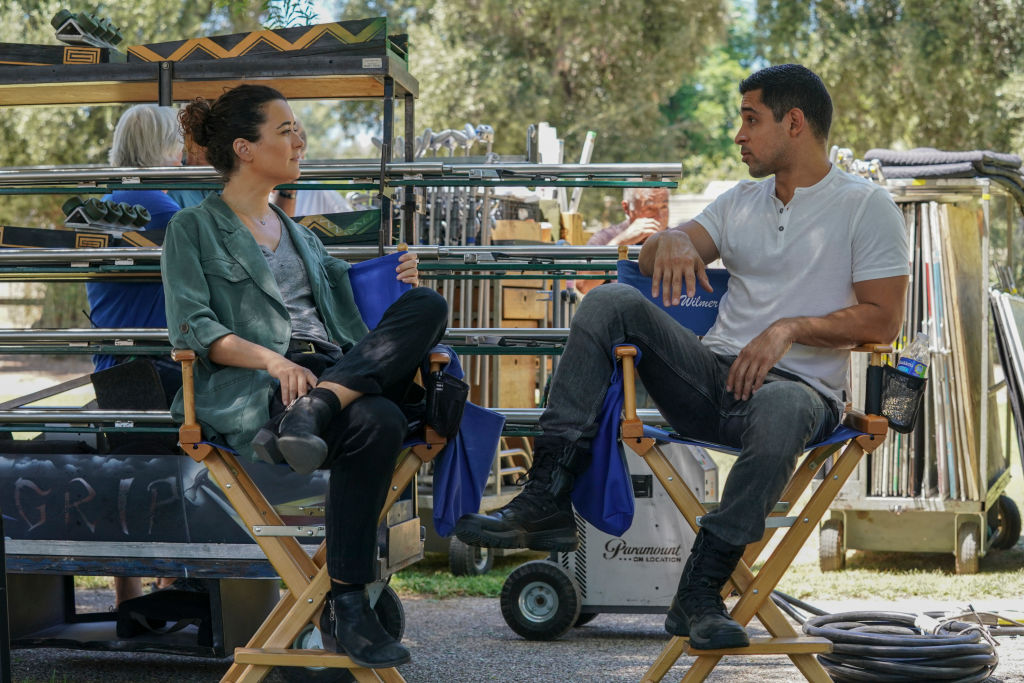 Valderrama dishes on de Pablo's return
With Ziva now out of the picture, the NCIS team returned to their usual business this week, including a case that involved the death of a Marine Lieutenant, who was discovered under a semi-truck. To find the original crime scene, the team used the vehicle's GPS to map out where it had been earlier that day.
While everyone worked together to find the suspect, Jack Sloane (Maria Bello) persuaded them to open up about what Ziva's return means to all of them.
In a recent interview with Parade, Valderrama continued that discussion and revealed that Ziva's sudden resurrection has disrupted everyone's lives, including his character, Torres.
"Ziva resurfacing definitely took a toll on the team," Valderrama shared. "Everything has been disturbed and has been disrupted."
Valderrama added that everyone is dealing with Ziva's return on NCIS in their own way. For Torres, finding out that Ziva is still alive was not that big of a bombshell, mostly because she was before his time.
When it comes to working with de Pablo, Valderrama said he had a blast sharing a few scenes with her. He also enjoys the dynamics between Ziva and Torres, especially considering how they both have such a strong personality.
What about Torres and Bishop?
Fans have been shipping Torres and Bishop for the past few years, and it sounds like we might be finally getting some updates on that front.
In a previous interview, NCIS executive producers Steven D. Binder and Frank Cardea opened up about their potential romance and revealed that they are growing quite "fond" of each other – which is super exciting.
That said, the producers also explained how everyone on the team is hesitant to get close to each other because they know something bad could happen at any moment. This could prevent Torres and Bishop from getting romantic, especially if they don't think it is worth the risk.
After all, we all know how Ziva's NCIS romance with Tony DiNozzo (Michael Weatherly) turned out.
As far as Valderrama is concerned, he echoed a lot of Binder and Cardea's sentiments and could not say for sure if Torres and Bishop will ever get together.
For Torres, he has a hard time getting close to co-workers because of his previous work as an undercover agent. He is also hesitant to share his feelings for Bishop because he doesn't want anything to get in the way of his professional work.
Unfortunately, it does not sound like Torres and Bishop will be sparking up a romance this season on NCIS, but there is another potential pairing to look forward to.
Will Ziva reunite with Tony?
Fans have been speculating about a reunion between Tony and Ziva ever since they learned that she is still alive. Before she left Washington in the second episode this season, Ziva vowed to clear her name and reunite with her family.
Ziva's family includes her daughter, Tali, and her former lover, Tony. Ziva has not seen her daughter since she faked her death in season 13, and we still don't know where things stand between her and Tony.
In the second episode of season 17 of NCIS, Tony called Gibbs on his phone, so we know that he is still in communication with the team. Whether or not this means that the pair will reunite is another matter, but it seems like we're headed for an epic reunion.
Ziva is slated to appear in two more episodes this season, which gives her plenty of time to get back with Tony and Tali. We do not know what will happen to Ziva after that, but we hope she is here to stay.
New episodes of NCIS air Tuesday nights on CBS.