'Neighbors' Parties Its Way Past 'Spider-Man' to Box Office Crown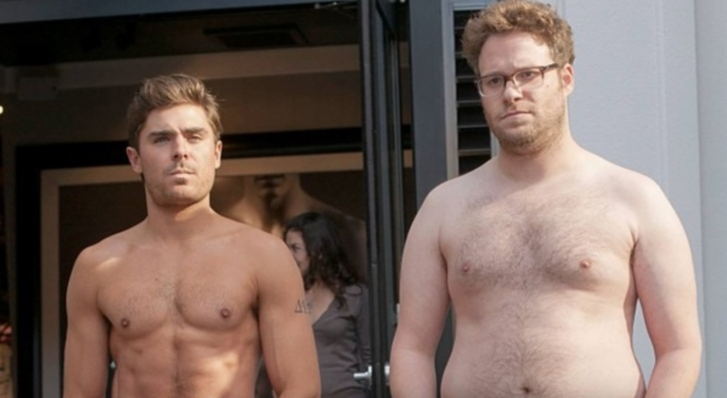 Neighbors came in number one at the box office over the weekend, taking in $49 million during its first weekend in theaters, making for one of the biggest debuts of an R-rated comedy ever, according to figures from Box Office Mojo. The Seth Rogen and Zac Efron vehicle that pits a family man against the frat boys he lives next door to benefited from a strong marketing campaign and solid reviews from critics, pushing The Amazing Spider-Man 2 out of the top spot after the latest installment in the superhero franchise spent just one weekend at number one.
The Amazing Spider-Man 2 showed a decline of over 61 percent, only taking in $35 million over the weekend. It seems the appeal of stars Andrew Garfield and Emma Stone weren't enough to save a movie in the reboot of a franchise that many feel was unnecessary and too soon after the Spider-Man trilogy directed by Samm Raimi and starring Toby Maguire. Box Office Mojo predicted that The Amazing Spider-Man 2 would have the worst box office performance of any film in the franchise after its lackluster debut. The movie currently has a lowly 54 percent fresh rating from critics on Rotten Tomatoes.
Neighbors, meanwhile, managed to snag decent reviews and a 74 percent fresh rating on the site. While at first glance the movie looks like a typical bro comedy, it was aided by the performances of teen idol Zac Efron and female comedian Rose Byrne who was actually allowed to play a real role in the film rather than being relegated to second place as per usual for women in these types of comedies. Box Office Mojo also pointed out that those two actors helped drive the viewership of young women, with the audience being 53 percent female and 47 percent under the age of 25.
The Other Woman came in third, showing a 33 percent loss to make $9.6 million during its third week in theaters. People continue to show up for the film based on the star-power of Cameron Diaz, Leslie Mann, and model Kate Upton despite the movie's terrible reviews.
Next was the Christian-centered movie Heaven Is For Real in fourth, dropping 13 percent to make $7.4 million in its fourth weekend on the big screen. That movie also has mediocre reviews, but along with this year's Son of God and God's Not Dead has helped show that faith-based films are not a bad investment. Son of God made $25.6 million in its opening weekend in February. God's Not Dead surprised in March when it took in $9.2 million at the small number of theaters in which it opened.
Another faith-based movie opened over the weekend, but didn't perform so well. Moms' Night Out was lambasted by critics, but the Christian trend and the decision to have the film open on Mother's Day weekend gave it a decent opening in seventh place at $4.3 million. The other big debut for the weekend was the animated Legends of Oz: Dorothy's Return. Despite an all-star voice cast, the movie debuted in eighth place, only making $3.7 million, and has an utterly horrible 14 percent fresh rating on Rotten Tomatoes.
Next week both The Amazing Spider-Man 2 and Neighbors will have to contend with the opening of the new Godzilla movie. Godzilla stars Breaking Bad's Bryan Cranston and the cool new Olson sister Elizabeth, and it looks like the kind of star-studded, big-budget, CGI-filled action flick that audiences show up to the theater for in droves.
More From Wall St. Cheat Sheet:
Follow Jacqueline on Twitter @Jacqui_WSCS