Neil Young's 10 Best Songs of All Time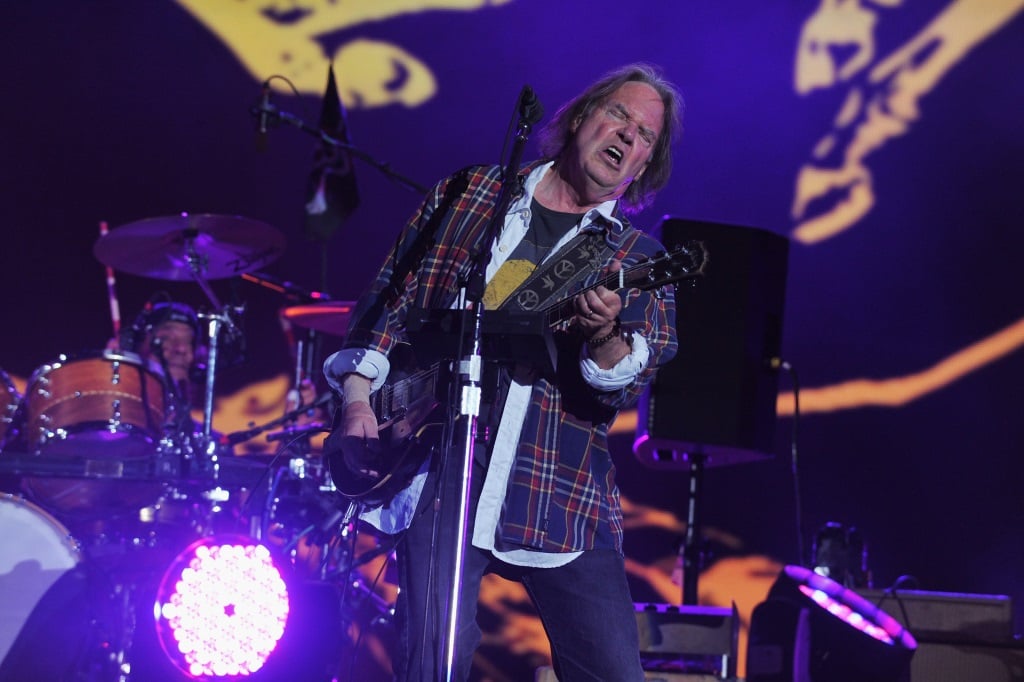 Neil Young does what he wants. The Canadian singer-songwriter's greatest strength and the key to his longevity has always been his originality and willingness to try new things, even when the listening public has come to expect a certain something from him during his most prominent years as a folk crooner, hard rocker, or a member of Crosby, Stills, Nash & Young.
His extensive output, ranging from 1968 to present day, captures a portrait of a unique artist with a strong (and, some might say, annoyingly high-pitched) voice who's never been afraid of chasing his muse wherever it takes him. Still, that covers more than four decades of musical output, which is a lot to sift through. For beginners, we found 10 of the best Neil Young songs, covering most facets of his storied career.
1. 'Heart of Gold'
Young's only single to hit No. 1 in the US is a true triumph of folk rock, featuring an acoustic riff and bluesy harmonica so evocative and perfect for the song that they sound like nothing short of a miracle. It's a great traveling song, but a lonely one, with so much emotional depth and loveliness it helps ease the pain of growing old without having found someone worth doing it with.
2. 'My My, Hey Hey (Out of the Blue)'
For all his musical innovation and experimentation, Neil Young is perhaps at his most powerful when he's a minimalist. His live recording of "My My, Hey Hey" needs nothing but Young's wistful voice and strummed acoustic guitar (plus some muted crowd noise) to reach desperate emotional heights beyond what most artists could manage with an entire orchestra behind them.
The melody and lyrics are immediately iconic, having been denounced by Lennon and even quoted by Kurt Cobain in his suicide note, but they remain thrillingly opaque and endlessly evocative. "There's more to the picture than meets the eye," indeed.
3. 'After the Gold Rush'
Another minimalist triumph, the title track from Young's third album finds him ruminating dreamily about the state of the environment in the '70s, touching upon topical themes in clever ways that always seem movingly personal rather than preachy. Piano and vocals carry the emotional weight of the past and future of Mother Nature, until one of the greatest, saddest horn solos in rock history arrives to bring you down even more.
4. 'Rockin' in the Free World'
Like Bruce Springsteen's "Born in the USA," "Rockin' in the Free World" sounds like it must be a life-affirming American anthem until you actually listen to it (and both have been hilariously used as campaign anthems by clueless conservatives. The electrified version of the protest song from his 1989 album Freedom finds Young snarling atop roaring guitar solos that brought his old messages of sociopolitical skepticism to the attention of a new generation dealing with a new administration and new wars to protest.
5. 'Revolution Blues'
Who but Young would have been daring enough to write a song about Charles Manson in the first-person? The lyrics of "Revolution Blues" are consistently disturbing, detailing murder fantasies atop a chugging riff machine that ranks as one of Crazy Horse's most dynamic blues rockers that's somehow groovy and apocalyptic at the same time.
6. 'Computer Age'
Fans and critics alike balked at Neil Young's 1982 album Trans, which traffics in electronic manipulation and lyrics sung through a vocoder rather than Young's typical Americana. The out-of-the-box form fits the content, touching upon the '80s tech boom with Young's signature skepticism and a seemingly unlimited supply of grooves.
Most attempts to go electronic by established artists around this time sound laughably dated, but you need only listen to "Computer Age" to see how great Young's kraut rock-esque foray into synthesizer territory still sounds today.
7. 'Southern Man'
A great song that inspired another great (albeit horribly overplayed) song, "Southern Man" was Neil Young's unforgiving critique of backwards Southern culture in the '60s, which prompted — along with Young's other song "Alabama" — Lynyrd Skynyrd to defend the decency of their home turf with their single "Sweet Home Alabama." Divorced of its historical context, "Southern Man" is still an epic of topical rock that remains a searing indictment of race relations in the U.S.
8. 'Ordinary People'
It took nearly two decades for Neil Young to bring this 18-minute epic and live concert staple to record in 2007. It's a triumph of storytelling and another of Young's ruthless political attacks.
This time he takes on the Reagan era with particular aplomb over the course of nine verses showing regular folks trying to cope with harsh economic conditions, portraying minor tragedies traced back to Reagan that only seem to sting more when the music takes over the lyrics with powerful horn arrangements and blistering guitar solos.
9. 'Ohio'
Neil Young wrote "Ohio" in response to the Kent State shootings of May 1970, rushing to release the topical single with Crosby, Stills & Nash hardly a month after the tragedy. The protest song retains its power and then some, as the shooting remains as baffling and antithetical to the American spirit today as it ever did. It possesses both sorrow and frightening menace in Young's powerful vocal performance, particularly when he warns ominously about "Nixon's coming."
10. 'Cowgirl in the Sand'
Another lengthy jam that showcases the musical talents of backing band Crazy Horse as much as it does Young's own songwriting, which only kicks in after two minutes of riveting guitar interplay. On only his second solo album, Everybody Knows This Is Nowhere, Young was pushing the boundaries of rock song structure by punctuating every verse with new solos and interplay that work on their own as well as complementing lyrics that make veiled references to Young's own career.
Follow Jeff Rindskopf on Twitter @jrindskopf.