NeNe Leakes Struggles to Say 3 Nice Things About Kenya Moore
Even the most mild fans of Real Housewives of Atlanta know that NeNe Leakes and Kenya Moore have a volatile relationship. They've been on the outs for about a year, and it seems like their issues are only worsening. Recent events have practically ruled out any possibility of a truce, including an incident where Leakes allegedly tried to spit on Moore.
As they continue to promote the latest season, the ladies have been making a series of appearances and talking about their problems. Most recently, Leakes appeared on Watch What Happens Live With Andy Cohen and made some seriously shady comments about her co-star.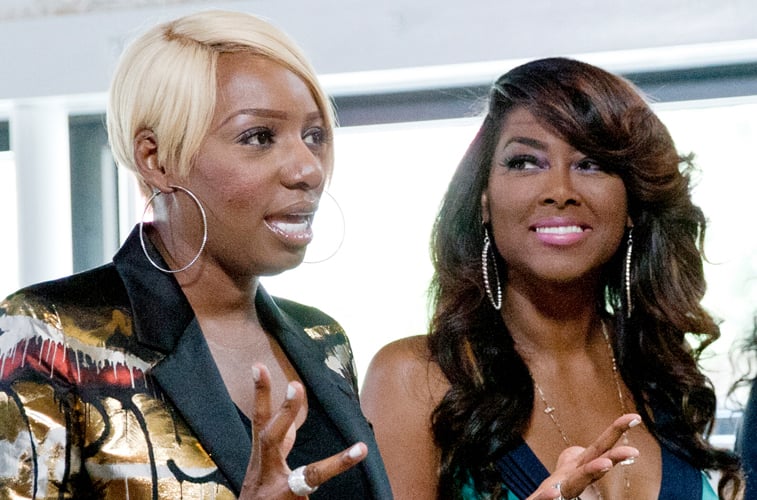 Why did NeNe Leakes and Kenya Moore fall out?
According to Moore, they started falling out during her pregnancy with her daughter, Brooklyn, who was born on Nov. 4, 2018. Moore shares Brooklyn with her now-estranged husband, Marc Daly.
"When I had a high-risk pregnancy, that I wanted my entire life, she never once called me," Moore told Wendy Williams in November of 2019. "When I did show up, she never checked on my child. She never said, 'Is everything okay?' when she learned I wasn't going to be on the show. She never said, 'Are you okay girl, do you need anything?' And then when she did see me eight months pregnant, she called me a monster and said that my child was a buffalo and she was hurling insults."
For her part, Leakes claimed that Moore was the one with poor communication skills.
Unsurprisingly, the animosity only grew from there. At some point, Leakes even allegedly tried to spit on Moore. The moment will reportedly air on an upcoming episode from season 12.
NeNe Leakes shades Kenya Moore
On Nov. 24, Leakes appeared on Watch What Happens Live With Andy Cohen, where she was questioned about her co-star.
When asked to name three nice things about the former beauty queen, Leakes replied, "Yeah, sure. You know, I'm not the real evil one here, OK? Uh, I think she has nice contacts. … I think she has a nice grade of hair."
The remarks made Cohen cringe and had fellow guest Kelly Rowland begging her to be serious.
"Come on, NeNe, a real one," Rowland said.
"These are so real," Leakes responded. "And I think the line around her lips is nice."
Oof.
On a brighter note, Leakes did tell Cohen that she hopes Moore will find peace in her romantic life. Moore filed for divorce from Daly in September, citing "recent and ongoing circumstances." Though she did not elaborate, there are rumors that Daly allegedly was verbally abusive and cheated on her.
"You should continue to watch the show because I actually do give her some advice that I do not want to give away, so tune in," Leakes added. "I will say this: I've been married the longest in the group. I love love, and I hate to see a family break up, so I definitely offer advice."
Watch more of this drama play out on The Real Housewives of Atlanta, which airs every Sunday at 8 p.m. ET on Bravo.