Netflix: 5 of the Best B-Horror Movies You Can Watch Right Now
We usually watch horror movies because we enjoy a good scare. And as fans of the genre know, there are plenty of awesomely terrifying films out there to give you what you're looking for. But not all horror films are created equal — for every classic, there are a handful of lesser-known, poorer quality horror movies out there. Some fall into the B movie category.
A B movie is any film that isn't created for an art house scene, but has a low budget. But that's not all that sets this type of movie apart, particularly when it comes to the horror genre. Most B-horror movies feature bad special effects, far-fetched storylines, and lackluster performances from their stars. But it's not all bad news — a lot of the time, these types of horror films are so bad, they're good. Sound like something you might be into? Here are five awesomely bad B-horror movies you can watch on Netflix right now.
1. Sharknado
The title alone should clue you in to exactly how ridiculous this made-for-TV movie is. But that doesn't mean that Sharknado isn't worth your while. In fact, this Syfy thriller about a water spout that moves sharks from the water to mainland Los Angeles is so enjoyable, and so popular amongst movie fans, that it spawned three sequels.
Sharknado has everything you'd want in a B-horror movie — over-the-top performances from Hollywood greats like Tara Reid and Beverly Hills, 90210's Ian Ziering, computer-generated sharks that fly through the air before devouring innocent citizens, and plot holes the size of a Great White. But despite its numerous shortcomings, this newly minted cult classic is still one of the most entertaining films to hit mainstream culture in years. And it makes no apologies for how terrible it is, which somehow makes it even better.
2. Exeter
When a group of teens stumble on a condemned home for the mentally ill, all manner of bad things start to happen. No surprise there, right? But what is surprising about Exeter, an extremely low budget horror film that hit theaters in 2015, is how fun it is to watch despite its seriously lacking production values. It's actually scary sometimes — even as you're shaking your head at its numerous plot twists. And it blends many of horror's best sub genres — possession, haunted houses, and evil spirits galore — into one incredibly ridiculous ride.
3. Zombeavers

Horror flicks, especially B-movies, love to make fun of tropes. They also tend to enjoy a good pun or innuendo. Enter Zombeavers, a film that's as campy as it is just plain weird. It begins normally enough, with a group of college kids who go stay in a cabin in the worlds. There, the teens encounter flesh-eating beavers, and the fun begins. There's really only one joke that the comedy-horror offers, and it's such an obvious one that it's made over and over again. Still, there are plenty of laugh out loud moments amidst the shrieks of terror.
4. Spiders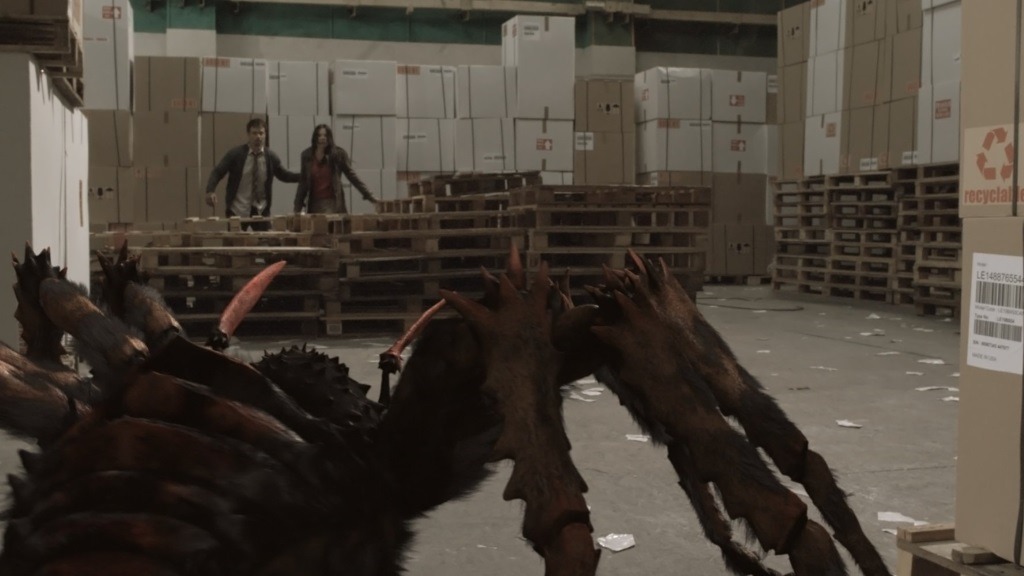 What would happen if a Soviet space station crashed into a New York City subway? Well, in this scenario, it results in giant carnivorous spiders emerging to attack the denizens of New York. Spiders is, without a doubt, one of the most over-the-top B-horror movies of the 21st century. Originally released in 3D format, Netflix users will have to be satisfied with mere two dimensional spiders. However, there are a few scares mixed in with its convoluted and supremely unbelievable story line.
5. 3-Headed Shark Attack
A mutated shark with, you guessed it, three heads, eats its way through the radioactive garbage pile from whence it came and sets out to destroy an island research facility. If 3-Headed Shark Attack's title isn't enough to entice you, then that hilariously over-the-top synopsis should. It's a perfect blend of bad special effects, a poor script, and some high-energy performances from Machete's Danny Trejo, The Bay's Karrueche Tran, and WWE wrestler, Rob Van Dam. And it's the perfect film for anyone who likes B-horror with an extra side of ridiculous.
Additional reporting by Becca Bleznak.
Check out Entertainment Cheat Sheet on Facebook!