Netflix Will Serve Up 'Green Eggs and Ham' to Kids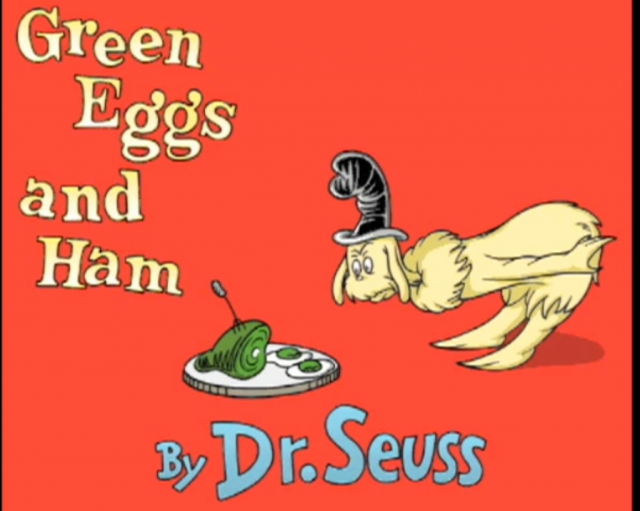 Netflix is adding a Dr. Seuss classic to its slate of original kids' series. The streaming service has just issued a 13-episode order to a small-screen adaptation of Green Eggs and Ham, executive produced by Ellen DeGeneres.
First published in 1960, Green Eggs and Ham uses only 50 words to chronicle the story of an unnamed protagonist followed around by the cheery Sam-I-Am, who keeps pestering him to try the dish of green eggs and ham. Netflix will put its own spin on the bestselling children's book with a script by Jared Stern, who previously scripted Wreck-It-Ralph and is also working on The Lego Movie sequel.
As described in the company's official announcement (written in rhyme as an homage to Seuss), the show will follow "standoffish inventor (Guy, by name) and Sam-I-Am of worldwide fame" as they "embark on a cross-country trip that tests the limits of their friendship." As they learn to try new things, they discover what adventure brings. Along the way, they also — you guessed it! — get to try some of that famous green treat.
In addition to penning the adaptation, Stern will serve as an executive producer alongside DeGeneres, Jeff Kleeman, Mike Karz, David Dobkin, and Warner Bros. Animation. DeGeneres announced the new series on her talk show, saying, "This show is gonna combine two of my favorite things — Dr. Seuss and binge watching."
Green Eggs and Ham has actually had a long road to the big screen. According to Deadline, Stern, Dobkin, Kleeman, and Karz originally pitched an idea for a feature film adaptation of the book to Warner Bros. several years ago. The movie version never panned out, but Kleeman later revisited the concept as an animated TV series. Eventually, the team was able to repackage the idea as 13-episode half-hour series of 6 mini-movies, with approval from Seuss's widow, Audrey Geisel.
Green Eggs and Ham is expected to not only mark Netflix's biggest and most ambitious original children's series to date, but also the highest-end, most expensive animated program ever produced for television. The show will reportedly take three years to be produced. While exact numbers are being kept under wraps, Deadline reports that each episode will reportedly cost about $5 million to $6 million.
The show was reportedly pitched only to Netflix, specifically due to its required high budget and the extensive timetable. The streaming service closed the deal to take on the series after months of negotiation.
For Netflix, the series is part of the company's recent efforts to grow its child-oriented content. Over the past year, it has added several kid-friendly shows to its slate, including Turbo FAST, VeggieTales in the House, All Hail King Julien, The Adventures of Puss in Boots, and a Richie Rich reboot. It recently premiered its animated version of Inspector Gadget.
The service has several other children's shows on the way as well. Its 26-episode remake of the '90s children series The Magic School Bus is slated to premiere in June 2016. Netflix also has a reboot of the British cartoon Danger Mouse in the works, with an expected release date in the spring of next year.
Whether Green Eggs and Ham will live up to its budget and provide the kids' show hit that the company is looking for remains to be seen. Production on the show is set to begin in May, with an expected premiere date sometime in 2018.
More from Entertainment Cheat Sheet:
Want more great content like this? Sign up here to receive the best of Cheat Sheet delivered daily. No spam; just tailored content straight to your inbox.